Six Best Revolvers for Home Defense
Table of Contents Kimber K6S TLEColt King CobraTaurus JudgeRuger GP100Smith & Wesson Model 69S&W Performance…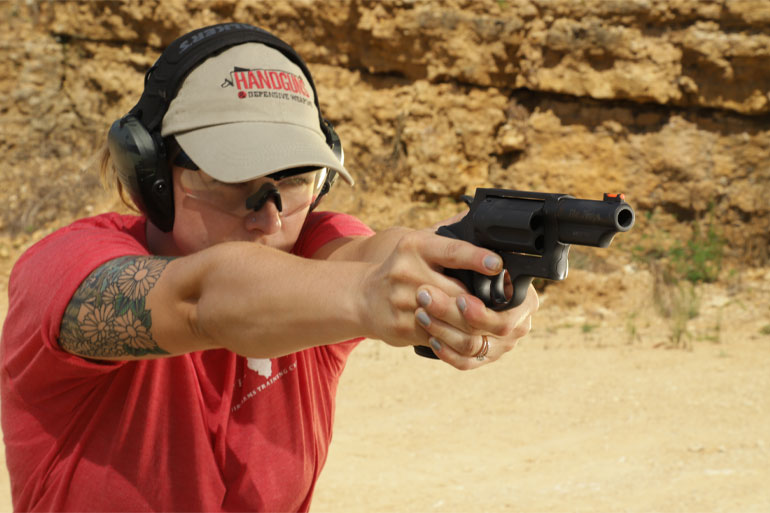 December 16, 2020
By Payton Miller
As more and more people buy handguns for self-defense, revolvers have experienced a surge in popularity. And that has led to a lot of talk about a "revolver resurgence," which is kind of amusing to serious revolver fans for whom the wheelgun never went away. While a lot of the surge is due to folks purchasing small, super-light revolvers for concealed carry, sometimes overlooked is how good revolvers—particularly mid- to full-size ones—can be for home defense.
Sure, they may not hold as many rounds as a 9mm semiautomatic, but they're simple to use. There are no safeties to worry about, no slides to struggle with, no difficult magazines to load, no complicated manual of arms. With a revolver you just load the cylinder, close it and pull the trigger. That's pretty much it.
And if you're new to guns and haven't heard about the revolver's reliability, well it's legendary. Misfires are rare and almost always due to a faulty round of ammunition (which isn't very common). If you do pull the trigger and nothing happens, simply pull the trigger again.
Let's take a look at six top revolver candidates for home defense. Again, since we're not worrying about size and weight for concealed carry, these are mid- to full-size guns, which are much easier to shoot. They are all either double-action-only (the trigger must be pulled through its entire length, rotating the cylinder to place a live round under the hammer/firing pin) or double-action/single-action (in addition to a double-action pull, the hammer can also be cocked to rotate the cylinder, resulting in a lighter trigger pull).
Kimber K6S TLE
A couple of years back, Kimber—an outfit that earned considerable handgun cred with the 1911 platform—caused quite a stir with the K6S revolver, a two-inch six-shot .357 with an exceptionally smooth double-action trigger. Since then, the company has expanded its revolver menu and has now arrived at what may be the line's premier variant: the K6S TLE.
This one has a concealed hammer, making it a double-action-only gun. But that's okay because of its excellent trigger pull, a non-stacking setup with a factory-set weight range of 9.5 to 11.5 pounds. My pick is the 3-inch barreled version, which weighs 23 ounces empty with an overall of 7.62 inches—making it the smallest top house-gun candidate here.
Why a three-inch? For one, the longer sight radius (5.1 inches vs. 4.1 for a two-inch gun) helps. Also, as mentioned, the gun is chambered to .357 Magnum. This means you can also shoot .38 Special and the slightly more powerful .38 Special +P cartridge. A few years back I went chronograph crazy and found that the biggest difference in velocity with .38 Special +P loads occurred between two- and three-inch guns—considerably more, in fact, than that between four- and six-inch guns. In some cases the difference between two-inch barrels and three-inch barrels was between 90 and 100 fps, which means you'll get more energy. Plus, the extra inch makes the gun slightly less "blasty" and easier to control.
This advantage, of course, goes right out the window if you load the K6S TLE with .357 ammo. Firing any medium-to-large caliber centerfire handgun inside a room is disorienting enough, but a short-barreled .357 Magnum is in a class by itself.
The gun comes with tritium three-dot sights that enable you to see the sights even in the dark. The K6S TLE sports green G10 scalloped grips. Yes, they look good, but G10 grips are a also big help when it comes to controlling the gun during recoil. Suggested retail price is $999.
---
---
---
Colt King Cobra
The reintroduction of Colt's famous Python revolver gets all the attention, but more recently there's been an interesting addition to the Colt's new generation double-action/single-action revolvers. The King Cobra is a three-inch barreled, medium-frame .357 with a weight of 28 ounces and a brushed stainless steel construction.
The discussion above about the merits of a three-inch barrel and the versatility of a .357 Magnum-chambered revolver apply here as well. The gun's shootability is enhanced by the King Cobra's squeezable Hogue overmolded grips. Suggested retail price is $899.
---
Taurus Judge
Taurus made a huge splash with the introduction of the .45 Colt/.410 five-shot double-action/single-action Judge in 2006. Since then the company has introduced more than a dozen variations, but the original black oxide three-inch barreled still strikes me as the most sensible as a home defender. With an overall length of 9.5 inches and a weight of 29 ounces, it's reasonably compact.
The .45 Colt is a proven defensive round with a long track record. Its recoil is mild, and there are plenty of defensive loads out there to choose from. The .410 is a shotshell, and standard birdshot loads probably aren't the best choice for defense, but thanks to the popularity of the Judge, some companies now sell ammunition specifically designed for defense. Examples include Hornady Critical Defense, Winchester Defender (.45 Colt/.410 combo packs) and Federal Personal Defense. I've shot the Federal buckshot stuff at 15 feet on a silhouette with a Judge, and four of the five pellets stayed in a grapefruit-size pattern.
The Judge's grips are ribbed rubber, making the Judge very comfortable in terms of felt recoil. The fiber-optic front and generous rear notch make for a quick-to-acquire sighting arrangement. The Judge's shootability and broad ranges of ammo choices make it a good pick. Suggested retail is $511.
---
Ruger GP100
Ruger's enormously successful GP100 is a very strong .357 that features a three-point lockup. It was designed to handle a steady diet of .357s and the standard model has a four-inch (actually 4.2-inch) with a full-lug configuration. My pick would be the 1771 model, which features a 7-shot cylinder, satin stainless finish, fiber-optic front sight and fully-adjustable rear. It's no lightweight at 40 ounces unloaded, but that weight, particularly the full lug that adds weight out front to control muzzle rise, makes it tolerable with magnums and downright pleasant with .38 Specials and .38 +P loads. 
The grip is cushioned rubber with a hardwood insert that lends a touch of class. The rear sight is adjustable to accommodate any load, and the front is a fiber optic that shows up well in most lighting conditions. Ruger's double-action/single-action revolvers have long had a reputation for being a lot of gun for the money, and all these features—plus that seven-shot capacity—make it a great home-defense choice. Suggested retail is $899.
---
Smith & Wesson Model 69
Any roundup of home-defense revolvers runs the risk of being overloaded in the .357/.38 category. Here's one option: The Model 69 in .44 Magnum. Now before you skip over this because you're not looking for that kind of power out of S&W's midsize L frame, this gun also accepts the excellent .44 Special round—an effective but mild-recoiling cartridge.
The Model 69 (not to be confused with the Model 69 Combat Magnum, which is a different gun) has a 4.25-inch barrel and a curb weight of 37.4 ounces,. This makes it quite comfortable to shoot with .44 Specials. The frame and cylinder are stainless steel, and the cylinder locks up via a ball detent system for trouble-free operation.
The rear sight is adjustable and has a white outline in the notch, and the front has red, ramped blade. Grips are pebbled rubber with finger grooves. Suggested retail price is $874.
---
S&W Performance Center M&P R8
The most expensive gun on our list at more than $1,300, this gun comes from S&W's Performance Center, which means it has a lot of little extras that make it a revolver that's a cut above. I shot one in the company of a local police officer who was equally impressed. On an indoor range at 50 feet and firing offhand in double action at 50 feet, we were easily able to keep our shots in the inner circle of a silhouette target—thanks to the excellent trigger pull. This pull is made possible through the custom tuning done at the Performance Center.
The R8 is so named because it holds eight rounds of .357 Magnum or .38 Special ammunition, and its scandium frame keeps the weight down to just 35.8 ounces. That's pretty light for a large, N-frame gun with a five-inch barrel.
For those who are serious about their revolver shooting or plan to be, the black stainless steel cylinder is cut for moon clips. These metal clips hold eight rounds together, and all you have to do is drop a loaded moon clip into the cylinder, close the cylinder and start shooting.
Toward the end of that slab-sided shrouded barrel's underside is an integral accessory rail for a light or laser, which is something few revolvers have and a decided benefit in a home-defense situation. The rear sight has an adjustable V notch, and the front is a blade and is also interchangeable.
The R8 is not exactly small, but it handles very well, and with the moon clips you've got that fast reload at your disposal. The finger-grooved synthetic grips are comfortable and offer a really secure hold. While expensive, its feature set make this the ultimate revolver for defense. Suggested retail price is $1,360.