MLB announces 2022 Field of Dreams Game
MLB announces 2022 Field of Dreams Game n","providerName":"Twitter","providerUrl":"https://twitter.com","type":"rich","width":550,"__typename":"ExternalEmbedContent"},"$ROOT_QUERY.getForgeContentBySlug("locale":"en-us","slug":"mlb-announces-2022-field-of-dreams-game","type":"story").parts.2″:"data":"type":"id","generated":true,"id":"$ROOT_QUERY.getForgeContentBySlug("locale":"en-us","slug":"mlb-announces-2022-field-of-dreams-game","type":"story").parts.2.data","typename":"ExternalEmbedContent","type":"oembed","__typename":"ExternalEmbed","$ROOT_QUERY.getForgeContentBySlug("locale":"en-us","slug":"mlb-announces-2022-field-of-dreams-game","type":"story").parts.3″:"content":"Nearly six million viewers turned into the inaugural…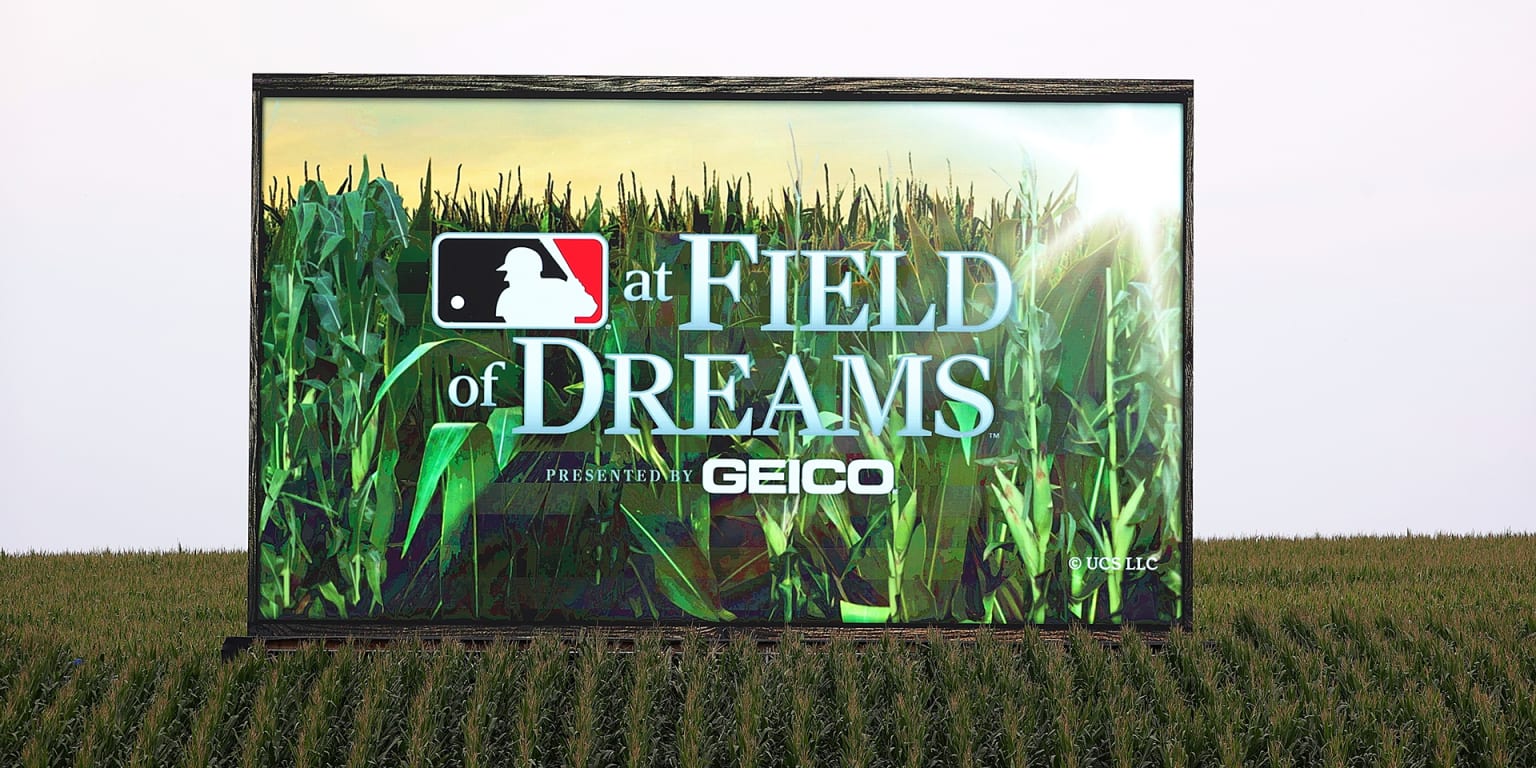 n","providerName":"Twitter","providerUrl":"https://twitter.com","type":"rich","width":550,"__typename":"ExternalEmbedContent"},"$ROOT_QUERY.getForgeContentBySlug("locale":"en-us","slug":"mlb-announces-2022-field-of-dreams-game","type":"story").parts.2″:"data":"type":"id","generated":true,"id":"$ROOT_QUERY.getForgeContentBySlug("locale":"en-us","slug":"mlb-announces-2022-field-of-dreams-game","type":"story").parts.2.data","typename":"ExternalEmbedContent","type":"oembed","__typename":"ExternalEmbed","$ROOT_QUERY.getForgeContentBySlug("locale":"en-us","slug":"mlb-announces-2022-field-of-dreams-game","type":"story").parts.3″:"content":"Nearly six million viewers turned into the inaugural Field of Dreams Game on FOX, staged mere feet from the set of the iconic 1989 film starring Kevin Costner, Ray Liotta and James Earl Jones, making it the most-watched MLB regular-season game since 2005. Those viewers, along with the roughly 8,000 fans in attendance in Iowa, were treated to one of the most exciting games of the year. Yankees sluggers Aaron Judge and Giancarlo Stanton launched two-out, two-run homers in the top of the ninth inning to put New York on top, but White Sox star Tim Anderson responded with a two-run, walk-off homer into the corn in the bottom half. MLB Commissioner Rob Manfred hinted before the game's first pitch was even thrown that the sport would be back at Field of Dreams for a follow-up in '22.nn"We are honored to be selected for the second edition of MLB at Field of Dreams," said Cubs president of business operations Crane Kenney. "Given our long-standing affiliation with the Iowa Cubs and the fact the state is in our home television territory, the Cubs enjoy an incredible following in Iowa. We look forward to playing in front of our Iowa fans and expanding on the amazing success of the first Field of Dreams Game."nn"It's going to be awesome," Reds catcher Tyler Stephenson said. "I can't wait."","type":"markdown","__typename":"Markdown","$ROOT_QUERY.getForgeContentBySlug("locale":"en-us","slug":"mlb-announces-2022-field-of-dreams-game","type":"story").tags.0.data":"__typename":"UnsupportedTagType","$ROOT_QUERY.getForgeContentBySlug("locale":"en-us","slug":"mlb-announces-2022-field-of-dreams-game","type":"story").tags.0″:"data":"type":"id","generated":true,"id":"$ROOT_QUERY.getForgeContentBySlug("locale":"en-us","slug":"mlb-announces-2022-field-of-dreams-game","type":"story").tags.0.data","typename":"UnsupportedTagType","externalSourceName":null,"slug":"storytype-article","title":"Article","type":"article","__typename":"Tag","Team:112″:"id":"112″,"__typename":"Team","$ROOT_QUERY.getForgeContentBySlug("locale":"en-us","slug":"mlb-announces-2022-field-of-dreams-game","type":"story").tags.1″:"data":"type":"id","generated":false,"id":"Team:112″,"typename":"Team","externalSourceName":"team","slug":"teamid-112″,"title":"Chicago Cubs","type":"team","__typename":"Tag","Team:113″:"id":"113″,"__typename":"Team","$ROOT_QUERY.getForgeContentBySlug("locale":"en-us","slug":"mlb-announces-2022-field-of-dreams-game","type":"story").tags.2″:"data":"type":"id","generated":false,"id":"Team:113″,"typename":"Team","externalSourceName":"team","slug":"teamid-113″,"title":"Cincinnati Reds","type":"team","__typename":"Tag","$ROOT_QUERY.getForgeContentBySlug("locale":"en-us","slug":"mlb-announces-2022-field-of-dreams-game","type":"story").tags.3.data":"__typename":"UnsupportedTagType","$ROOT_QUERY.getForgeContentBySlug("locale":"en-us","slug":"mlb-announces-2022-field-of-dreams-game","type":"story").tags.3″:"data":"type":"id","generated":true,"id":"$ROOT_QUERY.getForgeContentBySlug("locale":"en-us","slug":"mlb-announces-2022-field-of-dreams-game","type":"story").tags.3.data","typename":"UnsupportedTagType","externalSourceName":"customentity.contributor","slug":"matt-kelly","title":"Matt Kelly","type":"contributor","__typename":"Tag"},"appConfig":"graphqlServiceUrl":"https://content-service.mlb.com","appState":{"adDomain":"mlb.mlb","appId":"","basePath":"news","club":"mlb","contentfulProperties":"organismHeadlineFont":null,"urlLogo":null,"favicon":null,"headerMastheadTagline":null,"headerPrimaryLogo":null,"headerMastheadTaglineContainerWidth":"512px","headerMastheadTaglineContainerHeight":"56px","organismLogoVersion":"caplogo","organismLogoStyle":"light","headerMastheadLogoVersion":"cap","headerMastheadLogoStyle":"dark","footerLogoVersion":"primary","footerLogoStyle":"dark","headlineTextTransform":"none","headlineFontFamily":null,"headlineFontFamilySizeMultiplier":1,"articleVideoAutoPlay":true,"articleVideoAutoPlaySound":false,"__typename":"CF_WebProperties","contentfulPalette":"headerNavigationBackgroundColor":"#041E42″,"headerNavigationTextColor":"#ffffff","headerNavigationTextColorHover":"#ffffff","headerNavigationBorderColor":"#057AFF","headerMastheadBackgroundColor":"#002D72″,"buttonSpotlightBackgroundColor":"#333333″,"buttonSpotlightBackgroundColorHover":"lighten","buttonSpotlightTextColor":"#ffffff","buttonSpotlightTextColorHover":"#ffffff","footerBackgroundColor":"#333″,"footerBorderColor":"#f3f3f3″,"footerLinkColorActive":"#fff","footerLinkColor":"#ffffff","footerLinkColorHover":"#147CD1″,"footerTextColor":"#d2d2d2″,"__typename":"CF_Palette","contextUrlPrefix":"","env":"production","footerState":{"clubId":"mlb","deviceProperties":,"footerData":"instanceId":"db2f8fb2-78c8-4d3c-a328-9e91c349dfee","name":"global-footer","variables":[],"menuItems":["itemId":"aec375d3-3afa-4491-ab28-60b736f38982″,"text":"Terms of Use","properties":"link":"/official-information/terms-of-use","target":"_blank","menuItems":[],"itemId":"debe8dbf-de27-4eae-b7ec-adae43fc4642″,"text":"Privacy Policy","properties":"link":"/official-information/privacy-policy","menuItems":[],"itemId":"345a1847-cac1-43a4-91bf-70c21ecee681″,"text":"Legal Notices","properties":"link":"/official-information/legal-notices","menuItems":[],"itemId":"34014aad-1069-4bba-b22e-4b287a4f7df1″,"text":"Contact Us","properties":"link":"/official-information/contact","menuItems":[],"itemId":"65e06970-7f8e-4328-ad82-9d90df0f3e87″,"text":"Do Not Sell My Personal Data","properties":"link":"https://privacyportal.onetrust.com/webform/53a301ae-6882-46f9-af93-24f64f792aee/3251a424-8286-4725-9313-603f12c85a49″,"target":"_blank","menuItems":[],"itemId":"dd307e97-49c6-4f80-aff3-89a59696fb80″,"text":"Official Information","properties":,"menuItems":["itemId":"bdf571d3-e8bb-403b-bb5f-7f28a7127c74″,"text":"Official Info","properties":"link":"/official-information","menuItems":[],"itemId":"ecfd4d42-aa8d-4872-80a5-869c6b493018″,"text":"About MLB","properties":"link":"/official-information/about-mlb","menuItems":[],"itemId":"bb62de22-5c84-4cab-b9fb-5429ea9d647c","text":"Team Information","properties":"link":"https://www.mlb.com/team","menuItems":[],"itemId":"7cc37e2a-667c-4405-bd1f-87ad88bc4d9e","text":"Official Rules","properties":"link":"https://img.mlbstatic.com/mlb-images/image/upload/mlb/atcjzj9j7wrgvsm8wnjq.pdf","menuItems":[],"itemId":"e658056b-608b-4eee-a04a-43772f9e6bb4″,"text":"Replay Review Regulations","properties":"link":"/glossary/rules/replay-review","menuItems":[],"itemId":"0b3fc77c-c7d1-4584-a184-90fd8c4959e9″,"text":"Umpires","properties":"link":"/official-information/umpires","menuItems":[],"itemId":"23dde9d7-6aba-4bec-a449-b1b4d5a5767c","text":"Advertise with Us","properties":"link":"/sponsorship","menuItems":[],"itemId":"ca43b715-5423-4314-ac5a-f9229bee6fb6″,"text":"Press Releases","properties":"link":"/news/topic/mlb-press-releases","menuItems":[]],"itemId":"7a60a8fc-0c3c-4c87-b04b-2b57b6c9894c","text":"Help/Contact Us","properties":,"menuItems":["itemId":"efb27376-accc-4ca4-9017-c3309ee122d3″,"text":"Accessibility Information","properties":"link":"/official-information/accessibility","menuItems":[],"itemId":"cf3490fc-f093-4457-99a7-d2bc3f4d4cef","text":"Auctions Customer Service","properties":"link":"http://auctions.mlb.com/iSynApp/manageUserEmail!showEmailContactUsForm.action?sid=1101001″,"menuItems":[],"itemId":"c6867706-11b7-4634-a78e-b5d513948f43″,"text":"Harassment Policy","properties":"link":"/official-information/harassment-policy","menuItems":[],"itemId":"0e3932c9-beec-43f2-b712-66879a51ab63″,"text":"Help/Contact Us","properties":"link":"/official-information/contact","menuItems":[],"itemId":"6d4ebef1-3168-4b79-a237-9f36931d3a2c","text":"MLB App FAQs","properties":"link":"https://www.mlb.com/apps/mlb-app/faq-apple","menuItems":[],"itemId":"4b3c6ee8-d4ae-4265-a7e7-7e5bea8cde28″,"text":"MLB.com Account Information","properties":"link":"/official-information/faqs","menuItems":[],"itemId":"4d33a7c1-38d5-4b3b-a999-53377f55738d","text":"MLB.TV Help Center","properties":"link":"/live-stream-games/help-center","menuItems":[],"itemId":"36f01834-7979-4a42-aa12-52439c2e320b","text":"Shop Help","properties":"link":"https://help-mlb.custhelp.com/","menuItems":[],"itemId":"bb6e7a31-4b7d-4e49-8c2e-00dda9e237ab","text":"Ticket Information","properties":"link":"/official-information/ticket-faqs","menuItems":[]],"itemId":"6ca8b189-8c54-428f-9f79-3c357ef18469″,"text":"More MLB Sites & Affiliates","properties":,"menuItems":["itemId":"becc9309-94fc-491b-ad15-45f7c17f85a9″,"text":"MLB Players Alumni Association","properties":"link":"/mlbpaa","target":"","menuItems":[],"itemId":"9ff49c09-8a0d-41e6-b8b0-14f37f8e7f52″,"text":"MLB Players Association","properties":"link":"http://www.mlbplayers.com/","menuItems":[],"itemId":"022ec2ca-bb20-4543-9cdc-95ba3a4443ca","text":"Minor League Baseball","properties":"link":"https://www.milb.com/","menuItems":[],"itemId":"c6f9948e-3521-4788-83ed-b568f39e86aa","text":"MLB Network","properties":"link":"https://www.mlb.com/network","menuItems":[],"itemId":"de2ea389-0a29-4600-8048-b4261916183d","text":"Baseball Assistance Team","properties":"link":"/baseball-assistance-team","menuItems":[],"itemId":"e1a2af1c-ee36-4672-935b-17e62d0b4ddc","text":"Player Resource Center","properties":"link":"/player-resource-center","target":"","menuItems":[],"itemId":"75f0b763-612d-4557-ae38-227fb5b3b7f1″,"text":"Tickets.com","properties":"link":"http://www.tickets.com/","menuItems":[],"itemId":"f8599d26-5069-4417-8c26-0965dd8d9435″,"text":"YES Network","properties":"link":"https://www.yesnetwork.com/","menuItems":[],"itemId":"5c8f6196-a4d5-4ed5-b830-189580691d3e","text":"Australian Baseball League","properties":"link":"https://theabl.com.au/","menuItems":[],"itemId":"ab6fc805-0bb7-439b-8c3c-92c61b035387″,"text":"World Baseball Classic","properties":"link":"https://www.worldbaseballclassic.com/","menuItems":[],"itemId":"e218ed4d-89f9-4f7d-87e7-c05a3559cd74″,"text":"sabr.org","properties":"link":"http://sabr.org/","menuItems":[],"itemId":"158a95a6-bd4f-4654-b57f-465d3c356a55″,"text":"College Baseball Hall of Fame","properties":"link":"https://www.mlb.com/college-baseball-hall-of-fame","menuItems":[],"itemId":"5e602a1a-e518-455b-ac5f-5c0e80430e38″,"text":"Golden Spikes Award","properties":"link":"https://www.usabaseball.com/golden-spikes-award","menuItems":[],"itemId":"ccd9020d-c619-45d2-bc1f-ef80ae2cd651″,"text":"USA Baseball","properties":"link":"https://www.usabaseball.com","menuItems":[],"itemId":"75512a93-d52d-4d71-a6d3-70d6b44dfa0f","text":"LasMayores.com","properties":"link":"https://www.mlb.com/es","menuItems":[],"itemId":"3b7bbad3-1ed5-468d-8703-205519315e04″,"text":"MLBCommunity.org","properties":"link":"/mlb-community","menuItems":[],"itemId":"f8058121-3606-4ff2-be8a-d1a3d47642db","text":"AllStarGame.com","properties":"link":"https://www.mlb.com/all-star","menuItems":[],"itemId":"a624b4e5-c8d8-44b9-9084-7522ed0cee59″,"text":"MLB.com/Kids","properties":"link":"https://www.mlb.com/fans/kids","menuItems":[],"itemId":"43c6bc47-f7d9-445a-85a1-10b3cdc02ee0″,"text":"MLB Photostore","properties":"link":"https://photostore.mlb.com/","menuItems":[],"itemId":"d9f4ea22-70a7-4085-a16e-83f70a5711b2″,"text":"Offseason Leagues","properties":"link":"http://mlb.mlb.com/mlb/events/winterleagues/","menuItems":[],"itemId":"c574a4a2-45ec-47fe-8ca3-b5b99d1cb443″,"text":"PlayBall.org","properties":"link":"https://www.playball.org","menuItems":[],"itemId":"517cf98f-063c-486a-a725-5380e1ae063f","text":"MLB Educators","properties":"link":"/mlb-educators","menuItems":[]],"itemId":"e3a86593-6da0-4d00-a512-0b8c78c9b8a5″,"text":"Careers","properties":"link":"","menuItems":["itemId":"35caab61-51c7-4b17-a9b8-e9ecd201058a","text":"Careers Home","properties":"link":"/careers/home","menuItems":[]]],"headerData":{"instanceId":"fbde1dcd-c837-4740-991c-1087d1db26d1″,"name":"global-nav","variables":[],"menuItems":["itemId":"tickets","text":"Tickets","properties":"link":"https://www.mlb.com/tickets","customProperties":"align:right;","menuItems":["itemId":"764d21d8-0f58-4d63-b57c-035ec47d193c","text":"General Ticket Information","properties":"link":"https://www.mlb.com/tickets","customProperties":"","visible":"false","menuItems":[],"itemId":"4e45f354-0ccd-4c89-ac5e-12f16dd11f3a","text":"Season Tickets","properties":"link":"/tickets/season-tickets","customProperties":"","visible":"false","menuItems":[],"itemId":"020f5910-a69a-443a-b5a3-37b7664d8a4f","text":"Spring Training","properties":"link":"/tickets/spring-training","visible":"false","menuItems":[],"itemId":"0a8ddc10-4b69-4a97-a677-6301ac30971b","text":"Fan Value","properties":"link":"/tickets/fan-value","customProperties":"","visible":"false","menuItems":[],"itemId":"417de43e-baa5-4ca1-802d-c0814be88688″,"text":"Ballpark Tours","properties":"link":"/tickets/ballpark-tours","visible":"false","menuItems":[],"itemId":"dc1ab63d-4195-4a41-8248-cfa5513a66e9″,"text":"StubHub.com","properties":"link":"https://www.stubhub.com/mlb-tickets/grouping/81/?gcid=C12289x371″,"customProperties":"","menuItems":[],"itemId":"a1fd4bc8-d136-4d65-a0cd-393f31e0e14e","text":"All-Star Game","properties":"link":"/all-star/tickets","customProperties":"expires:1626228000″,"menuItems":[],"itemId":"92c55e19-5b07-4d4f-8bfe-ee6a86e64c8a","text":"World Baseball Classic","properties":"link":"https://www.mlb.com/world-baseball-classic/newsletter","menuItems":[],"itemId":"5d7d5f77-3b9d-4d21-bece-8b3245b7bf2a","text":"International Events","properties":"link":"https://www.mlb.com/international","menuItems":[],"itemId":"797c376f-524a-4e12-b431-1994c1d9127d","text":"Vaccinate at the Plate Ticket Offer","properties":"link":"/tickets/vaccinate-ticket-offer","customProperties":"expires:1625112000″,"menuItems":[],"itemId":"5e7b162c-c994-4bad-89b3-0a1b2746710d","text":"Ticket Terms & Conditions","properties":"link":"https://www.mlb.com/tickets/terms-and-conditions","menuItems":[]],"itemId":"7b24aad4-85fb-4206-b915-85dc84bf8046″,"text":"MLB.TV","properties":"link":"https://www.mlb.com/tv?&affiliateId=mlbMENU","customProperties":"amp:true;align:right;","icon":"watch","menuItems":["itemId":"6e4bf96d-d9e2-4c33-8d42-3e94aae42607″,"text":"Buy MLB.TV","properties":"link":"https://www.mlb.com/live-stream-games/subscribe?&affiliateId=mlbMENU","menuItems":[],"itemId":"f33ef990-5609-45cd-be24-0e40cb0a5368″,"text":"Buy MLB Audio","properties":"link":"https://www.mlb.com/live-stream-games/subscribe/mlb-audio?&affiliateId=mlbMENU","menuItems":[],"itemId":"993d3d74-7886-48fd-9d9f-12d189ed5630″,"text":"Watch MLB.TV","properties":"link":"/live-stream-games?&affiliateId=mlbMENU","customProperties":"","menuItems":[],"itemId":"d7847412-c970-4b0a-b17e-61fded27c46a","text":"MLB Big Inning","properties":"link":"https://www.mlb.com/live-stream-games/big-inning?&affiliateId=mlbMENU","menuItems":[],"itemId":"c2596a4c-2d08-459e-9173-2d799f070637″,"text":"MLB.TV Gift Giving","properties":"link":"https://www.mlb.com/live-stream-games/subscribe/gift-giving","menuItems":[],"itemId":"e5e2c318-6b50-4406-8434-b4c84716dfe6″,"text":"MLB.TV Student Discounts","properties":"link":"https://www.mlb.com/live-stream-games/subscribe/student-discount?&affiliateId=mlbMENU","menuItems":[],"itemId":"00132689-c7ce-46b0-bfac-228fa9f70a22″,"text":"Watch MLB.TV Docs & Features","properties":"link":"https://www.mlb.com/tv/featured?&affiliateId=mlbMENU","menuItems":[],"itemId":"68b755ed-4f9d-4c0a-96ea-ffafb22ca5c5″,"text":"MLB.TV Help Center","properties":"link":"/live-stream-games/help-center?&affiliateId=mlbMENU","customProperties":"","menuItems":[],"itemId":"05b81a24-a196-4ee9-86f6-443cc7ce6934″,"text":"MLB.TV with Extra Innings","properties":"link":"https://www.mlb.com/live-stream-games/third-party?&affiliateId=mlbMENU","menuItems":[]],"itemId":"6bfaf88e-891c-4e05-a935-8a32bd23086a","text":"Shop","properties":"link":"https://www.mlbshop.com/?_s=bm-mlbcom-hp","customProperties":"align:right;","icon":"shopping-cart","menuItems":["itemId":"d7b3c8e0-42c4-45c5-8278-c51adb21b47f","text":"Auction","properties":"link":"http://auction.mlb.com/","menuItems":[],"itemId":"216d4562-456b-442d-b078-9e9be9b35b20″,"text":"Authentication","properties":"link":"https://www.mlb.com/authentication","menuItems":[],"itemId":"20f4725a-5dc1-4543-a153-7795cd789463″,"text":"Autographed","properties":"link":"http://auctions.mlb.com/iSynApp/allAuction.action?sid=1101001&rc=25&selectedCatId=17342&sort=timeleft_asc&pgmode2=catpage","menuItems":[],"itemId":"f4f69cd4-2549-45f2-ba63-d97ddb0b564c","text":"Jerseys","properties":"link":"https://www.mlbshop.com/jerseys/d-1250336792+z-990485-1677480024?_s=bm-mlbcom-hp","customProperties":"","menuItems":[],"itemId":"a67b9b28-c511-47a8-87e6-594cb719c787″,"text":"Caps","properties":"link":"https://www.mlbshop.com/caps/d-3494554436+z-921549-1032840697?_s=bm-mlbcom-hp","customProperties":"","menuItems":[],"itemId":"f5b9b657-5322-40c1-b2e8-1bd31e27abf6″,"text":"Men's","properties":"link":"https://www.mlbshop.com/men/ga-12+z-9112397524-3608394688?_s=bm-mlbcom-hp","customProperties":"","menuItems":[],"itemId":"dfa13a6f-17fd-4a4a-9963-f3e3734e28bf","text":"Women's","properties":"link":"https://www.mlbshop.com/women/ga-57+z-822989763-3950492570?_s=bm-mlbcom-hp","customProperties":"","menuItems":[],"itemId":"c2bf810b-0d1f-4135-b7f8-919c53fc8cc2″,"text":"Kids","properties":"link":"https://www.mlbshop.com/kids/ga-36+z-861270405-1171990865?_s=bm-mlbcom-hp","customProperties":"","menuItems":[],"itemId":"1b321c96-eb8a-4077-9868-9420205878bc","text":"Collectibles & Memorabilia","properties":"link":"https://www.mlbshop.com/collectibles-and-memorabilia/d-7883550038+z-87646-4052890706?_s=bm-mlbcom-hp","customProperties":"","menuItems":[],"itemId":"91dcfa1d-f4de-4bf9-93f8-8f91f4069272″,"text":"Home & Office","properties":"link":"https://www.mlbshop.com/home-and-office/d-3449556733+z-992406-855732365?_s=bm-mlbcom-hp","customProperties":"","menuItems":[],"itemId":"c69e35fc-900e-4fcc-9348-085aa0febeab","text":"Gift Certificates","properties":"link":"https://www.mlbshop.com/gift-cards/x-462351+z-94899005-3509039474?_s=bm-mlbcom-Home","customProperties":"","menuItems":[],"itemId":"7423a9ca-3a6f-42fe-8d6e-9459bed284c7″,"text":"NYC Retail Store","properties":"link":"https://www.mlb.com/shop/nyc-retail-store","menuItems":[],"itemId":"44958e84-599e-44b1-96b4-44f38a477942″,"text":"European Shop","properties":"link":"http://www.mlbshopeurope.com/stores/mlb/en?portal=MLTS66FS&CMP=PSC-MLTS66FS","customProperties":"","menuItems":[],"itemId":"51d3278e-90fd-4462-aec0-7cfd8de1cb79″,"text":"Photo Store","properties":"link":"https://photostore.mlb.com/","menuItems":[]],"itemId":"5052bac6-3f1d-4847-8739-42021d7cfc2d","text":"News","properties":"link":"https://www.mlb.com/news","customProperties":"amp:true;","menuItems":["itemId":"7b725a20-961b-4511-bd88-20600551baf2″,"text":"In this section","properties":"visible":"true","menuItems":["itemId":"82d45c9a-d055-4ab4-b785-576d982a2077″,"text":"Probable Pitchers","properties":"link":"https://www.mlb.com/probable-pitchers","visible":"true","enabled":"true","menuItems":[],"itemId":"4bfdb502-31e4-49dd-bae1-89a4772d0739″,"text":"Prospect Rankings","properties":"link":"https://www.mlb.com/prospects","menuItems":[],"itemId":"831050d9-d4d2-427f-85a3-fe56aad2682a","text":"Injury Report","properties":"link":"https://www.mlb.com/injury-report","menuItems":[],"itemId":"02f947b5-cc72-40f9-9f37-a97b37dcaef3″,"text":"Transactions","properties":"link":"http://mlb.mlb.com/mlb/transactions/?tcid=mm_mlb_news","menuItems":[],"itemId":"f499f46a-a51b-443e-82aa-3b6006f9b306″,"text":"Starting Lineups","properties":"link":"https://www.mlb.com/starting-lineups","menuItems":[],"itemId":"53776d17-03af-4b04-8840-45b6c624df6b","text":"Hall of Fame","properties":"link":"https://www.mlb.com/hall-of-fame","menuItems":[],"itemId":"6ee1c331-faa0-4865-a062-1c98a2f67c0d","text":"Longform","properties":"link":"https://www.mlb.com/news/topic/longform","menuItems":[],"itemId":"844e328c-713f-46da-8183-965d19eb7dd8″,"text":"Awards","properties":"link":"https://www.mlb.com/awards","menuItems":[],"itemId":"c1ac7886-1d18-4ad8-9fc4-326ab4753144″,"text":"MLB Draft","properties":"link":"https://www.mlb.com/draft/2021″,"menuItems":[]],"itemId":"dc121961-fe11-49ac-92b5-a8797acafa7c","text":"Featured","properties":,"menuItems":["itemId":"230d1ec0-9d0a-4a3f-a04c-3cf16474390f","text":"Pipeline","properties":"link":"https://www.mlb.com/pipeline","menuItems":[],"itemId":"216ae480-9b79-4faa-a748-98a8604e5cde","text":"Play Ball","properties":"link":"https://www.mlb.com/play-ball","menuItems":[],"itemId":"c2182d4d-c537-410e-a63d-267e593fbb74″,"text":"Gaming","properties":"link":"https://www.mlb.com/news/topic/gaming","enabled":"true","visible":"true","menuItems":[],"itemId":"d7d653b8-5585-44b7-b94f-226b51681ed8″,"text":"MLB Photos","properties":"link":"https://www.mlb.com/photos/home","menuItems":[],"itemId":"eb4bceb4-bb14-4a84-8b60-12e51dab40f8″,"text":"Offbeat","properties":"link":"https://www.mlb.com/news/topic/offbeat","menuItems":[],"itemId":"28a2e573-86ba-4cdc-a924-86d3b6500979″,"text":"Glossary","properties":"link":"https://www.mlb.com/glossary","menuItems":[],"itemId":"7e424446-ea76-4b0d-8dc0-e7ee108993ef","text":"Rare Feats","properties":"link":"https://www.mlb.com/news/topic/rare-feats","menuItems":[],"itemId":"38b78c07-c2e2-40be-9172-fb2ddc1d1817″,"text":"Baseball Cards","properties":"link":"https://www.mlb.com/news/topic/baseball-cards","menuItems":[],"itemId":"7e316d55-5379-4151-a0e5-828b6b4f8ba8″,"text":"All-Star Game","properties":"link":"https://www.mlb.com/all-star","menuItems":[]]],"itemId":"86b4ade1-0488-40d3-8472-b1e323f23914″,"text":"Video","properties":"link":"https://www.mlb.com/video","customProperties":"mobile:true;amp:true;","menuItems":["itemId":"bbddb943-54df-4d88-a3ee-14265e727677″,"text":"In this section","properties":"customProperties":"","menuItems":["itemId":"d6f95b2e-b8ee-41f0-a313-e74537eff685″,"text":"Film Room","properties":"link":"https://www.mlb.com/video/search","menuItems":[],"itemId":"a24a8e9d-471b-4626-9535-28e1b8f62bad","text":"Watch Live Games","properties":"link":"https://www.mlb.com/live-stream-games?affiliateId=mlbMENU","menuItems":[],"itemId":"830b3ff1-c650-48a0-b8ee-6c910acc0204″,"text":"Game Stories","properties":"link":"https://www.mlb.com/game-stories","menuItems":[],"itemId":"fb982f48-2253-46ec-84f2-ec3282782fb8″,"text":"Condensed Games","properties":"link":"https://www.mlb.com/video/topic/condensed-games","menuItems":[],"itemId":"0f387774-edb6-4e09-84c1-3b6f9a8c65d5″,"text":"Game Recaps","properties":"link":"https://www.mlb.com/video/topic/daily-recaps","enabled":"true","menuItems":[],"itemId":"3dcbafe8-f9f6-4a32-8534-7a00b6b07f4c","text":"Daily FastCast","properties":"link":"https://www.mlb.com/video/topic/fastcast","menuItems":[],"itemId":"286ad1ca-abe4-4d67-b80a-9020e756750e","text":"MLB Network","properties":"link":"https://www.mlb.com/network","menuItems":[],"itemId":"948d378c-7d73-49b1-b5ba-8729c59bca9a","text":"Podcasts","properties":"link":"https://www.mlb.com/podcasts","menuItems":[],"itemId":"c3c36a7f-ac1d-4433-8ecb-b8689de715e5″,"text":"Front Office Focus","properties":"link":"https://www.mlb.com/video/topic/front-office-focus","menuItems":[],"itemId":"e95e19ff-2024-4d84-b9e5-d5f0d1831e5b","text":"Business of Baseball","properties":"link":"https://www.mlb.com/video/topic/business-of-baseball","menuItems":[],"itemId":"bf659638-4fb7-4c46-be4c-49b736c0fd69″,"text":"Untouchable Pitches","properties":"link":"https://www.mlb.com/video/topic/untouchable-pitches-cristal-products","menuItems":[],"itemId":"0b56e21d-9a66-4fd0-99d6-59faf9805120″,"text":"Rapid Plays","properties":"link":"https://www.mlb.com/video/topic/rapid-plays","menuItems":[]],"itemId":"74f35bdb-7baf-4fa5-abb5-3c3613fa00fe","text":"Featured","properties":"customProperties":"","menuItems":["itemId":"d87342bf-bac9-4811-9863-4a5d7ddabe94″,"text":"Most Popular","properties":"link":"https://www.mlb.com/video","menuItems":[],"itemId":"b4deff8a-ac2f-46bd-924a-108c63e6d4a6″,"text":"Home Runs","properties":"link":"https://www.mlb.com/video/topic/home-runs","menuItems":[],"itemId":"d2add1e4-7ad6-417b-a04d-ffb83aa63332″,"text":"MLB Draft","properties":"link":"https://www.mlb.com/video/topic/mlb-draft","menuItems":[],"itemId":"6a7e200b-2443-4e01-b95a-16bf6326a089″,"text":"Walk-Offs","properties":"link":"https://www.mlb.com/video/topic/walk-offs","menuItems":[],"itemId":"cb8372c5-4ebe-44db-8b4b-de7364b80ec9″,"text":"Go Yard","properties":"link":"https://www.mlb.com/video/topic/leadoff-home-runs","menuItems":[],"itemId":"e9fc5098-1904-4089-8fa2-c4b3d9a0feaf","text":"Top Defensive Plays","properties":"link":"https://www.mlb.com/video/topic/top-defensive-plays","menuItems":[],"itemId":"d1a89b62-ed0e-4df5-a65d-9471b06eb3ad","text":"Grand Slams","properties":"link":"https://www.mlb.com/video/topic/grand-slams","menuItems":[],"itemId":"c19fb88b-a3c7-4141-a616-0299dc17e774″,"text":"Best of Statcast","properties":"link":"https://www.mlb.com/video/topic/statcast","menuItems":[],"itemId":"4cdb4f64-f058-43e3-a0f3-a078c3701cc9″,"text":"Let's Rally","properties":"link":"https://www.mlb.com/video/topic/rallies","menuItems":[],"itemId":"3d4947a4-61d9-4ce6-9bec-5ef974a5aff1″,"text":"Curtain Calls","properties":"link":"https://www.mlb.com/video/topic/curtain-calls","menuItems":[],"itemId":"ea8c81d8-3594-4318-b95e-7d7c4c92c1db","text":"Legendary Moments","properties":"link":"https://www.mlb.com/video/topic/key-moments","menuItems":[],"itemId":"550155b7-3825-4c73-bf84-0250dec41903″,"text":"Carry the Freight","properties":"link":"https://www.mlb.com/video/topic/carry-the-freight","menuItems":[]]],"itemId":"7c68f445-5095-46cc-bab3-73af6c921597″,"text":"Scores","properties":"link":"https://www.mlb.com/scores","customProperties":"mobile:true;amp:true;","visible":"true","menuItems":[],"itemId":"9efaf5e3-6a93-4e4f-b8af-1219110ecb30″,"text":"Stats","properties":"link":"https://www.mlb.com/stats","customProperties":"mobile:true;amp:true;","menuItems":["itemId":"f31b263b-34d4-46ab-aa46-9796e93b048b","text":"2021 Regular Season Stats","properties":"link":"https://www.mlb.com/stats/2021″,"menuItems":[],"itemId":"62c5195b-2630-4d9e-9896-6aee0709aeee","text":"2021 Sortable Team Stats","properties":"link":"https://www.mlb.com/stats/team/2021″,"menuItems":[],"itemId":"c26bdb6a-e2f7-48dc-bd44-39e522f7b5ca","text":"2021 Spring Training Stats","properties":"link":"https://www.mlb.com/stats/2021/spring-training","menuItems":[],"itemId":"41566816-1cb8-421f-9a4a-9ccdefa7ed69″,"text":"Statcast Leaders","properties":"link":"https://baseballsavant.mlb.com/statcast_leaderboard","menuItems":[],"itemId":"2d0a2684-64c6-4d9f-87a1-a7cf9f661e2f","text":"Baseball Savant","properties":"link":"https://baseballsavant.mlb.com/","menuItems":[],"itemId":"b9d0ae31-f31d-449b-82fb-5a77f59293ba","text":"Top Prospect Stats","properties":"link":"/prospects/stats/top-prospects?type=all&dateRange=Year2019&minPA=1″,"menuItems":[],"itemId":"2ae90479-df9d-458e-a47e-7acf851728e7″,"text":"Offseason Leagues","properties":"link":"http://mlb.mlb.com/milb/stats/?tcid=mm_mlb_stats","customProperties":"","menuItems":[],"itemId":"cf9eab1e-1dba-458c-949b-8db03f86d49e","text":"Glossary","properties":"link":"http://m.mlb.com/glossary","menuItems":[]],"itemId":"6af88ec1-9bfe-4494-abc0-898dc919a081″,"text":"Standings","properties":"link":"https://www.mlb.com/standings","customProperties":"mobile:true;amp:true;","menuItems":["itemId":"121a61dc-a81a-45af-abbe-8230aee19b5e","text":"2021 Regular Season Standings","properties":"link":"https://www.mlb.com/standings","menuItems":[],"itemId":"a9713ec1-4849-41b5-8f0b-fa0746a205e4″,"text":"2021 Spring Training Standings","properties":"link":"https://www.mlb.com/standings/spring-training/2021″,"customProperties":"","menuItems":[],"itemId":"4c250046-6a0d-4352-b3f2-3059a5881c2a","text":"2020 Regular Season Standings","properties":"link":"https://www.mlb.com/standings/regular-season/2020″,"menuItems":[],"itemId":"a84f52a4-d7d4-4661-b193-8c81901e8e7e","text":"2020 Advanced Standings","properties":"link":"https://www.mlb.com/standings/regular-season/advanced-splits/2020″,"menuItems":[]],"itemId":"248fea7e-1d19-452a-bb5c-999e1a09b7cd","text":"Schedule","properties":"link":"https://www.mlb.com/schedule","customProperties":"amp:true;","menuItems":["itemId":"12fd9194-8902-43f1-9686-f9f321c90450″,"text":"2021 Regular Season","properties":"link":"https://www.mlb.com/schedule","menuItems":[],"itemId":"74ae0fd1-28f5-41ab-8861-23d056482243″,"text":"2021 Spring Training","properties":"link":"https://www.mlb.com/schedule/2021-02-28″,"menuItems":[],"itemId":"6aae1937-f9bd-4929-847a-74c4808cc993″,"text":"2020 Postseason","properties":"link":"https://www.mlb.com/postseason","menuItems":[],"itemId":"f4010b7a-902c-41e0-b405-e0fa695b5c64″,"text":"2022 Regular Season","properties":"link":"https://www.mlb.com/schedule/2022-03-31″,"menuItems":[],"itemId":"94c9d7e4-3477-4217-87f3-008d2290b9ee","text":"Important Dates","properties":"link":"https://www.mlb.com/schedule/events#important-dates","menuItems":[],"itemId":"d3566c69-34a7-4e6c-b2bb-28203c847f9e","text":"Probable Pitchers","properties":"link":"https://www.mlb.com/probable-pitchers","menuItems":[],"itemId":"3747c1bc-9b3d-43f5-bd04-d1274c59c02a","text":"Team by Team Schedule","properties":"link":"https://www.mlb.com/schedule/team-by-team","menuItems":[],"itemId":"e75ecc62-7e72-4b53-9705-a23e2b511f83″,"text":"National Broadcasts","properties":"link":"http://mlb.mlb.com/mlb/official_info/broadcasts/national.jsp?tcid=mm_mlb_schedule","menuItems":[],"itemId":"bce30443-7f92-4c61-979f-058e5e6ebe17″,"text":"Sunday Night Broadcasts","properties":"link":"http://m.mlb.com/promo/sunday-night-broadcasts","menuItems":[]],"itemId":"8c842eeb-dedd-430c-a452-57a740d5c3df","text":"Players","properties":"link":"https://www.mlb.com/players","customProperties":"","icon":"group","menuItems":["itemId":"650da3ef-b96d-4a7d-bf4b-47a55b2e6cb3″,"text":"Players A to Z","properties":"link":"https://www.mlb.com/players","menuItems":[],"itemId":"b971e11e-c0ea-4f42-a693-a9e18e15447f","text":"Injury Updates","properties":"link":"https://www.mlb.com/injury-report","menuItems":[],"itemId":"76a61c3c-c73a-497a-9d6f-f762ad0fdecd","text":"Depth Charts","properties":"link":"https://www.mlb.com/team/roster/depth-chart","menuItems":[],"itemId":"b30fe902-714f-4f74-a901-d2397c750dab","text":"Transactions","properties":"link":"http://mlb.mlb.com/mlb/transactions/?tcid=mm_mlb_players","menuItems":[],"itemId":"3e585331-af20-4e73-8419-2067bed2677c","text":"Starting Lineups","properties":"link":"https://www.mlb.com/starting-lineups","menuItems":[],"itemId":"a327060e-962d-428e-91ee-40522edcda03″,"text":"Prospect Rankings","properties":"link":"https://www.mlb.com/prospects","menuItems":[],"itemId":"a30f9694-b2cd-4a2a-9118-d3c7f00b39b1″,"text":"Mobile Player Alerts","properties":"link":"http://mlb.mlb.com/mobile/text.jsp?tcid=mm_mlb_players","visible":"false","menuItems":[],"itemId":"f45e2471-de5a-4a07-b035-43f1b405f296″,"text":"MLB Players Association","properties":"link":"https://www.mlbplayers.com","menuItems":[],"itemId":"6e855928-8a3d-41b6-8adc-71fe99a9508b","text":"Probable Pitchers","properties":"link":"https://www.mlb.com/probable-pitchers","menuItems":[],"itemId":"e7ba059f-ad80-486d-bf9f-3992d718f129″,"text":"Negro Leagues","properties":"link":"https://www.mlb.com/history/negro-leagues","menuItems":[]],"itemId":"781f2bb2-a66a-44be-8fee-b0a0250d60e6″,"text":"Play Ball","properties":"link":"https://www.mlb.com/play-ball","target":"_blank","customProperties":"topNav:false;","icon":"baseball","menuItems":["itemId":"2a74747c-e482-42f5-b750-ce710dea6568″,"text":"PlayBall.org","properties":"link":"https://www.mlb.com/play-ball","target":"_blank","menuItems":[],"itemId":"9f5ab700-d2c0-43be-a398-6926ceef9e1c","text":"Hank Aaron Invitational","properties":"link":"https://www.mlb.com/hank-aaron-invitational","menuItems":[],"itemId":"d7c7e170-573e-45c1-a1ab-b1bd3aec819f","text":"Videos","properties":"link":"https://www.mlb.com/video/topic/play-ball","menuItems":[],"itemId":"5be26d3e-4ff2-4a84-8ea5-92aef9d759b2″,"text":"Photos","properties":"link":"https://www.playball.org/photos","visible":"false","menuItems":[],"itemId":"14d9fdc8-ba24-44cf-9a77-7a867852f418″,"text":"News","properties":"link":"https://www.mlb.com/news/topic/youth-baseball","menuItems":[],"itemId":"4c876067-e576-4874-b914-d86fe7f4a538″,"text":"Pitch Smart","properties":"link":"https://www.mlb.com/pitch-smart","menuItems":[],"itemId":"6996ed01-d31d-4fc4-8d0d-a5baf177f69a","text":"Play Ball Near You","properties":"link":"https://www.mlb.com/play-ball/play-ball-near-you","menuItems":[],"itemId":"4e66a4b2-0f27-483c-81d4-f27b0b630eac","text":"States Play","properties":"link":"https://www.mlb.com/states-play","menuItems":[],"itemId":"aed729a5-4ff6-45cc-868c-f90b9b9190af","text":"MLB TOUR","properties":"link":"https://www.mlb.com/mlb-tour","menuItems":[],"itemId":"28d79b33-aebd-4685-9cc9-c4ccce1262f8″,"text":"RBI","properties":"link":"https://www.mlb.com/rbi","menuItems":[],"itemId":"18001329-d9d0-47b9-b2e0-5043b69cee9e","text":"Pitch, Hit & Run","properties":"link":"https://www.mlb.com/pitch-hit-and-run","menuItems":[],"itemId":"df867e3c-db53-4d4f-9958-e10cb0939c8a","text":"Jr. Home Run Derby","properties":"link":"https://www.mlb.com/junior-home-run-derby","menuItems":[],"itemId":"6af5ec56-5e26-45b3-93d6-2f79d929c046″,"text":"MLB Pipeline","properties":"link":"https://www.mlb.com/pipeline","menuItems":[],"itemId":"bc715814-2692-4bde-9b1d-99cbd9ada5dc","text":"Youth Academies","properties":"link":"https://www.mlb.com/mlb-youth-academy","menuItems":[],"itemId":"26715913-0ae8-4106-baa4-3d914b0a33b0″,"text":"Breakthrough Series","properties":"link":"https://www.mlb.com/breakthrough-series","menuItems":[],"itemId":"56cb414b-eb00-4632-8acc-81d74ee4745e","text":"Elite Development Invitational","properties":"link":"https://www.mlb.com/elite-development-invitational","menuItems":[],"itemId":"04697c74-2811-4d84-8150-aa1016aa6272″,"text":"USA Baseball","properties":"link":"https://www.usabaseball.com/","target":"_blank","menuItems":[],"itemId":"ae77ea02-173a-4439-be6c-9ee75225bd50″,"text":"USA Softball","properties":"link":"http://www.teamusa.org/USA-Softball","target":"_blank","menuItems":[],"itemId":"c293b7e0-f056-4102-89cd-d20649d4eff0″,"text":"Dream Series","properties":"link":"https://www.mlb.com/dream-series","menuItems":[],"itemId":"181a47ba-9ea0-4a7a-8924-ccedef1cd372″,"text":"Trailblazer Series","properties":"link":"https://www.mlb.com/trailblazer-series","menuItems":[]],"itemId":"mlb-fans","text":"Fans","properties":"link":"https://www.mlb.com/fans","menuItems":["itemId":"25c7540a-c3a3-42e8-a8f8-1e3be9f5d4fe","text":"MLB Kids","properties":"link":"https://www.mlb.com/fans/kids","menuItems":[],"itemId":"8ee0a750-a1d7-4c8f-80ee-cb7beb4268ff","text":"MLB International","properties":"link":"https://www.mlb.com/international","menuItems":[],"itemId":"841025ef-a361-46e1-b5d0-c963c1a42827″,"text":"Postseason Publications","properties":"link":"https://www.mlb.com/postseason/publications","menuItems":[],"itemId":"59ffbbaf-a56c-4cb4-b874-d5a5ce36c9f1″,"text":"MLB Newsletters","properties":"link":"https://www.mlb.com/fans/newsletters","menuItems":[],"itemId":"9e37a80a-34da-4e92-ae40-8462146aef1c","text":"Virtual Backgrounds","properties":"link":"https://www.mlb.com/fans/virtual-backgrounds","menuItems":[],"itemId":"ef7c9f4a-5e11-4700-aad3-b29a8c5acc4c","text":"Podcasts","properties":"link":"https://www.mlb.com/fans/podcasts","menuItems":[],"itemId":"fcc0e750-dbe2-47b3-b681-0e3e379390c8″,"text":"Walk-Up Music","properties":"link":"https://www.mlb.com/fans/music","menuItems":[],"itemId":"ad51f9be-9a3e-41d5-83aa-27d4351d583f","text":"Connect with MLB","properties":"link":"https://www.mlb.com/social","menuItems":[],"itemId":"5d6dbbbf-fdff-41e7-b187-793bdb998ec8″,"text":"MLB Photos","properties":"link":"https://www.mlb.com/photos/home","menuItems":[]],"itemId":"832ad058-32b1-4fbd-940d-a68456ad3c25″,"text":"Fantasy","properties":"link":"https://www.mlb.com/fantasy","customProperties":"","menuItems":["itemId":"ee7dde99-2f2c-49e4-a5df-b319f51afa21″,"text":"Yahoo Fantasy Baseball","properties":"target":"","link":"http://yhoo.it/3aK5QQw","menuItems":[],"itemId":"82ecd1d5-6055-4846-99de-2e5d99461009″,"text":"MLB Rally","properties":"link":"https://www.mlb.com/apps/rally","visible":"true","menuItems":[],"itemId":"82b08ad3-ff33-4c90-8303-277dbf8190a3″,"text":"MLB Quick Pick","properties":"link":"https://www.mlb.com/apps/rally/quickpick","menuItems":[],"itemId":"4e35b374-27ca-40c1-8f4b-d0e861496179″,"text":"MLB Beat the Streak","properties":"link":"https://www.mlb.com/apps/beat-the-streak","menuItems":[],"itemId":"4b2c552e-94c1-49f6-8e5e-5f947f0d683c","text":"MLB MOONBLASTS Pick 'Em","properties":"link":"/sponsorship/ftx-moonblasts-pick-em","customProperties":"expires:1627754400″,"menuItems":[],"itemId":"fa818f3d-e28a-4dce-8ed8-928d7000a1f6″,"text":"The Vault","properties":"link":"https://www.mlb.com/the-vault","menuItems":[],"itemId":"5342efbb-aee3-4b7a-bd6b-da451509d65b","text":"Yahoo Fantasy Baseball","properties":"link":"https://yhoo.it/2w7w4vr","visible":"false","menuItems":[],"itemId":"36bd3b31-a5df-4061-9abb-33d42ffa1818″,"text":"R.B.I. Baseball 21″,"properties":"link":"https://www.rbigame.com","menuItems":[],"itemId":"3dab9102-cd2d-442e-ab8a-ad07d7b159f4″,"text":"MLB Home Run Derby","properties":"link":"https://www.mlb.com/fantasy/home-run-derby","menuItems":[],"itemId":"a3152a55-11b7-4772-86e0-58d7982a1c76″,"text":"Season Pick 'Em","properties":"link":"/opening-day-pick-em?affiliateId=spe-fantasynav-mlb-2021″,"visible":"false","menuItems":[],"itemId":"7f0d66f2-44a0-4594-b5f9-db2c84c09356″,"text":"MLB Pre-Pick (AUS)","properties":"link":"https://www.mlb.com/pre-pick/tab","menuItems":[],"itemId":"7af822e8-dc82-4b7e-818a-97080c0938f2″,"text":"Closer Report","properties":"link":"/closer-report","visible":"false","menuItems":[],"itemId":"c2b4eeef-ec9c-4c5b-831c-1edca0316768″,"text":"Prospect Rankings","properties":"link":"https://www.mlb.com/prospects","menuItems":[],"itemId":"3b212a3b-4687-4ea7-a276-3e780e18210c","text":"MLB Champions","properties":"link":"https://www.mlbc-app.com/?ref=mlbcom","menuItems":[]],"itemId":"f857d698-35a3-4b1b-8e88-d92056ca5507″,"text":"Apps","properties":"link":"https://www.mlb.com/apps","customProperties":"topNav:false;","data":"Apps","menuItems":["itemId":"c974a38d-8537-4d03-9dfa-681ac5bd0f08″,"text":"MLB","properties":"link":"https://www.mlb.com/apps/mlb-app","menuItems":[],"itemId":"13d77816-460d-4783-8ed7-f1ff1d3a97ed","text":"MLB Rally","properties":"link":"https://www.mlb.com/apps/rally","visible":"true","menuItems":[],"itemId":"f2626a2d-160d-4682-96c6-bfe391c16398″,"text":"MLB Beat the Streak","properties":"link":"https://www.mlb.com/apps/beat-the-streak","menuItems":[],"itemId":"89f7398c-7a79-46e4-a8cd-843a44ceee13″,"text":"MLB Ballpark","properties":"link":"https://www.mlb.com/apps/ballpark","menuItems":[],"itemId":"03c8451e-6437-4aa6-8b5d-50c3fedad25e","text":"MiLB First Pitch","properties":"link":"https://www.milb.com/about/first-pitch","menuItems":[],"itemId":"5d19666b-0c26-48ad-8465-09ed9f28dfc2″,"text":"R.B.I. Baseball 21″,"properties":"link":"https://www.rbigame.com","menuItems":[],"itemId":"94808840-9046-445e-9a6a-83016bdadb72″,"text":"MLB Home Run Derby","properties":"link":"https://www.mlb.com/fantasy/home-run-derby","menuItems":[],"itemId":"fbe4d233-e766-4207-8886-55a2fc1f7f74″,"text":"MLB FAQs","properties":"link":"https://www.mlb.com/apps/mlb-app/faq-apple","menuItems":[],"itemId":"34d7bc2e-a216-4956-8105-b42f2ba4bea3″,"text":"MLB Ballpark FAQs","properties":"link":"https://www.mlb.com/apps/ballpark/faq-apple","menuItems":[],"itemId":"c081befb-bde5-446d-a4d4-c9292d29d525″,"text":"MLB Rally FAQs","properties":"link":"/apps/rally/faq-apple","visible":"true","menuItems":[]],"itemId":"ba2b8aec-0e14-429e-ac96-dbb1f04edaf8″,"text":"Vote","properties":"link":"https://www.mlb.com/all-star/ballot?affiliateId=asb-topnav-mlb-2021″,"customProperties":"appears:1622736000;expires:1625162400;","visible":"false","menuItems":[],"itemId":"57ec62ff-6517-49b7-8bef-7a3edc6874cb","text":"Auction","properties":"link":"http://auction.mlb.com/","visible":"false","customProperties":"topNav:false;","menuItems":["itemId":"3ea7f7ac-0734-47d9-8804-967eba72da0e","text":"Authentication","properties":"link":"https://www.mlb.com/authentication","menuItems":[],"itemId":"e3e18801-29de-4b11-86ac-a475342dff41″,"text":"Autographed","properties":"link":"http://auctions.mlb.com/iSynApp/allAuction.action?sid=1101001&rc=25&selectedCatId=17342&sort=timeleft_asc&pgmode2=catpage","menuItems":[],"itemId":"f4c0200f-4437-47c0-8c15-1a54c26d22c0″,"text":"Baseball Cards","properties":"link":"http://www.baseballcards.mlb.com/","menuItems":[],"itemId":"21b7a4a2-6c76-47b5-af79-51dc0334f2c9″,"text":"Baseballs","properties":"link":"http://auctions.mlb.com/iSynApp/allAuction.action?sid=1101001&rc=25&selectedCatId=13020&sort=timeleft_asc&pgmode2=catpage","menuItems":[],"itemId":"6b056370-0888-43e4-9f8c-8100e2ee7653″,"text":"Bats","properties":"link":"http://auctions.mlb.com/iSynApp/allAuction.action?sid=1101001&rc=25&selectedCatId=13041&sort=timeleft_asc&pgmode2=catpage","menuItems":[],"itemId":"1b036e35-5977-4af1-9cb0-736c76d18ec4″,"text":"Caps","properties":"link":"http://auctions.mlb.com/iSynApp/allAuction.action?sid=1101001&rc=25&selectedCatId=13021&sort=timeleft_asc&pgmode2=catpage","menuItems":[],"itemId":"74ae99a1-5ed5-44e4-842c-b49dc99e982d","text":"Experiences","properties":"link":"http://auctions.mlb.com/iSynApp/allAuction.action?sid=1101001&rc=25&selectedCatId=13060&sort=timeleft_asc&pgmode2=catpage","menuItems":[],"itemId":"d41a4007-2f65-4b0f-a0a8-7df58870e507″,"text":"Game-Used","properties":"link":"http://auctions.mlb.com/iSynApp/allAuction.action?sid=1101001&rc=25&selectedCatId=13022&sort=timeleft_asc&pgmode2=catpage","menuItems":[],"itemId":"aafaf49c-cfb9-432d-9119-f86a64fdbb27″,"text":"Jerseys","properties":"link":"http://auctions.mlb.com/iSynApp/allAuction.action?sid=1101001&rc=25&selectedCatId=13062&sort=timeleft_asc&pgmode2=catpage","menuItems":[],"itemId":"c0be3bdb-025a-42ac-b09d-c391d058342b","text":"Photos","properties":"link":"http://auctions.mlb.com/iSynApp/allAuction.action?sid=1101001&rc=25&selectedCatId=13024&sort=timeleft_asc&pgmode2=catpage","menuItems":[]],"itemId":"98430c25-7924-4112-a70f-0b32fd31594f","text":"Teams","properties":"link":"https://www.mlb.com/team","customProperties":"amp:true;module:teammodule;align:right;","menuItems":["itemId":"9191834c-54c4-40a7-8aac-9745d3666084″,"text":"Team Module","properties":"customProperties":"module:teammodule;","menuItems":[]],"itemId":"397b9e10-6d65-4fc0-bbe6-8d07f5e8d3a8″,"text":"ES","properties":"link":"https://www.mlb.com/es","customProperties":"align:right;","toolTip":"Español","menuItems":["itemId":"ceb83c80-eaf2-4dd4-bdc6-e23b1e11ae60″,"text":"日本語","properties":"link":"http://www.mlb.jp/","customProperties":"lang:ja","menuItems":[],"itemId":"27ac6728-00c1-4965-963b-05d33268fb50″,"text":"한국어","properties":"link":"https://www.mlbkor.com/","customProperties":"lang:ko","menuItems":[]]]},"locale":"en","reqPath":"/news/mlb-announces-2022-field-of-dreams-game","sharedNav":"instanceId":"6c265854-d856-4f92-aea1-07dfe5cda020″,"name":"shared-nav","variables":[],"menuItems":["itemId":"93b3e9b2-65a9-4585-9185-03e255cb523c","text":"MLB.TV","properties":"link":"https://www.mlb.com/tv?&affiliateId=clubMENU","icon":"watch","customProperties":"align:right;","menuItems":["itemId":"162f5687-7f5b-4422-a782-133dc3db8aa0″,"text":"Buy MLB.TV","properties":"link":"https://www.mlb.com/live-stream-games/subscribe?&affiliateId=clubMENU","menuItems":[],"itemId":"f75d3e53-5cc5-4eb5-b64d-7e72c3f601b9″,"text":"Buy MLB Audio","properties":"link":"https://www.mlb.com/live-stream-games/subscribe/mlb-audio?&affiliateId=clubMENU","menuItems":[],"itemId":"d54a2b21-9db9-4252-9ebe-e3a4b2a3cf83″,"text":"Watch MLB.TV","properties":"link":"https://www.mlb.com/live-stream-games?&affiliateId=clubMENU","menuItems":[],"itemId":"28f71773-a34e-46c5-bdbc-ac6476c5fc7a","text":"MLB Big Inning","properties":"link":"https://www.mlb.com/live-stream-games/big-inning","menuItems":[],"itemId":"703b5c44-a9b4-46a2-bc2e-33112a413980″,"text":"MLB.TV Gift Giving","properties":"link":"https://www.mlb.com/live-stream-games/subscribe/gift-giving","menuItems":[],"itemId":"3d0c17bc-b611-42aa-a6ce-d2a4d6d38f96″,"text":"MLB.TV Student Discounts","properties":"link":"https://www.mlb.com/live-stream-games/subscribe/student-discount?&affiliateId=clubMENU","menuItems":[],"itemId":"2d8d6ad8-dc2a-4971-9b12-f1853530c5d3″,"text":"Watch MLB.TV Docs & Features","properties":"link":"https://www.mlb.com/tv/featured?&affiliateId=clubMENU","menuItems":[],"itemId":"6254640c-2069-4447-822f-084d0a38f161″,"text":"MLB.TV Help Center","properties":"link":"https://www.mlb.com/live-stream-games/help-center?&affiliateId=clubMENU","menuItems":[],"itemId":"6d167d3d-4063-43ae-b13c-283e83c0e91c","text":"MLB.TV with Extra Innings","properties":"link":"https://www.mlb.com/live-stream-games/third-party?&affiliateId=clubMENU","menuItems":[]],"itemId":"d54d0be0-f610-4f8b-90ac-c246c361e2e2″,"text":"Fantasy","properties":"link":"https://www.mlb.com/fantasy","menuItems":["itemId":"5ec4bde4-6bc1-412b-a92b-6b7cb3b2f07c","text":"Yahoo Fantasy Baseball","properties":"link":"http://yhoo.it/3aK5QQw","visible":"true","menuItems":[],"itemId":"b2a63b51-03fc-423d-971e-1e566f6008f4″,"text":"MLB Rally","properties":"link":"https://www.mlb.com/apps/rally","visible":"true","menuItems":[],"itemId":"f6929b88-632d-4a6f-ba73-8a64fccba1b0″,"text":"MLB Quick Pick","properties":"link":"https://www.mlb.com/apps/rally/quickpick","menuItems":[],"itemId":"0ebe9e5d-3fc7-48d2-acb1-c33eb931b911″,"text":"MLB Beat the Streak","properties":"link":"https://www.mlb.com/apps/beat-the-streak","visible":"true","menuItems":[],"itemId":"086bd307-a929-4414-9dd7-09bdac8d3f2e","text":"MLB MOONBLASTS Pick 'Em","properties":"link":"https://www.mlb.com/sponsorship/ftx-moonblasts-pick-em","customProperties":"expires:1627754400″,"menuItems":[],"itemId":"14aa1d4b-0193-4670-a1fc-b4386d4977e8″,"text":"The Vault","properties":"link":"https://www.mlb.com/the-vault","menuItems":[],"itemId":"1543c12c-66d1-4033-9e05-c025fcb71a6a","text":"R.B.I. Baseball 21″,"properties":"link":"https://www.rbigame.com","menuItems":[],"itemId":"4e0abdd4-8a0f-4bc5-838f-91dd2796041e","text":"MLB Home Run Derby","properties":"link":"https://www.mlb.com/fantasy/home-run-derby","menuItems":[],"itemId":"7d8dfda7-345a-46fa-82dc-105068ba223e","text":"Season Pick 'Em","properties":"link":"https://www.mlb.com/season-pick-em?affiliateId=spe-fantasynav-club-2021″,"visible":"false","menuItems":[],"itemId":"6eda396d-199b-4772-b3c9-c0b032513b6c","text":"MLB Pre-Pick (AUS)","properties":"customProperties":"","link":"https://www.mlb.com/pre-pick/tab","menuItems":[],"itemId":"9f1ff266-0ed8-4adb-ba77-428d1871b237″,"text":"Closer Report","properties":"link":"https://www.mlb.com/closer-report","visible":"false","menuItems":[],"itemId":"4c4f57bd-e31a-46c9-8f73-0fa2227451d3″,"text":"Prospect Rankings","properties":"link":"https://www.mlb.com/prospects","menuItems":[],"itemId":"1ebe4dc3-2c6a-469f-be59-474fe14dbbd7″,"text":"MLB Champions","properties":"link":"https://www.mlbc-app.com/?ref=mlbcom","menuItems":[]],"itemId":"d1f61f89-9fd0-4f03-be17-2c5e128711a4″,"text":"Apps","properties":"link":"https://www.mlb.com/apps","menuItems":["itemId":"83ac2ddf-414b-47d1-afec-ffacd068ab57″,"text":"MLB","properties":"link":"https://www.mlb.com/apps/mlb-app","menuItems":[],"itemId":"83dbba73-02ac-4ba0-bebf-2c62ef04c19e","text":"MLB Rally","properties":"link":"https://www.mlb.com/apps/rally","visible":"true","menuItems":[],"itemId":"26fda476-348c-4f42-aa7c-92d1f9b1bf5c","text":"MLB Beat the Streak","properties":"link":"https://www.mlb.com/apps/beat-the-streak","menuItems":[],"itemId":"e09e6978-fcf7-4c2f-8387-59d83b7be38e","text":"MLB Ballpark","properties":"link":"https://www.mlb.com/apps/ballpark","menuItems":[],"itemId":"5e7b8019-9484-4872-abd7-8b963cd5969e","text":"MiLB First Pitch","properties":"link":"https://www.milb.com/about/first-pitch","menuItems":[],"itemId":"e3a0183d-1b5f-4e56-9b81-02632ba4ec60″,"text":"R.B.I. Baseball 21″,"properties":"link":"https://www.rbigame.com","menuItems":[],"itemId":"4fd8c1f8-a753-4501-916c-663390f1a566″,"text":"MLB Home Run Derby","properties":"link":"https://www.mlb.com/fantasy/home-run-derby","menuItems":[],"itemId":"9d8dfe8b-be1a-4ebf-9509-6bd0165a868e","text":"MLB FAQs","properties":"link":"https://www.mlb.com/apps/mlb-app/faq-apple","menuItems":[],"itemId":"df4e8527-e357-4272-bcf7-61876ed9455d","text":"MLB Ballpark FAQs","properties":"link":"https://www.mlb.com/apps/ballpark/faq-apple","visible":"true","menuItems":[],"itemId":"c2943c65-a843-437a-9ef4-4ccfe5be088f","text":"MLB Rally FAQs","properties":"link":"https://www.mlb.com/apps/rally/faq-apple","visible":"true","menuItems":[]]],"styleProps":,"teamNameSlug":"","teamsData":["id":133,"name":"Oakland Athletics","link":"/api/v1/teams/133″,"season":2021,"venue":"id":10,"name":"Oakland Coliseum","link":"/api/v1/venues/10″,"location":"address1″:"7000 Coliseum Way","city":"Oakland","state":"California","stateAbbrev":"CA","postalCode":"94621″,"defaultCoordinates":"latitude":37.751511,"longitude":-122.200698,"country":"USA","phone":"(510) 638-4900″,"timeZone":"id":"America/Los_Angeles","offset":-7,"tz":"PDT","active":true,"springVenue":"id":2507,"link":"/api/v1/venues/2507″,"teamCode":"oak","fileCode":"oak","abbreviation":"OAK","teamName":"Athletics","locationName":"Oakland","firstYearOfPlay":"1901″,"league":"id":103,"name":"American League","link":"/api/v1/league/103″,"division":"id":200,"name":"American League West","link":"/api/v1/divisions/200″,"sport":"id":1,"link":"/api/v1/sports/1″,"name":"Major League Baseball","shortName":"Oakland","franchiseName":"Oakland","clubName":"Athletics","springLeague":"id":114,"name":"Cactus League","link":"/api/v1/league/114″,"abbreviation":"CL","allStarStatus":"N","active":true,"id":134,"name":"Pittsburgh Pirates","link":"/api/v1/teams/134″,"season":2021,"venue":"id":31,"name":"PNC Park","link":"/api/v1/venues/31″,"location":"address1″:"115 Federal Street","city":"Pittsburgh","state":"Pennsylvania","stateAbbrev":"PA","postalCode":"15212″,"defaultCoordinates":"latitude":40.446904,"longitude":-80.005753,"country":"USA","phone":"(412) 323-5000″,"timeZone":"id":"America/New_York","offset":-4,"tz":"EDT","active":true,"springVenue":"id":2526,"link":"/api/v1/venues/2526″,"teamCode":"pit","fileCode":"pit","abbreviation":"PIT","teamName":"Pirates","locationName":"Pittsburgh","firstYearOfPlay":"1882″,"league":"id":104,"name":"National League","link":"/api/v1/league/104″,"division":"id":205,"name":"National League Central","link":"/api/v1/divisions/205″,"sport":"id":1,"link":"/api/v1/sports/1″,"name":"Major League Baseball","shortName":"Pittsburgh","franchiseName":"Pittsburgh","clubName":"Pirates","springLeague":"id":115,"name":"Grapefruit League","link":"/api/v1/league/115″,"abbreviation":"GL","allStarStatus":"N","active":true,"id":135,"name":"San Diego Padres","link":"/api/v1/teams/135″,"season":2021,"venue":"id":2680,"name":"Petco Park","link":"/api/v1/venues/2680″,"location":"address1″:"100 Park Boulevard","city":"San Diego","state":"California","stateAbbrev":"CA","postalCode":"92101″,"defaultCoordinates":"latitude":32.707861,"longitude":-117.157278,"country":"USA","phone":"(619) 795-5000″,"timeZone":"id":"America/Los_Angeles","offset":-7,"tz":"PDT","active":true,"springVenue":"id":2530,"link":"/api/v1/venues/2530″,"teamCode":"sdn","fileCode":"sd","abbreviation":"SD","teamName":"Padres","locationName":"San Diego","firstYearOfPlay":"1968″,"league":"id":104,"name":"National League","link":"/api/v1/league/104″,"division":"id":203,"name":"National League West","link":"/api/v1/divisions/203″,"sport":"id":1,"link":"/api/v1/sports/1″,"name":"Major League Baseball","shortName":"San Diego","franchiseName":"San Diego","clubName":"Padres","springLeague":"id":114,"name":"Cactus League","link":"/api/v1/league/114″,"abbreviation":"CL","allStarStatus":"N","active":true,"id":136,"name":"Seattle Mariners","link":"/api/v1/teams/136″,"season":2021,"venue":"id":680,"name":"T-Mobile Park","link":"/api/v1/venues/680″,"location":"address1″:"P.O. Box 4100″,"city":"Seattle","state":"Washington","stateAbbrev":"WA","postalCode":"98104″,"defaultCoordinates":"latitude":47.591333,"longitude":-122.33251,"country":"USA","phone":"(206) 346-4000″,"timeZone":"id":"America/Los_Angeles","offset":-7,"tz":"PDT","active":true,"springVenue":"id":2530,"link":"/api/v1/venues/2530″,"teamCode":"sea","fileCode":"sea","abbreviation":"SEA","teamName":"Mariners","locationName":"Seattle","firstYearOfPlay":"1977″,"league":"id":103,"name":"American League","link":"/api/v1/league/103″,"division":"id":200,"name":"American League West","link":"/api/v1/divisions/200″,"sport":"id":1,"link":"/api/v1/sports/1″,"name":"Major League Baseball","shortName":"Seattle","franchiseName":"Seattle","clubName":"Mariners","springLeague":"id":114,"name":"Cactus League","link":"/api/v1/league/114″,"abbreviation":"CL","allStarStatus":"N","active":true,"id":137,"name":"San Francisco Giants","link":"/api/v1/teams/137″,"season":2021,"venue":"id":2395,"name":"Oracle Park","link":"/api/v1/venues/2395″,"location":"address1″:"24 Willie Mays Plaza","city":"San Francisco","state":"California","stateAbbrev":"CA","postalCode":"94107″,"defaultCoordinates":"latitude":37.778383,"longitude":-122.389448,"country":"USA","phone":"(415) 972-2000″,"timeZone":"id":"America/Los_Angeles","offset":-7,"tz":"PDT","active":true,"springVenue":"id":2532,"link":"/api/v1/venues/2532″,"teamCode":"sfn","fileCode":"sf","abbreviation":"SF","teamName":"Giants","locationName":"San Francisco","firstYearOfPlay":"1883″,"league":"id":104,"name":"National League","link":"/api/v1/league/104″,"division":"id":203,"name":"National League West","link":"/api/v1/divisions/203″,"sport":"id":1,"link":"/api/v1/sports/1″,"name":"Major League Baseball","shortName":"San Francisco","franchiseName":"San Francisco","clubName":"Giants","springLeague":"id":114,"name":"Cactus League","link":"/api/v1/league/114″,"abbreviation":"CL","allStarStatus":"N","active":true,"id":138,"name":"St. Louis Cardinals","link":"/api/v1/teams/138″,"season":2021,"venue":"id":2889,"name":"Busch Stadium","link":"/api/v1/venues/2889″,"location":"address1″:"700 Clark Street","city":"St. Louis","state":"Missouri","stateAbbrev":"MO","postalCode":"63102″,"defaultCoordinates":"latitude":38.62256667,"longitude":-90.19286667,"country":"USA","phone":"(314) 345-9600″,"timeZone":"id":"America/Chicago","offset":-5,"tz":"CDT","active":true,"springVenue":"id":2520,"link":"/api/v1/venues/2520″,"teamCode":"sln","fileCode":"stl","abbreviation":"STL","teamName":"Cardinals","locationName":"St. Louis","firstYearOfPlay":"1892″,"league":"id":104,"name":"National League","link":"/api/v1/league/104″,"division":"id":205,"name":"National League Central","link":"/api/v1/divisions/205″,"sport":"id":1,"link":"/api/v1/sports/1″,"name":"Major League Baseball","shortName":"St. Louis","franchiseName":"St. Louis","clubName":"Cardinals","springLeague":"id":115,"name":"Grapefruit League","link":"/api/v1/league/115″,"abbreviation":"GL","allStarStatus":"N","active":true,"id":139,"name":"Tampa Bay Rays","link":"/api/v1/teams/139″,"season":2021,"venue":"id":12,"name":"Tropicana Field","link":"/api/v1/venues/12″,"location":"address1″:"One Tropicana Drive","city":"St. Petersburg","state":"Florida","stateAbbrev":"FL","postalCode":"33705″,"defaultCoordinates":"latitude":27.767778,"longitude":-82.6525,"country":"USA","phone":"(727) 825-3137″,"timeZone":"id":"America/New_York","offset":-4,"tz":"EDT","active":true,"springVenue":"id":2534,"link":"/api/v1/venues/2534″,"teamCode":"tba","fileCode":"tb","abbreviation":"TB","teamName":"Rays","locationName":"St. Petersburg","firstYearOfPlay":"1996″,"league":"id":103,"name":"American League","link":"/api/v1/league/103″,"division":"id":201,"name":"American League East","link":"/api/v1/divisions/201″,"sport":"id":1,"link":"/api/v1/sports/1″,"name":"Major League Baseball","shortName":"Tampa Bay","franchiseName":"Tampa Bay","clubName":"Rays","springLeague":"id":115,"name":"Grapefruit League","link":"/api/v1/league/115″,"abbreviation":"GL","allStarStatus":"N","active":true,"id":140,"name":"Texas Rangers","link":"/api/v1/teams/140″,"season":2021,"venue":"id":5325,"name":"Globe Life Field","link":"/api/v1/venues/5325″,"location":"address1″:"734 Stadium Drive","city":"Arlington","state":"Texas","stateAbbrev":"TX","postalCode":"76011″,"defaultCoordinates":"latitude":32.747299,"longitude":-97.081818,"country":"USA","phone":"(817) 533-1972″,"timeZone":"id":"America/Chicago","offset":-5,"tz":"CDT","active":true,"springVenue":"id":2603,"link":"/api/v1/venues/2603″,"teamCode":"tex","fileCode":"tex","abbreviation":"TEX","teamName":"Rangers","locationName":"Arlington","firstYearOfPlay":"1961″,"league":"id":103,"name":"American League","link":"/api/v1/league/103″,"division":"id":200,"name":"American League West","link":"/api/v1/divisions/200″,"sport":"id":1,"link":"/api/v1/sports/1″,"name":"Major League Baseball","shortName":"Texas","franchiseName":"Texas","clubName":"Rangers","springLeague":"id":114,"name":"Cactus League","link":"/api/v1/league/114″,"abbreviation":"CL","allStarStatus":"N","active":true,"id":141,"name":"Toronto Blue Jays","link":"/api/v1/teams/141″,"season":2021,"venue":"id":14,"name":"Rogers Centre","link":"/api/v1/venues/14″,"location":"address1″:"1 Blue Jays Way, Suite 3200″,"city":"Toronto","state":"Ontario","stateAbbrev":"ON","postalCode":"M5V1J1″,"defaultCoordinates":"latitude":43.64155,"longitude":-79.38915,"country":"Canada","phone":"(416) 341-1000″,"timeZone":"id":"America/Toronto","offset":-4,"tz":"EDT","active":true,"springVenue":"id":2536,"link":"/api/v1/venues/2536″,"teamCode":"tor","fileCode":"tor","abbreviation":"TOR","teamName":"Blue Jays","locationName":"Toronto","firstYearOfPlay":"1977″,"league":"id":103,"name":"American League","link":"/api/v1/league/103″,"division":"id":201,"name":"American League East","link":"/api/v1/divisions/201″,"sport":"id":1,"link":"/api/v1/sports/1″,"name":"Major League Baseball","shortName":"Toronto","franchiseName":"Toronto","clubName":"Blue Jays","springLeague":"id":115,"name":"Grapefruit League","link":"/api/v1/league/115″,"abbreviation":"GL","allStarStatus":"N","active":true,"id":142,"name":"Minnesota Twins","link":"/api/v1/teams/142″,"season":2021,"venue":"id":3312,"name":"Target Field","link":"/api/v1/venues/3312″,"location":"address1″:"1 Twins Way","city":"Minneapolis","state":"Minnesota","stateAbbrev":"MN","postalCode":"55403″,"defaultCoordinates":"latitude":44.981829,"longitude":-93.277891,"country":"USA","phone":"(612) 659-3400″,"timeZone":"id":"America/Chicago","offset":-5,"tz":"CDT","active":true,"springVenue":"id":2862,"link":"/api/v1/venues/2862″,"teamCode":"min","fileCode":"min","abbreviation":"MIN","teamName":"Twins","locationName":"Minneapolis","firstYearOfPlay":"1901″,"league":"id":103,"name":"American League","link":"/api/v1/league/103″,"division":"id":202,"name":"American League Central","link":"/api/v1/divisions/202″,"sport":"id":1,"link":"/api/v1/sports/1″,"name":"Major League Baseball","shortName":"Minnesota","franchiseName":"Minnesota","clubName":"Twins","springLeague":"id":115,"name":"Grapefruit League","link":"/api/v1/league/115″,"abbreviation":"GL","allStarStatus":"N","active":true,"id":143,"name":"Philadelphia Phillies","link":"/api/v1/teams/143″,"season":2021,"venue":"id":2681,"name":"Citizens Bank Park","link":"/api/v1/venues/2681″,"location":"address1″:"One Citizens Bank Way","city":"Philadelphia","state":"Pennsylvania","stateAbbrev":"PA","postalCode":"19148″,"defaultCoordinates":"latitude":39.90539086,"longitude":-75.16716957,"country":"USA","phone":"(215) 463-6000″,"timeZone":"id":"America/New_York","offset":-4,"tz":"EDT","active":true,"springVenue":"id":2700,"link":"/api/v1/venues/2700″,"teamCode":"phi","fileCode":"phi","abbreviation":"PHI","teamName":"Phillies","locationName":"Philadelphia","firstYearOfPlay":"1883″,"league":"id":104,"name":"National League","link":"/api/v1/league/104″,"division":"id":204,"name":"National League East","link":"/api/v1/divisions/204″,"sport":"id":1,"link":"/api/v1/sports/1″,"name":"Major League Baseball","shortName":"Philadelphia","franchiseName":"Philadelphia","clubName":"Phillies","springLeague":"id":115,"name":"Grapefruit League","link":"/api/v1/league/115″,"abbreviation":"GL","allStarStatus":"N","active":true,"id":144,"name":"Atlanta Braves","link":"/api/v1/teams/144″,"season":2021,"venue":"id":4705,"name":"Truist Park","link":"/api/v1/venues/4705″,"location":"address1″:"755 Battery Avenue","city":"Atlanta","state":"Georgia","stateAbbrev":"GA","postalCode":"30339″,"defaultCoordinates":"latitude":33.890672,"longitude":-84.467641,"country":"USA","timeZone":"id":"America/New_York","offset":-4,"tz":"EDT","active":true,"springVenue":"id":5380,"link":"/api/v1/venues/5380″,"teamCode":"atl","fileCode":"atl","abbreviation":"ATL","teamName":"Braves","locationName":"Atlanta","firstYearOfPlay":"1871″,"league":"id":104,"name":"National League","link":"/api/v1/league/104″,"division":"id":204,"name":"National League East","link":"/api/v1/divisions/204″,"sport":"id":1,"link":"/api/v1/sports/1″,"name":"Major League Baseball","shortName":"Atlanta","franchiseName":"Atlanta","clubName":"Braves","springLeague":"id":115,"name":"Grapefruit League","link":"/api/v1/league/115″,"abbreviation":"GL","allStarStatus":"N","active":true,"id":145,"name":"Chicago White Sox","link":"/api/v1/teams/145″,"season":2021,"venue":"id":4,"name":"Guaranteed Rate Field","link":"/api/v1/venues/4″,"location":"address1″:"333 West 35th Street","city":"Chicago","state":"Illinois","stateAbbrev":"IL","postalCode":"60616″,"defaultCoordinates":"latitude":41.83,"longitude":-87.634167,"country":"USA","phone":"(312) 674-1000″,"timeZone":"id":"America/Chicago","offset":-5,"tz":"CDT","active":true,"springVenue":"id":3809,"link":"/api/v1/venues/3809″,"teamCode":"cha","fileCode":"cws","abbreviation":"CWS","teamName":"White Sox","locationName":"Chicago","firstYearOfPlay":"1901″,"league":"id":103,"name":"American League","link":"/api/v1/league/103″,"division":"id":202,"name":"American League Central","link":"/api/v1/divisions/202″,"sport":"id":1,"link":"/api/v1/sports/1″,"name":"Major League Baseball","shortName":"Chi White Sox","franchiseName":"Chicago","clubName":"White Sox","springLeague":"id":114,"name":"Cactus League","link":"/api/v1/league/114″,"abbreviation":"CL","allStarStatus":"N","active":true,"id":146,"name":"Miami Marlins","link":"/api/v1/teams/146″,"season":2021,"venue":"id":4169,"name":"loanDepot park","link":"/api/v1/venues/4169″,"location":"address1″:"501 Marlins Way","city":"Miami","state":"Florida","stateAbbrev":"FL","postalCode":"33125″,"defaultCoordinates":"latitude":25.77796236,"longitude":-80.21951795,"country":"USA","timeZone":"id":"America/New_York","offset":-4,"tz":"EDT","active":true,"springVenue":"id":2520,"link":"/api/v1/venues/2520″,"teamCode":"mia","fileCode":"mia","abbreviation":"MIA","teamName":"Marlins","locationName":"Miami","firstYearOfPlay":"1991″,"league":"id":104,"name":"National League","link":"/api/v1/league/104″,"division":"id":204,"name":"National League East","link":"/api/v1/divisions/204″,"sport":"id":1,"link":"/api/v1/sports/1″,"name":"Major League Baseball","shortName":"Miami","franchiseName":"Miami","clubName":"Marlins","springLeague":"id":115,"name":"Grapefruit League","link":"/api/v1/league/115″,"abbreviation":"GL","allStarStatus":"N","active":true,"id":147,"name":"New York Yankees","link":"/api/v1/teams/147″,"season":2021,"venue":"id":3313,"name":"Yankee Stadium","link":"/api/v1/venues/3313″,"location":"address1″:"One East 161st Street","city":"Bronx","state":"New York","stateAbbrev":"NY","postalCode":"10451″,"defaultCoordinates":"latitude":40.82919482,"longitude":-73.9264977,"country":"USA","phone":"(718) 293-4300″,"timeZone":"id":"America/New_York","offset":-4,"tz":"EDT","active":true,"springVenue":"id":2523,"link":"/api/v1/venues/2523″,"teamCode":"nya","fileCode":"nyy","abbreviation":"NYY","teamName":"Yankees","locationName":"Bronx","firstYearOfPlay":"1903″,"league":"id":103,"name":"American League","link":"/api/v1/league/103″,"division":"id":201,"name":"American League East","link":"/api/v1/divisions/201″,"sport":"id":1,"link":"/api/v1/sports/1″,"name":"Major League Baseball","shortName":"NY Yankees","franchiseName":"New York","clubName":"Yankees","springLeague":"id":115,"name":"Grapefruit League","link":"/api/v1/league/115″,"abbreviation":"GL","allStarStatus":"N","active":true,"id":158,"name":"Milwaukee Brewers","link":"/api/v1/teams/158″,"season":2021,"venue":"id":32,"name":"American Family Field","link":"/api/v1/venues/32″,"location":"address1″:"One Brewers Way","city":"Milwaukee","state":"Wisconsin","stateAbbrev":"WI","postalCode":"53214″,"defaultCoordinates":"latitude":43.02838,"longitude":-87.97099,"country":"USA","phone":"(414) 902-4400″,"timeZone":"id":"America/Chicago","offset":-5,"tz":"CDT","active":true,"springVenue":"id":2518,"link":"/api/v1/venues/2518″,"teamCode":"mil","fileCode":"mil","abbreviation":"MIL","teamName":"Brewers","locationName":"Milwaukee","firstYearOfPlay":"1968″,"league":"id":104,"name":"National League","link":"/api/v1/league/104″,"division":"id":205,"name":"National League Central","link":"/api/v1/divisions/205″,"sport":"id":1,"link":"/api/v1/sports/1″,"name":"Major League Baseball","shortName":"Milwaukee","franchiseName":"Milwaukee","clubName":"Brewers","springLeague":"id":114,"name":"Cactus League","link":"/api/v1/league/114″,"abbreviation":"CL","allStarStatus":"N","active":true,"id":108,"name":"Los Angeles Angels","link":"/api/v1/teams/108″,"season":2021,"venue":"id":1,"name":"Angel Stadium","link":"/api/v1/venues/1″,"location":"address1″:"2000 Gene Autry Way","city":"Anaheim","state":"California","stateAbbrev":"CA","postalCode":"92806″,"defaultCoordinates":"latitude":33.80019044,"longitude":-117.8823996,"country":"USA","phone":"(714) 940-2000″,"timeZone":"id":"America/Los_Angeles","offset":-7,"tz":"PDT","active":true,"springVenue":"id":2500,"link":"/api/v1/venues/2500″,"teamCode":"ana","fileCode":"ana","abbreviation":"LAA","teamName":"Angels","locationName":"Anaheim","firstYearOfPlay":"1961″,"league":"id":103,"name":"American League","link":"/api/v1/league/103″,"division":"id":200,"name":"American League West","link":"/api/v1/divisions/200″,"sport":"id":1,"link":"/api/v1/sports/1″,"name":"Major League Baseball","shortName":"LA Angels","franchiseName":"Los Angeles","clubName":"Angels","springLeague":"id":114,"name":"Cactus League","link":"/api/v1/league/114″,"abbreviation":"CL","allStarStatus":"N","active":true,"id":109,"name":"Arizona Diamondbacks","link":"/api/v1/teams/109″,"season":2021,"venue":"id":15,"name":"Chase Field","link":"/api/v1/venues/15″,"location":"address1″:"401 East Jefferson Street","city":"Phoenix","state":"Arizona","stateAbbrev":"AZ","postalCode":"85004″,"defaultCoordinates":"latitude":33.445302,"longitude":-112.066687,"country":"USA","phone":"(602) 462-6500″,"timeZone":"id":"America/Phoenix","offset":-7,"tz":"MST","active":true,"springVenue":"id":4249,"link":"/api/v1/venues/4249″,"teamCode":"ari","fileCode":"ari","abbreviation":"ARI","teamName":"D-backs","locationName":"Phoenix","firstYearOfPlay":"1996″,"league":"id":104,"name":"National League","link":"/api/v1/league/104″,"division":"id":203,"name":"National League West","link":"/api/v1/divisions/203″,"sport":"id":1,"link":"/api/v1/sports/1″,"name":"Major League Baseball","shortName":"Arizona","franchiseName":"Arizona","clubName":"Diamondbacks","springLeague":"id":114,"name":"Cactus League","link":"/api/v1/league/114″,"abbreviation":"CL","allStarStatus":"N","active":true,"id":110,"name":"Baltimore Orioles","link":"/api/v1/teams/110″,"season":2021,"venue":"id":2,"name":"Oriole Park at Camden Yards","link":"/api/v1/venues/2″,"location":"address1″:"333 West Camden Street","city":"Baltimore","state":"Maryland","stateAbbrev":"MD","postalCode":"21201″,"defaultCoordinates":"latitude":39.283787,"longitude":-76.621689,"country":"USA","phone":"(410) 685-9800″,"timeZone":"id":"America/New_York","offset":-4,"tz":"EDT","active":true,"springVenue":"id":2508,"link":"/api/v1/venues/2508″,"teamCode":"bal","fileCode":"bal","abbreviation":"BAL","teamName":"Orioles","locationName":"Baltimore","firstYearOfPlay":"1901″,"league":"id":103,"name":"American League","link":"/api/v1/league/103″,"division":"id":201,"name":"American League East","link":"/api/v1/divisions/201″,"sport":"id":1,"link":"/api/v1/sports/1″,"name":"Major League Baseball","shortName":"Baltimore","franchiseName":"Baltimore","clubName":"Orioles","springLeague":"id":115,"name":"Grapefruit League","link":"/api/v1/league/115″,"abbreviation":"GL","allStarStatus":"N","active":true,"id":111,"name":"Boston Red Sox","link":"/api/v1/teams/111″,"season":2021,"venue":"id":3,"name":"Fenway Park","link":"/api/v1/venues/3″,"location":"address1″:"4 Yawkey Way","city":"Boston","state":"Massachusetts","stateAbbrev":"MA","postalCode":"2215″,"defaultCoordinates":"latitude":42.346456,"longitude":-71.097441,"country":"USA","phone":"(617) 267-9440″,"timeZone":"id":"America/New_York","offset":-4,"tz":"EDT","active":true,"springVenue":"id":4309,"link":"/api/v1/venues/4309″,"teamCode":"bos","fileCode":"bos","abbreviation":"BOS","teamName":"Red Sox","locationName":"Boston","firstYearOfPlay":"1901″,"league":"id":103,"name":"American League","link":"/api/v1/league/103″,"division":"id":201,"name":"American League East","link":"/api/v1/divisions/201″,"sport":"id":1,"link":"/api/v1/sports/1″,"name":"Major League Baseball","shortName":"Boston","franchiseName":"Boston","clubName":"Red Sox","springLeague":"id":115,"name":"Grapefruit League","link":"/api/v1/league/115″,"abbreviation":"GL","allStarStatus":"N","active":true,"id":112,"name":"Chicago Cubs","link":"/api/v1/teams/112″,"season":2021,"venue":"id":17,"name":"Wrigley Field","link":"/api/v1/venues/17″,"location":"address1″:"1060 West Addison","city":"Chicago","state":"Illinois","stateAbbrev":"IL","postalCode":"60613-4397″,"defaultCoordinates":"latitude":41.948171,"longitude":-87.655503,"country":"USA","phone":"(773) 404-2827″,"timeZone":"id":"America/Chicago","offset":-5,"tz":"CDT","active":true,"springVenue":"id":4629,"link":"/api/v1/venues/4629″,"teamCode":"chn","fileCode":"chc","abbreviation":"CHC","teamName":"Cubs","locationName":"Chicago","firstYearOfPlay":"1874″,"league":"id":104,"name":"National League","link":"/api/v1/league/104″,"division":"id":205,"name":"National League Central","link":"/api/v1/divisions/205″,"sport":"id":1,"link":"/api/v1/sports/1″,"name":"Major League Baseball","shortName":"Chi Cubs","franchiseName":"Chicago","clubName":"Cubs","springLeague":"id":114,"name":"Cactus League","link":"/api/v1/league/114″,"abbreviation":"CL","allStarStatus":"N","active":true,"id":113,"name":"Cincinnati Reds","link":"/api/v1/teams/113″,"season":2021,"venue":"id":2602,"name":"Great American Ball Park","link":"/api/v1/venues/2602″,"location":"address1″:"100 Main Street","city":"Cincinnati","state":"Ohio","stateAbbrev":"OH","postalCode":"45202-4109″,"defaultCoordinates":"latitude":39.097389,"longitude":-84.506611,"country":"USA","phone":"(513) 765-7000″,"timeZone":"id":"America/New_York","offset":-4,"tz":"EDT","active":true,"springVenue":"id":3834,"link":"/api/v1/venues/3834″,"teamCode":"cin","fileCode":"cin","abbreviation":"CIN","teamName":"Reds","locationName":"Cincinnati","firstYearOfPlay":"1882″,"league":"id":104,"name":"National League","link":"/api/v1/league/104″,"division":"id":205,"name":"National League Central","link":"/api/v1/divisions/205″,"sport":"id":1,"link":"/api/v1/sports/1″,"name":"Major League Baseball","shortName":"Cincinnati","franchiseName":"Cincinnati","clubName":"Reds","springLeague":"id":114,"name":"Cactus League","link":"/api/v1/league/114″,"abbreviation":"CL","allStarStatus":"N","active":true,"id":114,"name":"Cleveland Indians","link":"/api/v1/teams/114″,"season":2021,"venue":"id":5,"name":"Progressive Field","link":"/api/v1/venues/5″,"location":"address1″:"2401 Ontario Street","city":"Cleveland","state":"Ohio","stateAbbrev":"OH","postalCode":"44115″,"defaultCoordinates":"latitude":41.495861,"longitude":-81.685255,"country":"USA","phone":"(216) 420-4200″,"timeZone":"id":"America/New_York","offset":-4,"tz":"EDT","active":true,"springVenue":"id":3834,"link":"/api/v1/venues/3834″,"teamCode":"cle","fileCode":"cle","abbreviation":"CLE","teamName":"Indians","locationName":"Cleveland","firstYearOfPlay":"1901″,"league":"id":103,"name":"American League","link":"/api/v1/league/103″,"division":"id":202,"name":"American League Central","link":"/api/v1/divisions/202″,"sport":"id":1,"link":"/api/v1/sports/1″,"name":"Major League Baseball","shortName":"Cleveland","franchiseName":"Cleveland","clubName":"Indians","springLeague":"id":114,"name":"Cactus League","link":"/api/v1/league/114″,"abbreviation":"CL","allStarStatus":"N","active":true,"id":115,"name":"Colorado Rockies","link":"/api/v1/teams/115″,"season":2021,"venue":"id":19,"name":"Coors Field","link":"/api/v1/venues/19″,"location":"address1″:"2001 Blake Street","city":"Denver","state":"Colorado","stateAbbrev":"CO","postalCode":"80205-2000″,"defaultCoordinates":"latitude":39.756042,"longitude":-104.994136,"country":"USA","phone":"(303) 292-0200″,"timeZone":"id":"America/Denver","offset":-6,"tz":"MDT","active":true,"springVenue":"id":4249,"link":"/api/v1/venues/4249″,"teamCode":"col","fileCode":"col","abbreviation":"COL","teamName":"Rockies","locationName":"Denver","firstYearOfPlay":"1992″,"league":"id":104,"name":"National League","link":"/api/v1/league/104″,"division":"id":203,"name":"National League West","link":"/api/v1/divisions/203″,"sport":"id":1,"link":"/api/v1/sports/1″,"name":"Major League Baseball","shortName":"Colorado","franchiseName":"Colorado","clubName":"Rockies","springLeague":"id":114,"name":"Cactus League","link":"/api/v1/league/114″,"abbreviation":"CL","allStarStatus":"N","active":true,"id":116,"name":"Detroit Tigers","link":"/api/v1/teams/116″,"season":2021,"venue":"id":2394,"name":"Comerica Park","link":"/api/v1/venues/2394″,"location":"address1″:"2100 Woodward Avenue","city":"Detroit","state":"Michigan","stateAbbrev":"MI","postalCode":"48201″,"defaultCoordinates":"latitude":42.3391151,"longitude":-83.048695,"country":"USA","phone":"(313) 471-2000″,"timeZone":"id":"America/Detroit","offset":-4,"tz":"EDT","active":true,"springVenue":"id":2511,"link":"/api/v1/venues/2511″,"teamCode":"det","fileCode":"det","abbreviation":"DET","teamName":"Tigers","locationName":"Detroit","firstYearOfPlay":"1901″,"league":"id":103,"name":"American League","link":"/api/v1/league/103″,"division":"id":202,"name":"American League Central","link":"/api/v1/divisions/202″,"sport":"id":1,"link":"/api/v1/sports/1″,"name":"Major League Baseball","shortName":"Detroit","franchiseName":"Detroit","clubName":"Tigers","springLeague":"id":115,"name":"Grapefruit League","link":"/api/v1/league/115″,"abbreviation":"GL","allStarStatus":"N","active":true,"id":117,"name":"Houston Astros","link":"/api/v1/teams/117″,"season":2021,"venue":"id":2392,"name":"Minute Maid Park","link":"/api/v1/venues/2392″,"location":"address1″:"501 Crawford Street","city":"Houston","state":"Texas","stateAbbrev":"TX","postalCode":"77002″,"defaultCoordinates":"latitude":29.756967,"longitude":-95.355509,"country":"USA","phone":"(713) 259-8000″,"timeZone":"id":"America/Chicago","offset":-5,"tz":"CDT","active":true,"springVenue":"id":5000,"link":"/api/v1/venues/5000″,"teamCode":"hou","fileCode":"hou","abbreviation":"HOU","teamName":"Astros","locationName":"Houston","firstYearOfPlay":"1962″,"league":"id":103,"name":"American League","link":"/api/v1/league/103″,"division":"id":200,"name":"American League West","link":"/api/v1/divisions/200″,"sport":"id":1,"link":"/api/v1/sports/1″,"name":"Major League Baseball","shortName":"Houston","franchiseName":"Houston","clubName":"Astros","springLeague":"id":115,"name":"Grapefruit League","link":"/api/v1/league/115″,"abbreviation":"GL","allStarStatus":"N","active":true,"id":118,"name":"Kansas City Royals","link":"/api/v1/teams/118″,"season":2021,"venue":"id":7,"name":"Kauffman Stadium","link":"/api/v1/venues/7″,"location":"address1″:"One Royal Way","city":"Kansas City","state":"Missouri","stateAbbrev":"MO","postalCode":"64129″,"defaultCoordinates":"latitude":39.051567,"longitude":-94.480483,"country":"USA","phone":"(816) 921-8000″,"timeZone":"id":"America/Chicago","offset":-5,"tz":"CDT","active":true,"springVenue":"id":2603,"link":"/api/v1/venues/2603″,"teamCode":"kca","fileCode":"kc","abbreviation":"KC","teamName":"Royals","locationName":"Kansas City","firstYearOfPlay":"1968″,"league":"id":103,"name":"American League","link":"/api/v1/league/103″,"division":"id":202,"name":"American League Central","link":"/api/v1/divisions/202″,"sport":"id":1,"link":"/api/v1/sports/1″,"name":"Major League Baseball","shortName":"Kansas City","franchiseName":"Kansas City","clubName":"Royals","springLeague":"id":114,"name":"Cactus League","link":"/api/v1/league/114″,"abbreviation":"CL","allStarStatus":"N","active":true,"id":119,"name":"Los Angeles Dodgers","link":"/api/v1/teams/119″,"season":2021,"venue":"id":22,"name":"Dodger Stadium","link":"/api/v1/venues/22″,"location":"address1″:"1000 Vin Scully Avenue","city":"Los Angeles","state":"California","stateAbbrev":"CA","postalCode":"90012-1199″,"defaultCoordinates":"latitude":34.07368,"longitude":-118.24053,"country":"USA","phone":"(323) 224-1500″,"timeZone":"id":"America/Los_Angeles","offset":-7,"tz":"PDT","active":true,"springVenue":"id":3809,"link":"/api/v1/venues/3809″,"teamCode":"lan","fileCode":"la","abbreviation":"LAD","teamName":"Dodgers","locationName":"Los Angeles","firstYearOfPlay":"1884″,"league":"id":104,"name":"National League","link":"/api/v1/league/104″,"division":"id":203,"name":"National League West","link":"/api/v1/divisions/203″,"sport":"id":1,"link":"/api/v1/sports/1″,"name":"Major League Baseball","shortName":"LA Dodgers","franchiseName":"Los Angeles","clubName":"Dodgers","springLeague":"id":114,"name":"Cactus League","link":"/api/v1/league/114″,"abbreviation":"CL","allStarStatus":"N","active":true,"id":120,"name":"Washington Nationals","link":"/api/v1/teams/120″,"season":2021,"venue":"id":3309,"name":"Nationals Park","link":"/api/v1/venues/3309″,"location":"address1″:"1500 South Capitol Street, SE","city":"Washington","state":"District of Columbia","stateAbbrev":"DC","postalCode":"20003-1507″,"defaultCoordinates":"latitude":38.872861,"longitude":-77.007501,"country":"USA","phone":"(202) 349-0400″,"timeZone":"id":"America/New_York","offset":-4,"tz":"EDT","active":true,"springVenue":"id":5000,"link":"/api/v1/venues/5000″,"teamCode":"was","fileCode":"was","abbreviation":"WSH","teamName":"Nationals","locationName":"Washington","firstYearOfPlay":"1968″,"league":"id":104,"name":"National League","link":"/api/v1/league/104″,"division":"id":204,"name":"National League East","link":"/api/v1/divisions/204″,"sport":"id":1,"link":"/api/v1/sports/1″,"name":"Major League Baseball","shortName":"Washington","franchiseName":"Washington","clubName":"Nationals","springLeague":"id":115,"name":"Grapefruit League","link":"/api/v1/league/115″,"abbreviation":"GL","allStarStatus":"N","active":true,"id":121,"name":"New York Mets","link":"/api/v1/teams/121″,"season":2021,"venue":"id":3289,"name":"Citi Field","link":"/api/v1/venues/3289″,"location":"address1″:"Citi Field","city":"Flushing","state":"New York","stateAbbrev":"NY","postalCode":"11368″,"defaultCoordinates":"latitude":40.75753012,"longitude":-73.84559155,"country":"USA","phone":"(718) 507-6387″,"timeZone":"id":"America/New_York","offset":-4,"tz":"EDT","active":true,"springVenue":"id":2856,"link":"/api/v1/venues/2856″,"teamCode":"nyn","fileCode":"nym","abbreviation":"NYM","teamName":"Mets","locationName":"Flushing","firstYearOfPlay":"1962″,"league":"id":104,"name":"National League","link":"/api/v1/league/104″,"division":"id":204,"name":"National League East","link":"/api/v1/divisions/204″,"sport":"id":1,"link":"/api/v1/sports/1″,"name":"Major League Baseball","shortName":"NY Mets","franchiseName":"New York","clubName":"Mets","springLeague":"id":115,"name":"Grapefruit League","link":"/api/v1/league/115″,"abbreviation":"GL","allStarStatus":"N","active":true]},"graphqlVariables":"getInitialData":"contentfulLocale":"en-US","forgeLocale":"en-us","isApp":false,"preview":false,"storySlug":"mlb-announces-2022-field-of-dreams-game","teamId":"mlb","teamPropertiesId":"mlb-global-properties","teamPaletteId":"mlb-base-palette","getRelatedContent":"slug":"mlb-announces-2022-field-of-dreams-game","options":"locale":"en-us","teamId":"mlb","topicSlug":"","getTopic":"forgeLocale":"en-us","topicSlug":"","headerState":{"clubId":"mlb","deviceProperties":,"footerData":"instanceId":"db2f8fb2-78c8-4d3c-a328-9e91c349dfee","name":"global-footer","variables":[],"menuItems":["itemId":"aec375d3-3afa-4491-ab28-60b736f38982″,"text":"Terms of Use","properties":"link":"/official-information/terms-of-use","target":"_blank","menuItems":[],"itemId":"debe8dbf-de27-4eae-b7ec-adae43fc4642″,"text":"Privacy Policy","properties":"link":"/official-information/privacy-policy","menuItems":[],"itemId":"345a1847-cac1-43a4-91bf-70c21ecee681″,"text":"Legal Notices","properties":"link":"/official-information/legal-notices","menuItems":[],"itemId":"34014aad-1069-4bba-b22e-4b287a4f7df1″,"text":"Contact Us","properties":"link":"/official-information/contact","menuItems":[],"itemId":"65e06970-7f8e-4328-ad82-9d90df0f3e87″,"text":"Do Not Sell My Personal Data","properties":"link":"https://privacyportal.onetrust.com/webform/53a301ae-6882-46f9-af93-24f64f792aee/3251a424-8286-4725-9313-603f12c85a49″,"target":"_blank","menuItems":[],"itemId":"dd307e97-49c6-4f80-aff3-89a59696fb80″,"text":"Official Information","properties":,"menuItems":["itemId":"bdf571d3-e8bb-403b-bb5f-7f28a7127c74″,"text":"Official Info","properties":"link":"/official-information","menuItems":[],"itemId":"ecfd4d42-aa8d-4872-80a5-869c6b493018″,"text":"About MLB","properties":"link":"/official-information/about-mlb","menuItems":[],"itemId":"bb62de22-5c84-4cab-b9fb-5429ea9d647c","text":"Team Information","properties":"link":"https://www.mlb.com/team","menuItems":[],"itemId":"7cc37e2a-667c-4405-bd1f-87ad88bc4d9e","text":"Official Rules","properties":"link":"https://img.mlbstatic.com/mlb-images/image/upload/mlb/atcjzj9j7wrgvsm8wnjq.pdf","menuItems":[],"itemId":"e658056b-608b-4eee-a04a-43772f9e6bb4″,"text":"Replay Review Regulations","properties":"link":"/glossary/rules/replay-review","menuItems":[],"itemId":"0b3fc77c-c7d1-4584-a184-90fd8c4959e9″,"text":"Umpires","properties":"link":"/official-information/umpires","menuItems":[],"itemId":"23dde9d7-6aba-4bec-a449-b1b4d5a5767c","text":"Advertise with Us","properties":"link":"/sponsorship","menuItems":[],"itemId":"ca43b715-5423-4314-ac5a-f9229bee6fb6″,"text":"Press Releases","properties":"link":"/news/topic/mlb-press-releases","menuItems":[]],"itemId":"7a60a8fc-0c3c-4c87-b04b-2b57b6c9894c","text":"Help/Contact Us","properties":,"menuItems":["itemId":"efb27376-accc-4ca4-9017-c3309ee122d3″,"text":"Accessibility Information","properties":"link":"/official-information/accessibility","menuItems":[],"itemId":"cf3490fc-f093-4457-99a7-d2bc3f4d4cef","text":"Auctions Customer Service","properties":"link":"http://auctions.mlb.com/iSynApp/manageUserEmail!showEmailContactUsForm.action?sid=1101001″,"menuItems":[],"itemId":"c6867706-11b7-4634-a78e-b5d513948f43″,"text":"Harassment Policy","properties":"link":"/official-information/harassment-policy","menuItems":[],"itemId":"0e3932c9-beec-43f2-b712-66879a51ab63″,"text":"Help/Contact Us","properties":"link":"/official-information/contact","menuItems":[],"itemId":"6d4ebef1-3168-4b79-a237-9f36931d3a2c","text":"MLB App FAQs","properties":"link":"https://www.mlb.com/apps/mlb-app/faq-apple","menuItems":[],"itemId":"4b3c6ee8-d4ae-4265-a7e7-7e5bea8cde28″,"text":"MLB.com Account Information","properties":"link":"/official-information/faqs","menuItems":[],"itemId":"4d33a7c1-38d5-4b3b-a999-53377f55738d","text":"MLB.TV Help Center","properties":"link":"/live-stream-games/help-center","menuItems":[],"itemId":"36f01834-7979-4a42-aa12-52439c2e320b","text":"Shop Help","properties":"link":"https://help-mlb.custhelp.com/","menuItems":[],"itemId":"bb6e7a31-4b7d-4e49-8c2e-00dda9e237ab","text":"Ticket Information","properties":"link":"/official-information/ticket-faqs","menuItems":[]],"itemId":"6ca8b189-8c54-428f-9f79-3c357ef18469″,"text":"More MLB Sites & Affiliates","properties":,"menuItems":["itemId":"becc9309-94fc-491b-ad15-45f7c17f85a9″,"text":"MLB Players Alumni Association","properties":"link":"/mlbpaa","target":"","menuItems":[],"itemId":"9ff49c09-8a0d-41e6-b8b0-14f37f8e7f52″,"text":"MLB Players Association","properties":"link":"http://www.mlbplayers.com/","menuItems":[],"itemId":"022ec2ca-bb20-4543-9cdc-95ba3a4443ca","text":"Minor League Baseball","properties":"link":"https://www.milb.com/","menuItems":[],"itemId":"c6f9948e-3521-4788-83ed-b568f39e86aa","text":"MLB Network","properties":"link":"https://www.mlb.com/network","menuItems":[],"itemId":"de2ea389-0a29-4600-8048-b4261916183d","text":"Baseball Assistance Team","properties":"link":"/baseball-assistance-team","menuItems":[],"itemId":"e1a2af1c-ee36-4672-935b-17e62d0b4ddc","text":"Player Resource Center","properties":"link":"/player-resource-center","target":"","menuItems":[],"itemId":"75f0b763-612d-4557-ae38-227fb5b3b7f1″,"text":"Tickets.com","properties":"link":"http://www.tickets.com/","menuItems":[],"itemId":"f8599d26-5069-4417-8c26-0965dd8d9435″,"text":"YES Network","properties":"link":"https://www.yesnetwork.com/","menuItems":[],"itemId":"5c8f6196-a4d5-4ed5-b830-189580691d3e","text":"Australian Baseball League","properties":"link":"https://theabl.com.au/","menuItems":[],"itemId":"ab6fc805-0bb7-439b-8c3c-92c61b035387″,"text":"World Baseball Classic","properties":"link":"https://www.worldbaseballclassic.com/","menuItems":[],"itemId":"e218ed4d-89f9-4f7d-87e7-c05a3559cd74″,"text":"sabr.org","properties":"link":"http://sabr.org/","menuItems":[],"itemId":"158a95a6-bd4f-4654-b57f-465d3c356a55″,"text":"College Baseball Hall of Fame","properties":"link":"https://www.mlb.com/college-baseball-hall-of-fame","menuItems":[],"itemId":"5e602a1a-e518-455b-ac5f-5c0e80430e38″,"text":"Golden Spikes Award","properties":"link":"https://www.usabaseball.com/golden-spikes-award","menuItems":[],"itemId":"ccd9020d-c619-45d2-bc1f-ef80ae2cd651″,"text":"USA Baseball","properties":"link":"https://www.usabaseball.com","menuItems":[],"itemId":"75512a93-d52d-4d71-a6d3-70d6b44dfa0f","text":"LasMayores.com","properties":"link":"https://www.mlb.com/es","menuItems":[],"itemId":"3b7bbad3-1ed5-468d-8703-205519315e04″,"text":"MLBCommunity.org","properties":"link":"/mlb-community","menuItems":[],"itemId":"f8058121-3606-4ff2-be8a-d1a3d47642db","text":"AllStarGame.com","properties":"link":"https://www.mlb.com/all-star","menuItems":[],"itemId":"a624b4e5-c8d8-44b9-9084-7522ed0cee59″,"text":"MLB.com/Kids","properties":"link":"https://www.mlb.com/fans/kids","menuItems":[],"itemId":"43c6bc47-f7d9-445a-85a1-10b3cdc02ee0″,"text":"MLB Photostore","properties":"link":"https://photostore.mlb.com/","menuItems":[],"itemId":"d9f4ea22-70a7-4085-a16e-83f70a5711b2″,"text":"Offseason Leagues","properties":"link":"http://mlb.mlb.com/mlb/events/winterleagues/","menuItems":[],"itemId":"c574a4a2-45ec-47fe-8ca3-b5b99d1cb443″,"text":"PlayBall.org","properties":"link":"https://www.playball.org","menuItems":[],"itemId":"517cf98f-063c-486a-a725-5380e1ae063f","text":"MLB Educators","properties":"link":"/mlb-educators","menuItems":[]],"itemId":"e3a86593-6da0-4d00-a512-0b8c78c9b8a5″,"text":"Careers","properties":"link":"","menuItems":["itemId":"35caab61-51c7-4b17-a9b8-e9ecd201058a","text":"Careers Home","properties":"link":"/careers/home","menuItems":[]]],"headerData":{"instanceId":"fbde1dcd-c837-4740-991c-1087d1db26d1″,"name":"global-nav","variables":[],"menuItems":["itemId":"tickets","text":"Tickets","properties":"link":"https://www.mlb.com/tickets","customProperties":"align:right;","menuItems":["itemId":"764d21d8-0f58-4d63-b57c-035ec47d193c","text":"General Ticket Information","properties":"link":"https://www.mlb.com/tickets","customProperties":"","visible":"false","menuItems":[],"itemId":"4e45f354-0ccd-4c89-ac5e-12f16dd11f3a","text":"Season Tickets","properties":"link":"/tickets/season-tickets","customProperties":"","visible":"false","menuItems":[],"itemId":"020f5910-a69a-443a-b5a3-37b7664d8a4f","text":"Spring Training","properties":"link":"/tickets/spring-training","visible":"false","menuItems":[],"itemId":"0a8ddc10-4b69-4a97-a677-6301ac30971b","text":"Fan Value","properties":"link":"/tickets/fan-value","customProperties":"","visible":"false","menuItems":[],"itemId":"417de43e-baa5-4ca1-802d-c0814be88688″,"text":"Ballpark Tours","properties":"link":"/tickets/ballpark-tours","visible":"false","menuItems":[],"itemId":"dc1ab63d-4195-4a41-8248-cfa5513a66e9″,"text":"StubHub.com","properties":"link":"https://www.stubhub.com/mlb-tickets/grouping/81/?gcid=C12289x371″,"customProperties":"","menuItems":[],"itemId":"a1fd4bc8-d136-4d65-a0cd-393f31e0e14e","text":"All-Star Game","properties":"link":"/all-star/tickets","customProperties":"expires:1626228000″,"menuItems":[],"itemId":"92c55e19-5b07-4d4f-8bfe-ee6a86e64c8a","text":"World Baseball Classic","properties":"link":"https://www.mlb.com/world-baseball-classic/newsletter","menuItems":[],"itemId":"5d7d5f77-3b9d-4d21-bece-8b3245b7bf2a","text":"International Events","properties":"link":"https://www.mlb.com/international","menuItems":[],"itemId":"797c376f-524a-4e12-b431-1994c1d9127d","text":"Vaccinate at the Plate Ticket Offer","properties":"link":"/tickets/vaccinate-ticket-offer","customProperties":"expires:1625112000″,"menuItems":[],"itemId":"5e7b162c-c994-4bad-89b3-0a1b2746710d","text":"Ticket Terms & Conditions","properties":"link":"https://www.mlb.com/tickets/terms-and-conditions","menuItems":[]],"itemId":"7b24aad4-85fb-4206-b915-85dc84bf8046″,"text":"MLB.TV","properties":"link":"https://www.mlb.com/tv?&affiliateId=mlbMENU","customProperties":"amp:true;align:right;","icon":"watch","menuItems":["itemId":"6e4bf96d-d9e2-4c33-8d42-3e94aae42607″,"text":"Buy MLB.TV","properties":"link":"https://www.mlb.com/live-stream-games/subscribe?&affiliateId=mlbMENU","menuItems":[],"itemId":"f33ef990-5609-45cd-be24-0e40cb0a5368″,"text":"Buy MLB Audio","properties":"link":"https://www.mlb.com/live-stream-games/subscribe/mlb-audio?&affiliateId=mlbMENU","menuItems":[],"itemId":"993d3d74-7886-48fd-9d9f-12d189ed5630″,"text":"Watch MLB.TV","properties":"link":"/live-stream-games?&affiliateId=mlbMENU","customProperties":"","menuItems":[],"itemId":"d7847412-c970-4b0a-b17e-61fded27c46a","text":"MLB Big Inning","properties":"link":"https://www.mlb.com/live-stream-games/big-inning?&affiliateId=mlbMENU","menuItems":[],"itemId":"c2596a4c-2d08-459e-9173-2d799f070637″,"text":"MLB.TV Gift Giving","properties":"link":"https://www.mlb.com/live-stream-games/subscribe/gift-giving","menuItems":[],"itemId":"e5e2c318-6b50-4406-8434-b4c84716dfe6″,"text":"MLB.TV Student Discounts","properties":"link":"https://www.mlb.com/live-stream-games/subscribe/student-discount?&affiliateId=mlbMENU","menuItems":[],"itemId":"00132689-c7ce-46b0-bfac-228fa9f70a22″,"text":"Watch MLB.TV Docs & Features","properties":"link":"https://www.mlb.com/tv/featured?&affiliateId=mlbMENU","menuItems":[],"itemId":"68b755ed-4f9d-4c0a-96ea-ffafb22ca5c5″,"text":"MLB.TV Help Center","properties":"link":"/live-stream-games/help-center?&affiliateId=mlbMENU","customProperties":"","menuItems":[],"itemId":"05b81a24-a196-4ee9-86f6-443cc7ce6934″,"text":"MLB.TV with Extra Innings","properties":"link":"https://www.mlb.com/live-stream-games/third-party?&affiliateId=mlbMENU","menuItems":[]],"itemId":"6bfaf88e-891c-4e05-a935-8a32bd23086a","text":"Shop","properties":"link":"https://www.mlbshop.com/?_s=bm-mlbcom-hp","customProperties":"align:right;","icon":"shopping-cart","menuItems":["itemId":"d7b3c8e0-42c4-45c5-8278-c51adb21b47f","text":"Auction","properties":"link":"http://auction.mlb.com/","menuItems":[],"itemId":"216d4562-456b-442d-b078-9e9be9b35b20″,"text":"Authentication","properties":"link":"https://www.mlb.com/authentication","menuItems":[],"itemId":"20f4725a-5dc1-4543-a153-7795cd789463″,"text":"Autographed","properties":"link":"http://auctions.mlb.com/iSynApp/allAuction.action?sid=1101001&rc=25&selectedCatId=17342&sort=timeleft_asc&pgmode2=catpage","menuItems":[],"itemId":"f4f69cd4-2549-45f2-ba63-d97ddb0b564c","text":"Jerseys","properties":"link":"https://www.mlbshop.com/jerseys/d-1250336792+z-990485-1677480024?_s=bm-mlbcom-hp","customProperties":"","menuItems":[],"itemId":"a67b9b28-c511-47a8-87e6-594cb719c787″,"text":"Caps","properties":"link":"https://www.mlbshop.com/caps/d-3494554436+z-921549-1032840697?_s=bm-mlbcom-hp","customProperties":"","menuItems":[],"itemId":"f5b9b657-5322-40c1-b2e8-1bd31e27abf6″,"text":"Men's","properties":"link":"https://www.mlbshop.com/men/ga-12+z-9112397524-3608394688?_s=bm-mlbcom-hp","customProperties":"","menuItems":[],"itemId":"dfa13a6f-17fd-4a4a-9963-f3e3734e28bf","text":"Women's","properties":"link":"https://www.mlbshop.com/women/ga-57+z-822989763-3950492570?_s=bm-mlbcom-hp","customProperties":"","menuItems":[],"itemId":"c2bf810b-0d1f-4135-b7f8-919c53fc8cc2″,"text":"Kids","properties":"link":"https://www.mlbshop.com/kids/ga-36+z-861270405-1171990865?_s=bm-mlbcom-hp","customProperties":"","menuItems":[],"itemId":"1b321c96-eb8a-4077-9868-9420205878bc","text":"Collectibles & Memorabilia","properties":"link":"https://www.mlbshop.com/collectibles-and-memorabilia/d-7883550038+z-87646-4052890706?_s=bm-mlbcom-hp","customProperties":"","menuItems":[],"itemId":"91dcfa1d-f4de-4bf9-93f8-8f91f4069272″,"text":"Home & Office","properties":"link":"https://www.mlbshop.com/home-and-office/d-3449556733+z-992406-855732365?_s=bm-mlbcom-hp","customProperties":"","menuItems":[],"itemId":"c69e35fc-900e-4fcc-9348-085aa0febeab","text":"Gift Certificates","properties":"link":"https://www.mlbshop.com/gift-cards/x-462351+z-94899005-3509039474?_s=bm-mlbcom-Home","customProperties":"","menuItems":[],"itemId":"7423a9ca-3a6f-42fe-8d6e-9459bed284c7″,"text":"NYC Retail Store","properties":"link":"https://www.mlb.com/shop/nyc-retail-store","menuItems":[],"itemId":"44958e84-599e-44b1-96b4-44f38a477942″,"text":"European Shop","properties":"link":"http://www.mlbshopeurope.com/stores/mlb/en?portal=MLTS66FS&CMP=PSC-MLTS66FS","customProperties":"","menuItems":[],"itemId":"51d3278e-90fd-4462-aec0-7cfd8de1cb79″,"text":"Photo Store","properties":"link":"https://photostore.mlb.com/","menuItems":[]],"itemId":"5052bac6-3f1d-4847-8739-42021d7cfc2d","text":"News","properties":"link":"https://www.mlb.com/news","customProperties":"amp:true;","menuItems":["itemId":"7b725a20-961b-4511-bd88-20600551baf2″,"text":"In this section","properties":"visible":"true","menuItems":["itemId":"82d45c9a-d055-4ab4-b785-576d982a2077″,"text":"Probable Pitchers","properties":"link":"https://www.mlb.com/probable-pitchers","visible":"true","enabled":"true","menuItems":[],"itemId":"4bfdb502-31e4-49dd-bae1-89a4772d0739″,"text":"Prospect Rankings","properties":"link":"https://www.mlb.com/prospects","menuItems":[],"itemId":"831050d9-d4d2-427f-85a3-fe56aad2682a","text":"Injury Report","properties":"link":"https://www.mlb.com/injury-report","menuItems":[],"itemId":"02f947b5-cc72-40f9-9f37-a97b37dcaef3″,"text":"Transactions","properties":"link":"http://mlb.mlb.com/mlb/transactions/?tcid=mm_mlb_news","menuItems":[],"itemId":"f499f46a-a51b-443e-82aa-3b6006f9b306″,"text":"Starting Lineups","properties":"link":"https://www.mlb.com/starting-lineups","menuItems":[],"itemId":"53776d17-03af-4b04-8840-45b6c624df6b","text":"Hall of Fame","properties":"link":"https://www.mlb.com/hall-of-fame","menuItems":[],"itemId":"6ee1c331-faa0-4865-a062-1c98a2f67c0d","text":"Longform","properties":"link":"https://www.mlb.com/news/topic/longform","menuItems":[],"itemId":"844e328c-713f-46da-8183-965d19eb7dd8″,"text":"Awards","properties":"link":"https://www.mlb.com/awards","menuItems":[],"itemId":"c1ac7886-1d18-4ad8-9fc4-326ab4753144″,"text":"MLB Draft","properties":"link":"https://www.mlb.com/draft/2021″,"menuItems":[]],"itemId":"dc121961-fe11-49ac-92b5-a8797acafa7c","text":"Featured","properties":,"menuItems":["itemId":"230d1ec0-9d0a-4a3f-a04c-3cf16474390f","text":"Pipeline","properties":"link":"https://www.mlb.com/pipeline","menuItems":[],"itemId":"216ae480-9b79-4faa-a748-98a8604e5cde","text":"Play Ball","properties":"link":"https://www.mlb.com/play-ball","menuItems":[],"itemId":"c2182d4d-c537-410e-a63d-267e593fbb74″,"text":"Gaming","properties":"link":"https://www.mlb.com/news/topic/gaming","enabled":"true","visible":"true","menuItems":[],"itemId":"d7d653b8-5585-44b7-b94f-226b51681ed8″,"text":"MLB Photos","properties":"link":"https://www.mlb.com/photos/home","menuItems":[],"itemId":"eb4bceb4-bb14-4a84-8b60-12e51dab40f8″,"text":"Offbeat","properties":"link":"https://www.mlb.com/news/topic/offbeat","menuItems":[],"itemId":"28a2e573-86ba-4cdc-a924-86d3b6500979″,"text":"Glossary","properties":"link":"https://www.mlb.com/glossary","menuItems":[],"itemId":"7e424446-ea76-4b0d-8dc0-e7ee108993ef","text":"Rare Feats","properties":"link":"https://www.mlb.com/news/topic/rare-feats","menuItems":[],"itemId":"38b78c07-c2e2-40be-9172-fb2ddc1d1817″,"text":"Baseball Cards","properties":"link":"https://www.mlb.com/news/topic/baseball-cards","menuItems":[],"itemId":"7e316d55-5379-4151-a0e5-828b6b4f8ba8″,"text":"All-Star Game","properties":"link":"https://www.mlb.com/all-star","menuItems":[]]],"itemId":"86b4ade1-0488-40d3-8472-b1e323f23914″,"text":"Video","properties":"link":"https://www.mlb.com/video","customProperties":"mobile:true;amp:true;","menuItems":["itemId":"bbddb943-54df-4d88-a3ee-14265e727677″,"text":"In this section","properties":"customProperties":"","menuItems":["itemId":"d6f95b2e-b8ee-41f0-a313-e74537eff685″,"text":"Film Room","properties":"link":"https://www.mlb.com/video/search","menuItems":[],"itemId":"a24a8e9d-471b-4626-9535-28e1b8f62bad","text":"Watch Live Games","properties":"link":"https://www.mlb.com/live-stream-games?affiliateId=mlbMENU","menuItems":[],"itemId":"830b3ff1-c650-48a0-b8ee-6c910acc0204″,"text":"Game Stories","properties":"link":"https://www.mlb.com/game-stories","menuItems":[],"itemId":"fb982f48-2253-46ec-84f2-ec3282782fb8″,"text":"Condensed Games","properties":"link":"https://www.mlb.com/video/topic/condensed-games","menuItems":[],"itemId":"0f387774-edb6-4e09-84c1-3b6f9a8c65d5″,"text":"Game Recaps","properties":"link":"https://www.mlb.com/video/topic/daily-recaps","enabled":"true","menuItems":[],"itemId":"3dcbafe8-f9f6-4a32-8534-7a00b6b07f4c","text":"Daily FastCast","properties":"link":"https://www.mlb.com/video/topic/fastcast","menuItems":[],"itemId":"286ad1ca-abe4-4d67-b80a-9020e756750e","text":"MLB Network","properties":"link":"https://www.mlb.com/network","menuItems":[],"itemId":"948d378c-7d73-49b1-b5ba-8729c59bca9a","text":"Podcasts","properties":"link":"https://www.mlb.com/podcasts","menuItems":[],"itemId":"c3c36a7f-ac1d-4433-8ecb-b8689de715e5″,"text":"Front Office Focus","properties":"link":"https://www.mlb.com/video/topic/front-office-focus","menuItems":[],"itemId":"e95e19ff-2024-4d84-b9e5-d5f0d1831e5b","text":"Business of Baseball","properties":"link":"https://www.mlb.com/video/topic/business-of-baseball","menuItems":[],"itemId":"bf659638-4fb7-4c46-be4c-49b736c0fd69″,"text":"Untouchable Pitches","properties":"link":"https://www.mlb.com/video/topic/untouchable-pitches-cristal-products","menuItems":[],"itemId":"0b56e21d-9a66-4fd0-99d6-59faf9805120″,"text":"Rapid Plays","properties":"link":"https://www.mlb.com/video/topic/rapid-plays","menuItems":[]],"itemId":"74f35bdb-7baf-4fa5-abb5-3c3613fa00fe","text":"Featured","properties":"customProperties":"","menuItems":["itemId":"d87342bf-bac9-4811-9863-4a5d7ddabe94″,"text":"Most Popular","properties":"link":"https://www.mlb.com/video","menuItems":[],"itemId":"b4deff8a-ac2f-46bd-924a-108c63e6d4a6″,"text":"Home Runs","properties":"link":"https://www.mlb.com/video/topic/home-runs","menuItems":[],"itemId":"d2add1e4-7ad6-417b-a04d-ffb83aa63332″,"text":"MLB Draft","properties":"link":"https://www.mlb.com/video/topic/mlb-draft","menuItems":[],"itemId":"6a7e200b-2443-4e01-b95a-16bf6326a089″,"text":"Walk-Offs","properties":"link":"https://www.mlb.com/video/topic/walk-offs","menuItems":[],"itemId":"cb8372c5-4ebe-44db-8b4b-de7364b80ec9″,"text":"Go Yard","properties":"link":"https://www.mlb.com/video/topic/leadoff-home-runs","menuItems":[],"itemId":"e9fc5098-1904-4089-8fa2-c4b3d9a0feaf","text":"Top Defensive Plays","properties":"link":"https://www.mlb.com/video/topic/top-defensive-plays","menuItems":[],"itemId":"d1a89b62-ed0e-4df5-a65d-9471b06eb3ad","text":"Grand Slams","properties":"link":"https://www.mlb.com/video/topic/grand-slams","menuItems":[],"itemId":"c19fb88b-a3c7-4141-a616-0299dc17e774″,"text":"Best of Statcast","properties":"link":"https://www.mlb.com/video/topic/statcast","menuItems":[],"itemId":"4cdb4f64-f058-43e3-a0f3-a078c3701cc9″,"text":"Let's Rally","properties":"link":"https://www.mlb.com/video/topic/rallies","menuItems":[],"itemId":"3d4947a4-61d9-4ce6-9bec-5ef974a5aff1″,"text":"Curtain Calls","properties":"link":"https://www.mlb.com/video/topic/curtain-calls","menuItems":[],"itemId":"ea8c81d8-3594-4318-b95e-7d7c4c92c1db","text":"Legendary Moments","properties":"link":"https://www.mlb.com/video/topic/key-moments","menuItems":[],"itemId":"550155b7-3825-4c73-bf84-0250dec41903″,"text":"Carry the Freight","properties":"link":"https://www.mlb.com/video/topic/carry-the-freight","menuItems":[]]],"itemId":"7c68f445-5095-46cc-bab3-73af6c921597″,"text":"Scores","properties":"link":"https://www.mlb.com/scores","customProperties":"mobile:true;amp:true;","visible":"true","menuItems":[],"itemId":"9efaf5e3-6a93-4e4f-b8af-1219110ecb30″,"text":"Stats","properties":"link":"https://www.mlb.com/stats","customProperties":"mobile:true;amp:true;","menuItems":["itemId":"f31b263b-34d4-46ab-aa46-9796e93b048b","text":"2021 Regular Season Stats","properties":"link":"https://www.mlb.com/stats/2021″,"menuItems":[],"itemId":"62c5195b-2630-4d9e-9896-6aee0709aeee","text":"2021 Sortable Team Stats","properties":"link":"https://www.mlb.com/stats/team/2021″,"menuItems":[],"itemId":"c26bdb6a-e2f7-48dc-bd44-39e522f7b5ca","text":"2021 Spring Training Stats","properties":"link":"https://www.mlb.com/stats/2021/spring-training","menuItems":[],"itemId":"41566816-1cb8-421f-9a4a-9ccdefa7ed69″,"text":"Statcast Leaders","properties":"link":"https://baseballsavant.mlb.com/statcast_leaderboard","menuItems":[],"itemId":"2d0a2684-64c6-4d9f-87a1-a7cf9f661e2f","text":"Baseball Savant","properties":"link":"https://baseballsavant.mlb.com/","menuItems":[],"itemId":"b9d0ae31-f31d-449b-82fb-5a77f59293ba","text":"Top Prospect Stats","properties":"link":"/prospects/stats/top-prospects?type=all&dateRange=Year2019&minPA=1″,"menuItems":[],"itemId":"2ae90479-df9d-458e-a47e-7acf851728e7″,"text":"Offseason Leagues","properties":"link":"http://mlb.mlb.com/milb/stats/?tcid=mm_mlb_stats","customProperties":"","menuItems":[],"itemId":"cf9eab1e-1dba-458c-949b-8db03f86d49e","text":"Glossary","properties":"link":"http://m.mlb.com/glossary","menuItems":[]],"itemId":"6af88ec1-9bfe-4494-abc0-898dc919a081″,"text":"Standings","properties":"link":"https://www.mlb.com/standings","customProperties":"mobile:true;amp:true;","menuItems":["itemId":"121a61dc-a81a-45af-abbe-8230aee19b5e","text":"2021 Regular Season Standings","properties":"link":"https://www.mlb.com/standings","menuItems":[],"itemId":"a9713ec1-4849-41b5-8f0b-fa0746a205e4″,"text":"2021 Spring Training Standings","properties":"link":"https://www.mlb.com/standings/spring-training/2021″,"customProperties":"","menuItems":[],"itemId":"4c250046-6a0d-4352-b3f2-3059a5881c2a","text":"2020 Regular Season Standings","properties":"link":"https://www.mlb.com/standings/regular-season/2020″,"menuItems":[],"itemId":"a84f52a4-d7d4-4661-b193-8c81901e8e7e","text":"2020 Advanced Standings","properties":"link":"https://www.mlb.com/standings/regular-season/advanced-splits/2020″,"menuItems":[]],"itemId":"248fea7e-1d19-452a-bb5c-999e1a09b7cd","text":"Schedule","properties":"link":"https://www.mlb.com/schedule","customProperties":"amp:true;","menuItems":["itemId":"12fd9194-8902-43f1-9686-f9f321c90450″,"text":"2021 Regular Season","properties":"link":"https://www.mlb.com/schedule","menuItems":[],"itemId":"74ae0fd1-28f5-41ab-8861-23d056482243″,"text":"2021 Spring Training","properties":"link":"https://www.mlb.com/schedule/2021-02-28″,"menuItems":[],"itemId":"6aae1937-f9bd-4929-847a-74c4808cc993″,"text":"2020 Postseason","properties":"link":"https://www.mlb.com/postseason","menuItems":[],"itemId":"f4010b7a-902c-41e0-b405-e0fa695b5c64″,"text":"2022 Regular Season","properties":"link":"https://www.mlb.com/schedule/2022-03-31″,"menuItems":[],"itemId":"94c9d7e4-3477-4217-87f3-008d2290b9ee","text":"Important Dates","properties":"link":"https://www.mlb.com/schedule/events#important-dates","menuItems":[],"itemId":"d3566c69-34a7-4e6c-b2bb-28203c847f9e","text":"Probable Pitchers","properties":"link":"https://www.mlb.com/probable-pitchers","menuItems":[],"itemId":"3747c1bc-9b3d-43f5-bd04-d1274c59c02a","text":"Team by Team Schedule","properties":"link":"https://www.mlb.com/schedule/team-by-team","menuItems":[],"itemId":"e75ecc62-7e72-4b53-9705-a23e2b511f83″,"text":"National Broadcasts","properties":"link":"http://mlb.mlb.com/mlb/official_info/broadcasts/national.jsp?tcid=mm_mlb_schedule","menuItems":[],"itemId":"bce30443-7f92-4c61-979f-058e5e6ebe17″,"text":"Sunday Night Broadcasts","properties":"link":"http://m.mlb.com/promo/sunday-night-broadcasts","menuItems":[]],"itemId":"8c842eeb-dedd-430c-a452-57a740d5c3df","text":"Players","properties":"link":"https://www.mlb.com/players","customProperties":"","icon":"group","menuItems":["itemId":"650da3ef-b96d-4a7d-bf4b-47a55b2e6cb3″,"text":"Players A to Z","properties":"link":"https://www.mlb.com/players","menuItems":[],"itemId":"b971e11e-c0ea-4f42-a693-a9e18e15447f","text":"Injury Updates","properties":"link":"https://www.mlb.com/injury-report","menuItems":[],"itemId":"76a61c3c-c73a-497a-9d6f-f762ad0fdecd","text":"Depth Charts","properties":"link":"https://www.mlb.com/team/roster/depth-chart","menuItems":[],"itemId":"b30fe902-714f-4f74-a901-d2397c750dab","text":"Transactions","properties":"link":"http://mlb.mlb.com/mlb/transactions/?tcid=mm_mlb_players","menuItems":[],"itemId":"3e585331-af20-4e73-8419-2067bed2677c","text":"Starting Lineups","properties":"link":"https://www.mlb.com/starting-lineups","menuItems":[],"itemId":"a327060e-962d-428e-91ee-40522edcda03″,"text":"Prospect Rankings","properties":"link":"https://www.mlb.com/prospects","menuItems":[],"itemId":"a30f9694-b2cd-4a2a-9118-d3c7f00b39b1″,"text":"Mobile Player Alerts","properties":"link":"http://mlb.mlb.com/mobile/text.jsp?tcid=mm_mlb_players","visible":"false","menuItems":[],"itemId":"f45e2471-de5a-4a07-b035-43f1b405f296″,"text":"MLB Players Association","properties":"link":"https://www.mlbplayers.com","menuItems":[],"itemId":"6e855928-8a3d-41b6-8adc-71fe99a9508b","text":"Probable Pitchers","properties":"link":"https://www.mlb.com/probable-pitchers","menuItems":[],"itemId":"e7ba059f-ad80-486d-bf9f-3992d718f129″,"text":"Negro Leagues","properties":"link":"https://www.mlb.com/history/negro-leagues","menuItems":[]],"itemId":"781f2bb2-a66a-44be-8fee-b0a0250d60e6″,"text":"Play Ball","properties":"link":"https://www.mlb.com/play-ball","target":"_blank","customProperties":"topNav:false;","icon":"baseball","menuItems":["itemId":"2a74747c-e482-42f5-b750-ce710dea6568″,"text":"PlayBall.org","properties":"link":"https://www.mlb.com/play-ball","target":"_blank","menuItems":[],"itemId":"9f5ab700-d2c0-43be-a398-6926ceef9e1c","text":"Hank Aaron Invitational","properties":"link":"https://www.mlb.com/hank-aaron-invitational","menuItems":[],"itemId":"d7c7e170-573e-45c1-a1ab-b1bd3aec819f","text":"Videos","properties":"link":"https://www.mlb.com/video/topic/play-ball","menuItems":[],"itemId":"5be26d3e-4ff2-4a84-8ea5-92aef9d759b2″,"text":"Photos","properties":"link":"https://www.playball.org/photos","visible":"false","menuItems":[],"itemId":"14d9fdc8-ba24-44cf-9a77-7a867852f418″,"text":"News","properties":"link":"https://www.mlb.com/news/topic/youth-baseball","menuItems":[],"itemId":"4c876067-e576-4874-b914-d86fe7f4a538″,"text":"Pitch Smart","properties":"link":"https://www.mlb.com/pitch-smart","menuItems":[],"itemId":"6996ed01-d31d-4fc4-8d0d-a5baf177f69a","text":"Play Ball Near You","properties":"link":"https://www.mlb.com/play-ball/play-ball-near-you","menuItems":[],"itemId":"4e66a4b2-0f27-483c-81d4-f27b0b630eac","text":"States Play","properties":"link":"https://www.mlb.com/states-play","menuItems":[],"itemId":"aed729a5-4ff6-45cc-868c-f90b9b9190af","text":"MLB TOUR","properties":"link":"https://www.mlb.com/mlb-tour","menuItems":[],"itemId":"28d79b33-aebd-4685-9cc9-c4ccce1262f8″,"text":"RBI","properties":"link":"https://www.mlb.com/rbi","menuItems":[],"itemId":"18001329-d9d0-47b9-b2e0-5043b69cee9e","text":"Pitch, Hit & Run","properties":"link":"https://www.mlb.com/pitch-hit-and-run","menuItems":[],"itemId":"df867e3c-db53-4d4f-9958-e10cb0939c8a","text":"Jr. Home Run Derby","properties":"link":"https://www.mlb.com/junior-home-run-derby","menuItems":[],"itemId":"6af5ec56-5e26-45b3-93d6-2f79d929c046″,"text":"MLB Pipeline","properties":"link":"https://www.mlb.com/pipeline","menuItems":[],"itemId":"bc715814-2692-4bde-9b1d-99cbd9ada5dc","text":"Youth Academies","properties":"link":"https://www.mlb.com/mlb-youth-academy","menuItems":[],"itemId":"26715913-0ae8-4106-baa4-3d914b0a33b0″,"text":"Breakthrough Series","properties":"link":"https://www.mlb.com/breakthrough-series","menuItems":[],"itemId":"56cb414b-eb00-4632-8acc-81d74ee4745e","text":"Elite Development Invitational","properties":"link":"https://www.mlb.com/elite-development-invitational","menuItems":[],"itemId":"04697c74-2811-4d84-8150-aa1016aa6272″,"text":"USA Baseball","properties":"link":"https://www.usabaseball.com/","target":"_blank","menuItems":[],"itemId":"ae77ea02-173a-4439-be6c-9ee75225bd50″,"text":"USA Softball","properties":"link":"http://www.teamusa.org/USA-Softball","target":"_blank","menuItems":[],"itemId":"c293b7e0-f056-4102-89cd-d20649d4eff0″,"text":"Dream Series","properties":"link":"https://www.mlb.com/dream-series","menuItems":[],"itemId":"181a47ba-9ea0-4a7a-8924-ccedef1cd372″,"text":"Trailblazer Series","properties":"link":"https://www.mlb.com/trailblazer-series","menuItems":[]],"itemId":"mlb-fans","text":"Fans","properties":"link":"https://www.mlb.com/fans","menuItems":["itemId":"25c7540a-c3a3-42e8-a8f8-1e3be9f5d4fe","text":"MLB Kids","properties":"link":"https://www.mlb.com/fans/kids","menuItems":[],"itemId":"8ee0a750-a1d7-4c8f-80ee-cb7beb4268ff","text":"MLB International","properties":"link":"https://www.mlb.com/international","menuItems":[],"itemId":"841025ef-a361-46e1-b5d0-c963c1a42827″,"text":"Postseason Publications","properties":"link":"https://www.mlb.com/postseason/publications","menuItems":[],"itemId":"59ffbbaf-a56c-4cb4-b874-d5a5ce36c9f1″,"text":"MLB Newsletters","properties":"link":"https://www.mlb.com/fans/newsletters","menuItems":[],"itemId":"9e37a80a-34da-4e92-ae40-8462146aef1c","text":"Virtual Backgrounds","properties":"link":"https://www.mlb.com/fans/virtual-backgrounds","menuItems":[],"itemId":"ef7c9f4a-5e11-4700-aad3-b29a8c5acc4c","text":"Podcasts","properties":"link":"https://www.mlb.com/fans/podcasts","menuItems":[],"itemId":"fcc0e750-dbe2-47b3-b681-0e3e379390c8″,"text":"Walk-Up Music","properties":"link":"https://www.mlb.com/fans/music","menuItems":[],"itemId":"ad51f9be-9a3e-41d5-83aa-27d4351d583f","text":"Connect with MLB","properties":"link":"https://www.mlb.com/social","menuItems":[],"itemId":"5d6dbbbf-fdff-41e7-b187-793bdb998ec8″,"text":"MLB Photos","properties":"link":"https://www.mlb.com/photos/home","menuItems":[]],"itemId":"832ad058-32b1-4fbd-940d-a68456ad3c25″,"text":"Fantasy","properties":"link":"https://www.mlb.com/fantasy","customProperties":"","menuItems":["itemId":"ee7dde99-2f2c-49e4-a5df-b319f51afa21″,"text":"Yahoo Fantasy Baseball","properties":"target":"","link":"http://yhoo.it/3aK5QQw","menuItems":[],"itemId":"82ecd1d5-6055-4846-99de-2e5d99461009″,"text":"MLB Rally","properties":"link":"https://www.mlb.com/apps/rally","visible":"true","menuItems":[],"itemId":"82b08ad3-ff33-4c90-8303-277dbf8190a3″,"text":"MLB Quick Pick","properties":"link":"https://www.mlb.com/apps/rally/quickpick","menuItems":[],"itemId":"4e35b374-27ca-40c1-8f4b-d0e861496179″,"text":"MLB Beat the Streak","properties":"link":"https://www.mlb.com/apps/beat-the-streak","menuItems":[],"itemId":"4b2c552e-94c1-49f6-8e5e-5f947f0d683c","text":"MLB MOONBLASTS Pick 'Em","properties":"link":"/sponsorship/ftx-moonblasts-pick-em","customProperties":"expires:1627754400″,"menuItems":[],"itemId":"fa818f3d-e28a-4dce-8ed8-928d7000a1f6″,"text":"The Vault","properties":"link":"https://www.mlb.com/the-vault","menuItems":[],"itemId":"5342efbb-aee3-4b7a-bd6b-da451509d65b","text":"Yahoo Fantasy Baseball","properties":"link":"https://yhoo.it/2w7w4vr","visible":"false","menuItems":[],"itemId":"36bd3b31-a5df-4061-9abb-33d42ffa1818″,"text":"R.B.I. Baseball 21″,"properties":"link":"https://www.rbigame.com","menuItems":[],"itemId":"3dab9102-cd2d-442e-ab8a-ad07d7b159f4″,"text":"MLB Home Run Derby","properties":"link":"https://www.mlb.com/fantasy/home-run-derby","menuItems":[],"itemId":"a3152a55-11b7-4772-86e0-58d7982a1c76″,"text":"Season Pick 'Em","properties":"link":"/opening-day-pick-em?affiliateId=spe-fantasynav-mlb-2021″,"visible":"false","menuItems":[],"itemId":"7f0d66f2-44a0-4594-b5f9-db2c84c09356″,"text":"MLB Pre-Pick (AUS)","properties":"link":"https://www.mlb.com/pre-pick/tab","menuItems":[],"itemId":"7af822e8-dc82-4b7e-818a-97080c0938f2″,"text":"Closer Report","properties":"link":"/closer-report","visible":"false","menuItems":[],"itemId":"c2b4eeef-ec9c-4c5b-831c-1edca0316768″,"text":"Prospect Rankings","properties":"link":"https://www.mlb.com/prospects","menuItems":[],"itemId":"3b212a3b-4687-4ea7-a276-3e780e18210c","text":"MLB Champions","properties":"link":"https://www.mlbc-app.com/?ref=mlbcom","menuItems":[]],"itemId":"f857d698-35a3-4b1b-8e88-d92056ca5507″,"text":"Apps","properties":"link":"https://www.mlb.com/apps","customProperties":"topNav:false;","data":"Apps","menuItems":["itemId":"c974a38d-8537-4d03-9dfa-681ac5bd0f08″,"text":"MLB","properties":"link":"https://www.mlb.com/apps/mlb-app","menuItems":[],"itemId":"13d77816-460d-4783-8ed7-f1ff1d3a97ed","text":"MLB Rally","properties":"link":"https://www.mlb.com/apps/rally","visible":"true","menuItems":[],"itemId":"f2626a2d-160d-4682-96c6-bfe391c16398″,"text":"MLB Beat the Streak","properties":"link":"https://www.mlb.com/apps/beat-the-streak","menuItems":[],"itemId":"89f7398c-7a79-46e4-a8cd-843a44ceee13″,"text":"MLB Ballpark","properties":"link":"https://www.mlb.com/apps/ballpark","menuItems":[],"itemId":"03c8451e-6437-4aa6-8b5d-50c3fedad25e","text":"MiLB First Pitch","properties":"link":"https://www.milb.com/about/first-pitch","menuItems":[],"itemId":"5d19666b-0c26-48ad-8465-09ed9f28dfc2″,"text":"R.B.I. Baseball 21″,"properties":"link":"https://www.rbigame.com","menuItems":[],"itemId":"94808840-9046-445e-9a6a-83016bdadb72″,"text":"MLB Home Run Derby","properties":"link":"https://www.mlb.com/fantasy/home-run-derby","menuItems":[],"itemId":"fbe4d233-e766-4207-8886-55a2fc1f7f74″,"text":"MLB FAQs","properties":"link":"https://www.mlb.com/apps/mlb-app/faq-apple","menuItems":[],"itemId":"34d7bc2e-a216-4956-8105-b42f2ba4bea3″,"text":"MLB Ballpark FAQs","properties":"link":"https://www.mlb.com/apps/ballpark/faq-apple","menuItems":[],"itemId":"c081befb-bde5-446d-a4d4-c9292d29d525″,"text":"MLB Rally FAQs","properties":"link":"/apps/rally/faq-apple","visible":"true","menuItems":[]],"itemId":"ba2b8aec-0e14-429e-ac96-dbb1f04edaf8″,"text":"Vote","properties":"link":"https://www.mlb.com/all-star/ballot?affiliateId=asb-topnav-mlb-2021″,"customProperties":"appears:1622736000;expires:1625162400;","visible":"false","menuItems":[],"itemId":"57ec62ff-6517-49b7-8bef-7a3edc6874cb","text":"Auction","properties":"link":"http://auction.mlb.com/","visible":"false","customProperties":"topNav:false;","menuItems":["itemId":"3ea7f7ac-0734-47d9-8804-967eba72da0e","text":"Authentication","properties":"link":"https://www.mlb.com/authentication","menuItems":[],"itemId":"e3e18801-29de-4b11-86ac-a475342dff41″,"text":"Autographed","properties":"link":"http://auctions.mlb.com/iSynApp/allAuction.action?sid=1101001&rc=25&selectedCatId=17342&sort=timeleft_asc&pgmode2=catpage","menuItems":[],"itemId":"f4c0200f-4437-47c0-8c15-1a54c26d22c0″,"text":"Baseball Cards","properties":"link":"http://www.baseballcards.mlb.com/","menuItems":[],"itemId":"21b7a4a2-6c76-47b5-af79-51dc0334f2c9″,"text":"Baseballs","properties":"link":"http://auctions.mlb.com/iSynApp/allAuction.action?sid=1101001&rc=25&selectedCatId=13020&sort=timeleft_asc&pgmode2=catpage","menuItems":[],"itemId":"6b056370-0888-43e4-9f8c-8100e2ee7653″,"text":"Bats","properties":"link":"http://auctions.mlb.com/iSynApp/allAuction.action?sid=1101001&rc=25&selectedCatId=13041&sort=timeleft_asc&pgmode2=catpage","menuItems":[],"itemId":"1b036e35-5977-4af1-9cb0-736c76d18ec4″,"text":"Caps","properties":"link":"http://auctions.mlb.com/iSynApp/allAuction.action?sid=1101001&rc=25&selectedCatId=13021&sort=timeleft_asc&pgmode2=catpage","menuItems":[],"itemId":"74ae99a1-5ed5-44e4-842c-b49dc99e982d","text":"Experiences","properties":"link":"http://auctions.mlb.com/iSynApp/allAuction.action?sid=1101001&rc=25&selectedCatId=13060&sort=timeleft_asc&pgmode2=catpage","menuItems":[],"itemId":"d41a4007-2f65-4b0f-a0a8-7df58870e507″,"text":"Game-Used","properties":"link":"http://auctions.mlb.com/iSynApp/allAuction.action?sid=1101001&rc=25&selectedCatId=13022&sort=timeleft_asc&pgmode2=catpage","menuItems":[],"itemId":"aafaf49c-cfb9-432d-9119-f86a64fdbb27″,"text":"Jerseys","properties":"link":"http://auctions.mlb.com/iSynApp/allAuction.action?sid=1101001&rc=25&selectedCatId=13062&sort=timeleft_asc&pgmode2=catpage","menuItems":[],"itemId":"c0be3bdb-025a-42ac-b09d-c391d058342b","text":"Photos","properties":"link":"http://auctions.mlb.com/iSynApp/allAuction.action?sid=1101001&rc=25&selectedCatId=13024&sort=timeleft_asc&pgmode2=catpage","menuItems":[]],"itemId":"98430c25-7924-4112-a70f-0b32fd31594f","text":"Teams","properties":"link":"https://www.mlb.com/team","customProperties":"amp:true;module:teammodule;align:right;","menuItems":["itemId":"9191834c-54c4-40a7-8aac-9745d3666084″,"text":"Team Module","properties":"customProperties":"module:teammodule;","menuItems":[]],"itemId":"397b9e10-6d65-4fc0-bbe6-8d07f5e8d3a8″,"text":"ES","properties":"link":"https://www.mlb.com/es","customProperties":"align:right;","toolTip":"Español","menuItems":["itemId":"ceb83c80-eaf2-4dd4-bdc6-e23b1e11ae60″,"text":"日本語","properties":"link":"http://www.mlb.jp/","customProperties":"lang:ja","menuItems":[],"itemId":"27ac6728-00c1-4965-963b-05d33268fb50″,"text":"한국어","properties":"link":"https://www.mlbkor.com/","customProperties":"lang:ko","menuItems":[]]]},"locale":"en","reqPath":"/news/mlb-announces-2022-field-of-dreams-game","sharedNav":"instanceId":"6c265854-d856-4f92-aea1-07dfe5cda020″,"name":"shared-nav","variables":[],"menuItems":["itemId":"93b3e9b2-65a9-4585-9185-03e255cb523c","text":"MLB.TV","properties":"link":"https://www.mlb.com/tv?&affiliateId=clubMENU","icon":"watch","customProperties":"align:right;","menuItems":["itemId":"162f5687-7f5b-4422-a782-133dc3db8aa0″,"text":"Buy MLB.TV","properties":"link":"https://www.mlb.com/live-stream-games/subscribe?&affiliateId=clubMENU","menuItems":[],"itemId":"f75d3e53-5cc5-4eb5-b64d-7e72c3f601b9″,"text":"Buy MLB Audio","properties":"link":"https://www.mlb.com/live-stream-games/subscribe/mlb-audio?&affiliateId=clubMENU","menuItems":[],"itemId":"d54a2b21-9db9-4252-9ebe-e3a4b2a3cf83″,"text":"Watch MLB.TV","properties":"link":"https://www.mlb.com/live-stream-games?&affiliateId=clubMENU","menuItems":[],"itemId":"28f71773-a34e-46c5-bdbc-ac6476c5fc7a","text":"MLB Big Inning","properties":"link":"https://www.mlb.com/live-stream-games/big-inning","menuItems":[],"itemId":"703b5c44-a9b4-46a2-bc2e-33112a413980″,"text":"MLB.TV Gift Giving","properties":"link":"https://www.mlb.com/live-stream-games/subscribe/gift-giving","menuItems":[],"itemId":"3d0c17bc-b611-42aa-a6ce-d2a4d6d38f96″,"text":"MLB.TV Student Discounts","properties":"link":"https://www.mlb.com/live-stream-games/subscribe/student-discount?&affiliateId=clubMENU","menuItems":[],"itemId":"2d8d6ad8-dc2a-4971-9b12-f1853530c5d3″,"text":"Watch MLB.TV Docs & Features","properties":"link":"https://www.mlb.com/tv/featured?&affiliateId=clubMENU","menuItems":[],"itemId":"6254640c-2069-4447-822f-084d0a38f161″,"text":"MLB.TV Help Center","properties":"link":"https://www.mlb.com/live-stream-games/help-center?&affiliateId=clubMENU","menuItems":[],"itemId":"6d167d3d-4063-43ae-b13c-283e83c0e91c","text":"MLB.TV with Extra Innings","properties":"link":"https://www.mlb.com/live-stream-games/third-party?&affiliateId=clubMENU","menuItems":[]],"itemId":"d54d0be0-f610-4f8b-90ac-c246c361e2e2″,"text":"Fantasy","properties":"link":"https://www.mlb.com/fantasy","menuItems":["itemId":"5ec4bde4-6bc1-412b-a92b-6b7cb3b2f07c","text":"Yahoo Fantasy Baseball","properties":"link":"http://yhoo.it/3aK5QQw","visible":"true","menuItems":[],"itemId":"b2a63b51-03fc-423d-971e-1e566f6008f4″,"text":"MLB Rally","properties":"link":"https://www.mlb.com/apps/rally","visible":"true","menuItems":[],"itemId":"f6929b88-632d-4a6f-ba73-8a64fccba1b0″,"text":"MLB Quick Pick","properties":"link":"https://www.mlb.com/apps/rally/quickpick","menuItems":[],"itemId":"0ebe9e5d-3fc7-48d2-acb1-c33eb931b911″,"text":"MLB Beat the Streak","properties":"link":"https://www.mlb.com/apps/beat-the-streak","visible":"true","menuItems":[],"itemId":"086bd307-a929-4414-9dd7-09bdac8d3f2e","text":"MLB MOONBLASTS Pick 'Em","properties":"link":"https://www.mlb.com/sponsorship/ftx-moonblasts-pick-em","customProperties":"expires:1627754400″,"menuItems":[],"itemId":"14aa1d4b-0193-4670-a1fc-b4386d4977e8″,"text":"The Vault","properties":"link":"https://www.mlb.com/the-vault","menuItems":[],"itemId":"1543c12c-66d1-4033-9e05-c025fcb71a6a","text":"R.B.I. Baseball 21″,"properties":"link":"https://www.rbigame.com","menuItems":[],"itemId":"4e0abdd4-8a0f-4bc5-838f-91dd2796041e","text":"MLB Home Run Derby","properties":"link":"https://www.mlb.com/fantasy/home-run-derby","menuItems":[],"itemId":"7d8dfda7-345a-46fa-82dc-105068ba223e","text":"Season Pick 'Em","properties":"link":"https://www.mlb.com/season-pick-em?affiliateId=spe-fantasynav-club-2021″,"visible":"false","menuItems":[],"itemId":"6eda396d-199b-4772-b3c9-c0b032513b6c","text":"MLB Pre-Pick (AUS)","properties":"customProperties":"","link":"https://www.mlb.com/pre-pick/tab","menuItems":[],"itemId":"9f1ff266-0ed8-4adb-ba77-428d1871b237″,"text":"Closer Report","properties":"link":"https://www.mlb.com/closer-report","visible":"false","menuItems":[],"itemId":"4c4f57bd-e31a-46c9-8f73-0fa2227451d3″,"text":"Prospect Rankings","properties":"link":"https://www.mlb.com/prospects","menuItems":[],"itemId":"1ebe4dc3-2c6a-469f-be59-474fe14dbbd7″,"text":"MLB Champions","properties":"link":"https://www.mlbc-app.com/?ref=mlbcom","menuItems":[]],"itemId":"d1f61f89-9fd0-4f03-be17-2c5e128711a4″,"text":"Apps","properties":"link":"https://www.mlb.com/apps","menuItems":["itemId":"83ac2ddf-414b-47d1-afec-ffacd068ab57″,"text":"MLB","properties":"link":"https://www.mlb.com/apps/mlb-app","menuItems":[],"itemId":"83dbba73-02ac-4ba0-bebf-2c62ef04c19e","text":"MLB Rally","properties":"link":"https://www.mlb.com/apps/rally","visible":"true","menuItems":[],"itemId":"26fda476-348c-4f42-aa7c-92d1f9b1bf5c","text":"MLB Beat the Streak","properties":"link":"https://www.mlb.com/apps/beat-the-streak","menuItems":[],"itemId":"e09e6978-fcf7-4c2f-8387-59d83b7be38e","text":"MLB Ballpark","properties":"link":"https://www.mlb.com/apps/ballpark","menuItems":[],"itemId":"5e7b8019-9484-4872-abd7-8b963cd5969e","text":"MiLB First Pitch","properties":"link":"https://www.milb.com/about/first-pitch","menuItems":[],"itemId":"e3a0183d-1b5f-4e56-9b81-02632ba4ec60″,"text":"R.B.I. Baseball 21″,"properties":"link":"https://www.rbigame.com","menuItems":[],"itemId":"4fd8c1f8-a753-4501-916c-663390f1a566″,"text":"MLB Home Run Derby","properties":"link":"https://www.mlb.com/fantasy/home-run-derby","menuItems":[],"itemId":"9d8dfe8b-be1a-4ebf-9509-6bd0165a868e","text":"MLB FAQs","properties":"link":"https://www.mlb.com/apps/mlb-app/faq-apple","menuItems":[],"itemId":"df4e8527-e357-4272-bcf7-61876ed9455d","text":"MLB Ballpark FAQs","properties":"link":"https://www.mlb.com/apps/ballpark/faq-apple","visible":"true","menuItems":[],"itemId":"c2943c65-a843-437a-9ef4-4ccfe5be088f","text":"MLB Rally FAQs","properties":"link":"https://www.mlb.com/apps/rally/faq-apple","visible":"true","menuItems":[]]],"styleProps":,"teamNameSlug":"","teamsData":["id":133,"name":"Oakland Athletics","link":"/api/v1/teams/133″,"season":2021,"venue":"id":10,"name":"Oakland Coliseum","link":"/api/v1/venues/10″,"location":"address1″:"7000 Coliseum Way","city":"Oakland","state":"California","stateAbbrev":"CA","postalCode":"94621″,"defaultCoordinates":"latitude":37.751511,"longitude":-122.200698,"country":"USA","phone":"(510) 638-4900″,"timeZone":"id":"America/Los_Angeles","offset":-7,"tz":"PDT","active":true,"springVenue":"id":2507,"link":"/api/v1/venues/2507″,"teamCode":"oak","fileCode":"oak","abbreviation":"OAK","teamName":"Athletics","locationName":"Oakland","firstYearOfPlay":"1901″,"league":"id":103,"name":"American League","link":"/api/v1/league/103″,"division":"id":200,"name":"American League West","link":"/api/v1/divisions/200″,"sport":"id":1,"link":"/api/v1/sports/1″,"name":"Major League Baseball","shortName":"Oakland","franchiseName":"Oakland","clubName":"Athletics","springLeague":"id":114,"name":"Cactus League","link":"/api/v1/league/114″,"abbreviation":"CL","allStarStatus":"N","active":true,"id":134,"name":"Pittsburgh Pirates","link":"/api/v1/teams/134″,"season":2021,"venue":"id":31,"name":"PNC Park","link":"/api/v1/venues/31″,"location":"address1″:"115 Federal Street","city":"Pittsburgh","state":"Pennsylvania","stateAbbrev":"PA","postalCode":"15212″,"defaultCoordinates":"latitude":40.446904,"longitude":-80.005753,"country":"USA","phone":"(412) 323-5000″,"timeZone":"id":"America/New_York","offset":-4,"tz":"EDT","active":true,"springVenue":"id":2526,"link":"/api/v1/venues/2526″,"teamCode":"pit","fileCode":"pit","abbreviation":"PIT","teamName":"Pirates","locationName":"Pittsburgh","firstYearOfPlay":"1882″,"league":"id":104,"name":"National League","link":"/api/v1/league/104″,"division":"id":205,"name":"National League Central","link":"/api/v1/divisions/205″,"sport":"id":1,"link":"/api/v1/sports/1″,"name":"Major League Baseball","shortName":"Pittsburgh","franchiseName":"Pittsburgh","clubName":"Pirates","springLeague":"id":115,"name":"Grapefruit League","link":"/api/v1/league/115″,"abbreviation":"GL","allStarStatus":"N","active":true,"id":135,"name":"San Diego Padres","link":"/api/v1/teams/135″,"season":2021,"venue":"id":2680,"name":"Petco Park","link":"/api/v1/venues/2680″,"location":"address1″:"100 Park Boulevard","city":"San Diego","state":"California","stateAbbrev":"CA","postalCode":"92101″,"defaultCoordinates":"latitude":32.707861,"longitude":-117.157278,"country":"USA","phone":"(619) 795-5000″,"timeZone":"id":"America/Los_Angeles","offset":-7,"tz":"PDT","active":true,"springVenue":"id":2530,"link":"/api/v1/venues/2530″,"teamCode":"sdn","fileCode":"sd","abbreviation":"SD","teamName":"Padres","locationName":"San Diego","firstYearOfPlay":"1968″,"league":"id":104,"name":"National League","link":"/api/v1/league/104″,"division":"id":203,"name":"National League West","link":"/api/v1/divisions/203″,"sport":"id":1,"link":"/api/v1/sports/1″,"name":"Major League Baseball","shortName":"San Diego","franchiseName":"San Diego","clubName":"Padres","springLeague":"id":114,"name":"Cactus League","link":"/api/v1/league/114″,"abbreviation":"CL","allStarStatus":"N","active":true,"id":136,"name":"Seattle Mariners","link":"/api/v1/teams/136″,"season":2021,"venue":"id":680,"name":"T-Mobile Park","link":"/api/v1/venues/680″,"location":"address1″:"P.O. Box 4100″,"city":"Seattle","state":"Washington","stateAbbrev":"WA","postalCode":"98104″,"defaultCoordinates":"latitude":47.591333,"longitude":-122.33251,"country":"USA","phone":"(206) 346-4000″,"timeZone":"id":"America/Los_Angeles","offset":-7,"tz":"PDT","active":true,"springVenue":"id":2530,"link":"/api/v1/venues/2530″,"teamCode":"sea","fileCode":"sea","abbreviation":"SEA","teamName":"Mariners","locationName":"Seattle","firstYearOfPlay":"1977″,"league":"id":103,"name":"American League","link":"/api/v1/league/103″,"division":"id":200,"name":"American League West","link":"/api/v1/divisions/200″,"sport":"id":1,"link":"/api/v1/sports/1″,"name":"Major League Baseball","shortName":"Seattle","franchiseName":"Seattle","clubName":"Mariners","springLeague":"id":114,"name":"Cactus League","link":"/api/v1/league/114″,"abbreviation":"CL","allStarStatus":"N","active":true,"id":137,"name":"San Francisco Giants","link":"/api/v1/teams/137″,"season":2021,"venue":"id":2395,"name":"Oracle Park","link":"/api/v1/venues/2395″,"location":"address1″:"24 Willie Mays Plaza","city":"San Francisco","state":"California","stateAbbrev":"CA","postalCode":"94107″,"defaultCoordinates":"latitude":37.778383,"longitude":-122.389448,"country":"USA","phone":"(415) 972-2000″,"timeZone":"id":"America/Los_Angeles","offset":-7,"tz":"PDT","active":true,"springVenue":"id":2532,"link":"/api/v1/venues/2532″,"teamCode":"sfn","fileCode":"sf","abbreviation":"SF","teamName":"Giants","locationName":"San Francisco","firstYearOfPlay":"1883″,"league":"id":104,"name":"National League","link":"/api/v1/league/104″,"division":"id":203,"name":"National League West","link":"/api/v1/divisions/203″,"sport":"id":1,"link":"/api/v1/sports/1″,"name":"Major League Baseball","shortName":"San Francisco","franchiseName":"San Francisco","clubName":"Giants","springLeague":"id":114,"name":"Cactus League","link":"/api/v1/league/114″,"abbreviation":"CL","allStarStatus":"N","active":true,"id":138,"name":"St. Louis Cardinals","link":"/api/v1/teams/138″,"season":2021,"venue":"id":2889,"name":"Busch Stadium","link":"/api/v1/venues/2889″,"location":"address1″:"700 Clark Street","city":"St. Louis","state":"Missouri","stateAbbrev":"MO","postalCode":"63102″,"defaultCoordinates":"latitude":38.62256667,"longitude":-90.19286667,"country":"USA","phone":"(314) 345-9600″,"timeZone":"id":"America/Chicago","offset":-5,"tz":"CDT","active":true,"springVenue":"id":2520,"link":"/api/v1/venues/2520″,"teamCode":"sln","fileCode":"stl","abbreviation":"STL","teamName":"Cardinals","locationName":"St. Louis","firstYearOfPlay":"1892″,"league":"id":104,"name":"National League","link":"/api/v1/league/104″,"division":"id":205,"name":"National League Central","link":"/api/v1/divisions/205″,"sport":"id":1,"link":"/api/v1/sports/1″,"name":"Major League Baseball","shortName":"St. Louis","franchiseName":"St. Louis","clubName":"Cardinals","springLeague":"id":115,"name":"Grapefruit League","link":"/api/v1/league/115″,"abbreviation":"GL","allStarStatus":"N","active":true,"id":139,"name":"Tampa Bay Rays","link":"/api/v1/teams/139″,"season":2021,"venue":"id":12,"name":"Tropicana Field","link":"/api/v1/venues/12″,"location":"address1″:"One Tropicana Drive","city":"St. Petersburg","state":"Florida","stateAbbrev":"FL","postalCode":"33705″,"defaultCoordinates":"latitude":27.767778,"longitude":-82.6525,"country":"USA","phone":"(727) 825-3137″,"timeZone":"id":"America/New_York","offset":-4,"tz":"EDT","active":true,"springVenue":"id":2534,"link":"/api/v1/venues/2534″,"teamCode":"tba","fileCode":"tb","abbreviation":"TB","teamName":"Rays","locationName":"St. Petersburg","firstYearOfPlay":"1996″,"league":"id":103,"name":"American League","link":"/api/v1/league/103″,"division":"id":201,"name":"American League East","link":"/api/v1/divisions/201″,"sport":"id":1,"link":"/api/v1/sports/1″,"name":"Major League Baseball","shortName":"Tampa Bay","franchiseName":"Tampa Bay","clubName":"Rays","springLeague":"id":115,"name":"Grapefruit League","link":"/api/v1/league/115″,"abbreviation":"GL","allStarStatus":"N","active":true,"id":140,"name":"Texas Rangers","link":"/api/v1/teams/140″,"season":2021,"venue":"id":5325,"name":"Globe Life Field","link":"/api/v1/venues/5325″,"location":"address1″:"734 Stadium Drive","city":"Arlington","state":"Texas","stateAbbrev":"TX","postalCode":"76011″,"defaultCoordinates":"latitude":32.747299,"longitude":-97.081818,"country":"USA","phone":"(817) 533-1972″,"timeZone":"id":"America/Chicago","offset":-5,"tz":"CDT","active":true,"springVenue":"id":2603,"link":"/api/v1/venues/2603″,"teamCode":"tex","fileCode":"tex","abbreviation":"TEX","teamName":"Rangers","locationName":"Arlington","firstYearOfPlay":"1961″,"league":"id":103,"name":"American League","link":"/api/v1/league/103″,"division":"id":200,"name":"American League West","link":"/api/v1/divisions/200″,"sport":"id":1,"link":"/api/v1/sports/1″,"name":"Major League Baseball","shortName":"Texas","franchiseName":"Texas","clubName":"Rangers","springLeague":"id":114,"name":"Cactus League","link":"/api/v1/league/114″,"abbreviation":"CL","allStarStatus":"N","active":true,"id":141,"name":"Toronto Blue Jays","link":"/api/v1/teams/141″,"season":2021,"venue":"id":14,"name":"Rogers Centre","link":"/api/v1/venues/14″,"location":"address1″:"1 Blue Jays Way, Suite 3200″,"city":"Toronto","state":"Ontario","stateAbbrev":"ON","postalCode":"M5V1J1″,"defaultCoordinates":"latitude":43.64155,"longitude":-79.38915,"country":"Canada","phone":"(416) 341-1000″,"timeZone":"id":"America/Toronto","offset":-4,"tz":"EDT","active":true,"springVenue":"id":2536,"link":"/api/v1/venues/2536″,"teamCode":"tor","fileCode":"tor","abbreviation":"TOR","teamName":"Blue Jays","locationName":"Toronto","firstYearOfPlay":"1977″,"league":"id":103,"name":"American League","link":"/api/v1/league/103″,"division":"id":201,"name":"American League East","link":"/api/v1/divisions/201″,"sport":"id":1,"link":"/api/v1/sports/1″,"name":"Major League Baseball","shortName":"Toronto","franchiseName":"Toronto","clubName":"Blue Jays","springLeague":"id":115,"name":"Grapefruit League","link":"/api/v1/league/115″,"abbreviation":"GL","allStarStatus":"N","active":true,"id":142,"name":"Minnesota Twins","link":"/api/v1/teams/142″,"season":2021,"venue":"id":3312,"name":"Target Field","link":"/api/v1/venues/3312″,"location":"address1″:"1 Twins Way","city":"Minneapolis","state":"Minnesota","stateAbbrev":"MN","postalCode":"55403″,"defaultCoordinates":"latitude":44.981829,"longitude":-93.277891,"country":"USA","phone":"(612) 659-3400″,"timeZone":"id":"America/Chicago","offset":-5,"tz":"CDT","active":true,"springVenue":"id":2862,"link":"/api/v1/venues/2862″,"teamCode":"min","fileCode":"min","abbreviation":"MIN","teamName":"Twins","locationName":"Minneapolis","firstYearOfPlay":"1901″,"league":"id":103,"name":"American League","link":"/api/v1/league/103″,"division":"id":202,"name":"American League Central","link":"/api/v1/divisions/202″,"sport":"id":1,"link":"/api/v1/sports/1″,"name":"Major League Baseball","shortName":"Minnesota","franchiseName":"Minnesota","clubName":"Twins","springLeague":"id":115,"name":"Grapefruit League","link":"/api/v1/league/115″,"abbreviation":"GL","allStarStatus":"N","active":true,"id":143,"name":"Philadelphia Phillies","link":"/api/v1/teams/143″,"season":2021,"venue":"id":2681,"name":"Citizens Bank Park","link":"/api/v1/venues/2681″,"location":"address1″:"One Citizens Bank Way","city":"Philadelphia","state":"Pennsylvania","stateAbbrev":"PA","postalCode":"19148″,"defaultCoordinates":"latitude":39.90539086,"longitude":-75.16716957,"country":"USA","phone":"(215) 463-6000″,"timeZone":"id":"America/New_York","offset":-4,"tz":"EDT","active":true,"springVenue":"id":2700,"link":"/api/v1/venues/2700″,"teamCode":"phi","fileCode":"phi","abbreviation":"PHI","teamName":"Phillies","locationName":"Philadelphia","firstYearOfPlay":"1883″,"league":"id":104,"name":"National League","link":"/api/v1/league/104″,"division":"id":204,"name":"National League East","link":"/api/v1/divisions/204″,"sport":"id":1,"link":"/api/v1/sports/1″,"name":"Major League Baseball","shortName":"Philadelphia","franchiseName":"Philadelphia","clubName":"Phillies","springLeague":"id":115,"name":"Grapefruit League","link":"/api/v1/league/115″,"abbreviation":"GL","allStarStatus":"N","active":true,"id":144,"name":"Atlanta Braves","link":"/api/v1/teams/144″,"season":2021,"venue":"id":4705,"name":"Truist Park","link":"/api/v1/venues/4705″,"location":"address1″:"755 Battery Avenue","city":"Atlanta","state":"Georgia","stateAbbrev":"GA","postalCode":"30339″,"defaultCoordinates":"latitude":33.890672,"longitude":-84.467641,"country":"USA","timeZone":"id":"America/New_York","offset":-4,"tz":"EDT","active":true,"springVenue":"id":5380,"link":"/api/v1/venues/5380″,"teamCode":"atl","fileCode":"atl","abbreviation":"ATL","teamName":"Braves","locationName":"Atlanta","firstYearOfPlay":"1871″,"league":"id":104,"name":"National League","link":"/api/v1/league/104″,"division":"id":204,"name":"National League East","link":"/api/v1/divisions/204″,"sport":"id":1,"link":"/api/v1/sports/1″,"name":"Major League Baseball","shortName":"Atlanta","franchiseName":"Atlanta","clubName":"Braves","springLeague":"id":115,"name":"Grapefruit League","link":"/api/v1/league/115″,"abbreviation":"GL","allStarStatus":"N","active":true,"id":145,"name":"Chicago White Sox","link":"/api/v1/teams/145″,"season":2021,"venue":"id":4,"name":"Guaranteed Rate Field","link":"/api/v1/venues/4″,"location":"address1″:"333 West 35th Street","city":"Chicago","state":"Illinois","stateAbbrev":"IL","postalCode":"60616″,"defaultCoordinates":"latitude":41.83,"longitude":-87.634167,"country":"USA","phone":"(312) 674-1000″,"timeZone":"id":"America/Chicago","offset":-5,"tz":"CDT","active":true,"springVenue":"id":3809,"link":"/api/v1/venues/3809″,"teamCode":"cha","fileCode":"cws","abbreviation":"CWS","teamName":"White Sox","locationName":"Chicago","firstYearOfPlay":"1901″,"league":"id":103,"name":"American League","link":"/api/v1/league/103″,"division":"id":202,"name":"American League Central","link":"/api/v1/divisions/202″,"sport":"id":1,"link":"/api/v1/sports/1″,"name":"Major League Baseball","shortName":"Chi White Sox","franchiseName":"Chicago","clubName":"White Sox","springLeague":"id":114,"name":"Cactus League","link":"/api/v1/league/114″,"abbreviation":"CL","allStarStatus":"N","active":true,"id":146,"name":"Miami Marlins","link":"/api/v1/teams/146″,"season":2021,"venue":"id":4169,"name":"loanDepot park","link":"/api/v1/venues/4169″,"location":"address1″:"501 Marlins Way","city":"Miami","state":"Florida","stateAbbrev":"FL","postalCode":"33125″,"defaultCoordinates":"latitude":25.77796236,"longitude":-80.21951795,"country":"USA","timeZone":"id":"America/New_York","offset":-4,"tz":"EDT","active":true,"springVenue":"id":2520,"link":"/api/v1/venues/2520″,"teamCode":"mia","fileCode":"mia","abbreviation":"MIA","teamName":"Marlins","locationName":"Miami","firstYearOfPlay":"1991″,"league":"id":104,"name":"National League","link":"/api/v1/league/104″,"division":"id":204,"name":"National League East","link":"/api/v1/divisions/204″,"sport":"id":1,"link":"/api/v1/sports/1″,"name":"Major League Baseball","shortName":"Miami","franchiseName":"Miami","clubName":"Marlins","springLeague":"id":115,"name":"Grapefruit League","link":"/api/v1/league/115″,"abbreviation":"GL","allStarStatus":"N","active":true,"id":147,"name":"New York Yankees","link":"/api/v1/teams/147″,"season":2021,"venue":"id":3313,"name":"Yankee Stadium","link":"/api/v1/venues/3313″,"location":"address1″:"One East 161st Street","city":"Bronx","state":"New York","stateAbbrev":"NY","postalCode":"10451″,"defaultCoordinates":"latitude":40.82919482,"longitude":-73.9264977,"country":"USA","phone":"(718) 293-4300″,"timeZone":"id":"America/New_York","offset":-4,"tz":"EDT","active":true,"springVenue":"id":2523,"link":"/api/v1/venues/2523″,"teamCode":"nya","fileCode":"nyy","abbreviation":"NYY","teamName":"Yankees","locationName":"Bronx","firstYearOfPlay":"1903″,"league":"id":103,"name":"American League","link":"/api/v1/league/103″,"division":"id":201,"name":"American League East","link":"/api/v1/divisions/201″,"sport":"id":1,"link":"/api/v1/sports/1″,"name":"Major League Baseball","shortName":"NY Yankees","franchiseName":"New York","clubName":"Yankees","springLeague":"id":115,"name":"Grapefruit League","link":"/api/v1/league/115″,"abbreviation":"GL","allStarStatus":"N","active":true,"id":158,"name":"Milwaukee Brewers","link":"/api/v1/teams/158″,"season":2021,"venue":"id":32,"name":"American Family Field","link":"/api/v1/venues/32″,"location":"address1″:"One Brewers Way","city":"Milwaukee","state":"Wisconsin","stateAbbrev":"WI","postalCode":"53214″,"defaultCoordinates":"latitude":43.02838,"longitude":-87.97099,"country":"USA","phone":"(414) 902-4400″,"timeZone":"id":"America/Chicago","offset":-5,"tz":"CDT","active":true,"springVenue":"id":2518,"link":"/api/v1/venues/2518″,"teamCode":"mil","fileCode":"mil","abbreviation":"MIL","teamName":"Brewers","locationName":"Milwaukee","firstYearOfPlay":"1968″,"league":"id":104,"name":"National League","link":"/api/v1/league/104″,"division":"id":205,"name":"National League Central","link":"/api/v1/divisions/205″,"sport":"id":1,"link":"/api/v1/sports/1″,"name":"Major League Baseball","shortName":"Milwaukee","franchiseName":"Milwaukee","clubName":"Brewers","springLeague":"id":114,"name":"Cactus League","link":"/api/v1/league/114″,"abbreviation":"CL","allStarStatus":"N","active":true,"id":108,"name":"Los Angeles Angels","link":"/api/v1/teams/108″,"season":2021,"venue":"id":1,"name":"Angel Stadium","link":"/api/v1/venues/1″,"location":"address1″:"2000 Gene Autry Way","city":"Anaheim","state":"California","stateAbbrev":"CA","postalCode":"92806″,"defaultCoordinates":"latitude":33.80019044,"longitude":-117.8823996,"country":"USA","phone":"(714) 940-2000″,"timeZone":"id":"America/Los_Angeles","offset":-7,"tz":"PDT","active":true,"springVenue":"id":2500,"link":"/api/v1/venues/2500″,"teamCode":"ana","fileCode":"ana","abbreviation":"LAA","teamName":"Angels","locationName":"Anaheim","firstYearOfPlay":"1961″,"league":"id":103,"name":"American League","link":"/api/v1/league/103″,"division":"id":200,"name":"American League West","link":"/api/v1/divisions/200″,"sport":"id":1,"link":"/api/v1/sports/1″,"name":"Major League Baseball","shortName":"LA Angels","franchiseName":"Los Angeles","clubName":"Angels","springLeague":"id":114,"name":"Cactus League","link":"/api/v1/league/114″,"abbreviation":"CL","allStarStatus":"N","active":true,"id":109,"name":"Arizona Diamondbacks","link":"/api/v1/teams/109″,"season":2021,"venue":"id":15,"name":"Chase Field","link":"/api/v1/venues/15″,"location":"address1″:"401 East Jefferson Street","city":"Phoenix","state":"Arizona","stateAbbrev":"AZ","postalCode":"85004″,"defaultCoordinates":"latitude":33.445302,"longitude":-112.066687,"country":"USA","phone":"(602) 462-6500″,"timeZone":"id":"America/Phoenix","offset":-7,"tz":"MST","active":true,"springVenue":"id":4249,"link":"/api/v1/venues/4249″,"teamCode":"ari","fileCode":"ari","abbreviation":"ARI","teamName":"D-backs","locationName":"Phoenix","firstYearOfPlay":"1996″,"league":"id":104,"name":"National League","link":"/api/v1/league/104″,"division":"id":203,"name":"National League West","link":"/api/v1/divisions/203″,"sport":"id":1,"link":"/api/v1/sports/1″,"name":"Major League Baseball","shortName":"Arizona","franchiseName":"Arizona","clubName":"Diamondbacks","springLeague":"id":114,"name":"Cactus League","link":"/api/v1/league/114″,"abbreviation":"CL","allStarStatus":"N","active":true,"id":110,"name":"Baltimore Orioles","link":"/api/v1/teams/110″,"season":2021,"venue":"id":2,"name":"Oriole Park at Camden Yards","link":"/api/v1/venues/2″,"location":"address1″:"333 West Camden Street","city":"Baltimore","state":"Maryland","stateAbbrev":"MD","postalCode":"21201″,"defaultCoordinates":"latitude":39.283787,"longitude":-76.621689,"country":"USA","phone":"(410) 685-9800″,"timeZone":"id":"America/New_York","offset":-4,"tz":"EDT","active":true,"springVenue":"id":2508,"link":"/api/v1/venues/2508″,"teamCode":"bal","fileCode":"bal","abbreviation":"BAL","teamName":"Orioles","locationName":"Baltimore","firstYearOfPlay":"1901″,"league":"id":103,"name":"American League","link":"/api/v1/league/103″,"division":"id":201,"name":"American League East","link":"/api/v1/divisions/201″,"sport":"id":1,"link":"/api/v1/sports/1″,"name":"Major League Baseball","shortName":"Baltimore","franchiseName":"Baltimore","clubName":"Orioles","springLeague":"id":115,"name":"Grapefruit League","link":"/api/v1/league/115″,"abbreviation":"GL","allStarStatus":"N","active":true,"id":111,"name":"Boston Red Sox","link":"/api/v1/teams/111″,"season":2021,"venue":"id":3,"name":"Fenway Park","link":"/api/v1/venues/3″,"location":"address1″:"4 Yawkey Way","city":"Boston","state":"Massachusetts","stateAbbrev":"MA","postalCode":"2215″,"defaultCoordinates":"latitude":42.346456,"longitude":-71.097441,"country":"USA","phone":"(617) 267-9440″,"timeZone":"id":"America/New_York","offset":-4,"tz":"EDT","active":true,"springVenue":"id":4309,"link":"/api/v1/venues/4309″,"teamCode":"bos","fileCode":"bos","abbreviation":"BOS","teamName":"Red Sox","locationName":"Boston","firstYearOfPlay":"1901″,"league":"id":103,"name":"American League","link":"/api/v1/league/103″,"division":"id":201,"name":"American League East","link":"/api/v1/divisions/201″,"sport":"id":1,"link":"/api/v1/sports/1″,"name":"Major League Baseball","shortName":"Boston","franchiseName":"Boston","clubName":"Red Sox","springLeague":"id":115,"name":"Grapefruit League","link":"/api/v1/league/115″,"abbreviation":"GL","allStarStatus":"N","active":true,"id":112,"name":"Chicago Cubs","link":"/api/v1/teams/112″,"season":2021,"venue":"id":17,"name":"Wrigley Field","link":"/api/v1/venues/17″,"location":"address1″:"1060 West Addison","city":"Chicago","state":"Illinois","stateAbbrev":"IL","postalCode":"60613-4397″,"defaultCoordinates":"latitude":41.948171,"longitude":-87.655503,"country":"USA","phone":"(773) 404-2827″,"timeZone":"id":"America/Chicago","offset":-5,"tz":"CDT","active":true,"springVenue":"id":4629,"link":"/api/v1/venues/4629″,"teamCode":"chn","fileCode":"chc","abbreviation":"CHC","teamName":"Cubs","locationName":"Chicago","firstYearOfPlay":"1874″,"league":"id":104,"name":"National League","link":"/api/v1/league/104″,"division":"id":205,"name":"National League Central","link":"/api/v1/divisions/205″,"sport":"id":1,"link":"/api/v1/sports/1″,"name":"Major League Baseball","shortName":"Chi Cubs","franchiseName":"Chicago","clubName":"Cubs","springLeague":"id":114,"name":"Cactus League","link":"/api/v1/league/114″,"abbreviation":"CL","allStarStatus":"N","active":true,"id":113,"name":"Cincinnati Reds","link":"/api/v1/teams/113″,"season":2021,"venue":"id":2602,"name":"Great American Ball Park","link":"/api/v1/venues/2602″,"location":"address1″:"100 Main Street","city":"Cincinnati","state":"Ohio","stateAbbrev":"OH","postalCode":"45202-4109″,"defaultCoordinates":"latitude":39.097389,"longitude":-84.506611,"country":"USA","phone":"(513) 765-7000″,"timeZone":"id":"America/New_York","offset":-4,"tz":"EDT","active":true,"springVenue":"id":3834,"link":"/api/v1/venues/3834″,"teamCode":"cin","fileCode":"cin","abbreviation":"CIN","teamName":"Reds","locationName":"Cincinnati","firstYearOfPlay":"1882″,"league":"id":104,"name":"National League","link":"/api/v1/league/104″,"division":"id":205,"name":"National League Central","link":"/api/v1/divisions/205″,"sport":"id":1,"link":"/api/v1/sports/1″,"name":"Major League Baseball","shortName":"Cincinnati","franchiseName":"Cincinnati","clubName":"Reds","springLeague":"id":114,"name":"Cactus League","link":"/api/v1/league/114″,"abbreviation":"CL","allStarStatus":"N","active":true,"id":114,"name":"Cleveland Indians","link":"/api/v1/teams/114″,"season":2021,"venue":"id":5,"name":"Progressive Field","link":"/api/v1/venues/5″,"location":"address1″:"2401 Ontario Street","city":"Cleveland","state":"Ohio","stateAbbrev":"OH","postalCode":"44115″,"defaultCoordinates":"latitude":41.495861,"longitude":-81.685255,"country":"USA","phone":"(216) 420-4200″,"timeZone":"id":"America/New_York","offset":-4,"tz":"EDT","active":true,"springVenue":"id":3834,"link":"/api/v1/venues/3834″,"teamCode":"cle","fileCode":"cle","abbreviation":"CLE","teamName":"Indians","locationName":"Cleveland","firstYearOfPlay":"1901″,"league":"id":103,"name":"American League","link":"/api/v1/league/103″,"division":"id":202,"name":"American League Central","link":"/api/v1/divisions/202″,"sport":"id":1,"link":"/api/v1/sports/1″,"name":"Major League Baseball","shortName":"Cleveland","franchiseName":"Cleveland","clubName":"Indians","springLeague":"id":114,"name":"Cactus League","link":"/api/v1/league/114″,"abbreviation":"CL","allStarStatus":"N","active":true,"id":115,"name":"Colorado Rockies","link":"/api/v1/teams/115″,"season":2021,"venue":"id":19,"name":"Coors Field","link":"/api/v1/venues/19″,"location":"address1″:"2001 Blake Street","city":"Denver","state":"Colorado","stateAbbrev":"CO","postalCode":"80205-2000″,"defaultCoordinates":"latitude":39.756042,"longitude":-104.994136,"country":"USA","phone":"(303) 292-0200″,"timeZone":"id":"America/Denver","offset":-6,"tz":"MDT","active":true,"springVenue":"id":4249,"link":"/api/v1/venues/4249″,"teamCode":"col","fileCode":"col","abbreviation":"COL","teamName":"Rockies","locationName":"Denver","firstYearOfPlay":"1992″,"league":"id":104,"name":"National League","link":"/api/v1/league/104″,"division":"id":203,"name":"National League West","link":"/api/v1/divisions/203″,"sport":"id":1,"link":"/api/v1/sports/1″,"name":"Major League Baseball","shortName":"Colorado","franchiseName":"Colorado","clubName":"Rockies","springLeague":"id":114,"name":"Cactus League","link":"/api/v1/league/114″,"abbreviation":"CL","allStarStatus":"N","active":true,"id":116,"name":"Detroit Tigers","link":"/api/v1/teams/116″,"season":2021,"venue":"id":2394,"name":"Comerica Park","link":"/api/v1/venues/2394″,"location":"address1″:"2100 Woodward Avenue","city":"Detroit","state":"Michigan","stateAbbrev":"MI","postalCode":"48201″,"defaultCoordinates":"latitude":42.3391151,"longitude":-83.048695,"country":"USA","phone":"(313) 471-2000″,"timeZone":"id":"America/Detroit","offset":-4,"tz":"EDT","active":true,"springVenue":"id":2511,"link":"/api/v1/venues/2511″,"teamCode":"det","fileCode":"det","abbreviation":"DET","teamName":"Tigers","locationName":"Detroit","firstYearOfPlay":"1901″,"league":"id":103,"name":"American League","link":"/api/v1/league/103″,"division":"id":202,"name":"American League Central","link":"/api/v1/divisions/202″,"sport":"id":1,"link":"/api/v1/sports/1″,"name":"Major League Baseball","shortName":"Detroit","franchiseName":"Detroit","clubName":"Tigers","springLeague":"id":115,"name":"Grapefruit League","link":"/api/v1/league/115″,"abbreviation":"GL","allStarStatus":"N","active":true,"id":117,"name":"Houston Astros","link":"/api/v1/teams/117″,"season":2021,"venue":"id":2392,"name":"Minute Maid Park","link":"/api/v1/venues/2392″,"location":"address1″:"501 Crawford Street","city":"Houston","state":"Texas","stateAbbrev":"TX","postalCode":"77002″,"defaultCoordinates":"latitude":29.756967,"longitude":-95.355509,"country":"USA","phone":"(713) 259-8000″,"timeZone":"id":"America/Chicago","offset":-5,"tz":"CDT","active":true,"springVenue":"id":5000,"link":"/api/v1/venues/5000″,"teamCode":"hou","fileCode":"hou","abbreviation":"HOU","teamName":"Astros","locationName":"Houston","firstYearOfPlay":"1962″,"league":"id":103,"name":"American League","link":"/api/v1/league/103″,"division":"id":200,"name":"American League West","link":"/api/v1/divisions/200″,"sport":"id":1,"link":"/api/v1/sports/1″,"name":"Major League Baseball","shortName":"Houston","franchiseName":"Houston","clubName":"Astros","springLeague":"id":115,"name":"Grapefruit League","link":"/api/v1/league/115″,"abbreviation":"GL","allStarStatus":"N","active":true,"id":118,"name":"Kansas City Royals","link":"/api/v1/teams/118″,"season":2021,"venue":"id":7,"name":"Kauffman Stadium","link":"/api/v1/venues/7″,"location":"address1″:"One Royal Way","city":"Kansas City","state":"Missouri","stateAbbrev":"MO","postalCode":"64129″,"defaultCoordinates":"latitude":39.051567,"longitude":-94.480483,"country":"USA","phone":"(816) 921-8000″,"timeZone":"id":"America/Chicago","offset":-5,"tz":"CDT","active":true,"springVenue":"id":2603,"link":"/api/v1/venues/2603″,"teamCode":"kca","fileCode":"kc","abbreviation":"KC","teamName":"Royals","locationName":"Kansas City","firstYearOfPlay":"1968″,"league":"id":103,"name":"American League","link":"/api/v1/league/103″,"division":"id":202,"name":"American League Central","link":"/api/v1/divisions/202″,"sport":"id":1,"link":"/api/v1/sports/1″,"name":"Major League Baseball","shortName":"Kansas City","franchiseName":"Kansas City","clubName":"Royals","springLeague":"id":114,"name":"Cactus League","link":"/api/v1/league/114″,"abbreviation":"CL","allStarStatus":"N","active":true,"id":119,"name":"Los Angeles Dodgers","link":"/api/v1/teams/119″,"season":2021,"venue":"id":22,"name":"Dodger Stadium","link":"/api/v1/venues/22″,"location":"address1″:"1000 Vin Scully Avenue","city":"Los Angeles","state":"California","stateAbbrev":"CA","postalCode":"90012-1199″,"defaultCoordinates":"latitude":34.07368,"longitude":-118.24053,"country":"USA","phone":"(323) 224-1500″,"timeZone":"id":"America/Los_Angeles","offset":-7,"tz":"PDT","active":true,"springVenue":"id":3809,"link":"/api/v1/venues/3809″,"teamCode":"lan","fileCode":"la","abbreviation":"LAD","teamName":"Dodgers","locationName":"Los Angeles","firstYearOfPlay":"1884″,"league":"id":104,"name":"National League","link":"/api/v1/league/104″,"division":"id":203,"name":"National League West","link":"/api/v1/divisions/203″,"sport":"id":1,"link":"/api/v1/sports/1″,"name":"Major League Baseball","shortName":"LA Dodgers","franchiseName":"Los Angeles","clubName":"Dodgers","springLeague":"id":114,"name":"Cactus League","link":"/api/v1/league/114″,"abbreviation":"CL","allStarStatus":"N","active":true,"id":120,"name":"Washington Nationals","link":"/api/v1/teams/120″,"season":2021,"venue":"id":3309,"name":"Nationals Park","link":"/api/v1/venues/3309″,"location":"address1″:"1500 South Capitol Street, SE","city":"Washington","state":"District of Columbia","stateAbbrev":"DC","postalCode":"20003-1507″,"defaultCoordinates":"latitude":38.872861,"longitude":-77.007501,"country":"USA","phone":"(202) 349-0400″,"timeZone":"id":"America/New_York","offset":-4,"tz":"EDT","active":true,"springVenue":"id":5000,"link":"/api/v1/venues/5000″,"teamCode":"was","fileCode":"was","abbreviation":"WSH","teamName":"Nationals","locationName":"Washington","firstYearOfPlay":"1968″,"league":"id":104,"name":"National League","link":"/api/v1/league/104″,"division":"id":204,"name":"National League East","link":"/api/v1/divisions/204″,"sport":"id":1,"link":"/api/v1/sports/1″,"name":"Major League Baseball","shortName":"Washington","franchiseName":"Washington","clubName":"Nationals","springLeague":"id":115,"name":"Grapefruit League","link":"/api/v1/league/115″,"abbreviation":"GL","allStarStatus":"N","active":true,"id":121,"name":"New York Mets","link":"/api/v1/teams/121″,"season":2021,"venue":"id":3289,"name":"Citi Field","link":"/api/v1/venues/3289″,"location":"address1″:"Citi Field","city":"Flushing","state":"New York","stateAbbrev":"NY","postalCode":"11368″,"defaultCoordinates":"latitude":40.75753012,"longitude":-73.84559155,"country":"USA","phone":"(718) 507-6387″,"timeZone":"id":"America/New_York","offset":-4,"tz":"EDT","active":true,"springVenue":"id":2856,"link":"/api/v1/venues/2856″,"teamCode":"nyn","fileCode":"nym","abbreviation":"NYM","teamName":"Mets","locationName":"Flushing","firstYearOfPlay":"1962″,"league":"id":104,"name":"National League","link":"/api/v1/league/104″,"division":"id":204,"name":"National League East","link":"/api/v1/divisions/204″,"sport":"id":1,"link":"/api/v1/sports/1″,"name":"Major League Baseball","shortName":"NY Mets","franchiseName":"New York","clubName":"Mets","springLeague":"id":115,"name":"Grapefruit League","link":"/api/v1/league/115″,"abbreviation":"GL","allStarStatus":"N","active":true]},"isApp":false,"isCookieNoTrackQueryParam":false,"isPremiumQueryParam":false,"lang":"en","queryString":"","shareOptions":"shareUrl":"https://www.mlb.com/news/mlb-announces-2022-field-of-dreams-game","twitterHandle":"mlb","storySlug":"mlb-announces-2022-field-of-dreams-game","topicSlug":"","userAgent":"Mozilla/5.0 (Windows NT 6.3; Trident/7.0; rv:11.0) like Gecko"}}
window.adobeAnalytics = "reportingSuiteId":"mlbglobal08,mlbcom08″,"linkInternalFilters":"mlb"
window.globalState = "tracking_title":"Major League Baseball","lang":"en"
window.appId = "
/*–>*/
It's official. The Field of Dreams Game is coming back in 2022, and this time the Cubs and Reds will get to emerge from the cornstalks.
Chicago and Cincinnati will square off in the second edition of MLB at Field of Dreams presented by Geico on Aug. 11, 2022, in Dyersville, Iowa, following the massive success of this month's inaugural event. The Reds will serve as the home team as the National League Central rivals open their three-game series at the unique ballpark, followed by a Friday off-day before they resume the set over the weekend in Cincinnati.
"The Cincinnati Reds are excited to be part of MLB at Field of Dreams in 2022," said Reds president and chief operating officer Phil Castellini as part of an official MLB statement. "Following the outstanding presentation of last week's inaugural game between the White Sox and Yankees, it's an honor to represent Reds Country as the home team in next year's game."
"I think it's going to be an incredible experience, especially for a lot of us who grew up watching the movie," said Reds manager David Bell. "From everything I've been told and on TV, it looks like it's just a really special and meaningful environment they've created out there. … I feel very honored and lucky to be one of the teams in the [game's] second year."
Nearly six million viewers turned into the inaugural Field of Dreams Game on FOX, staged mere feet from the set of the iconic 1989 film starring Kevin Costner, Ray Liotta and James Earl Jones, making it the most-watched MLB regular-season game since 2005. Those viewers, along with the roughly 8,000 fans in attendance in Iowa, were treated to one of the most exciting games of the year. Yankees sluggers Aaron Judge and Giancarlo Stanton launched two-out, two-run homers in the top of the ninth inning to put New York on top, but White Sox star Tim Anderson responded with a two-run, walk-off homer into the corn in the bottom half. MLB Commissioner Rob Manfred hinted before the game's first pitch was even thrown that the sport would be back at Field of Dreams for a follow-up in '22.
"We are honored to be selected for the second edition of MLB at Field of Dreams," said Cubs president of business operations Crane Kenney. "Given our long-standing affiliation with the Iowa Cubs and the fact the state is in our home television territory, the Cubs enjoy an incredible following in Iowa. We look forward to playing in front of our Iowa fans and expanding on the amazing success of the first Field of Dreams Game."
"It's going to be awesome," Reds catcher Tyler Stephenson said. "I can't wait."